Bring your home office outdoors
When working from home, you have the freedom to choose your workplace. Switching it up from time to time can help in finding new motivation. Now that spring is here, why not take your home office outdoors?
If you decide to work outdoors, there are some things to take into account.

The light will shine on your laptop
Working outdoors and technology do not go hand in hand. The light will reflect on your screen, making it hard to see. So if you work with a laptop, it is necessary to take some precautions. There are a few things you can do. Firstly, if you sit in the shade, there's less amount of light that can turn into glare. Secondly, if you turn up the brightness of your laptop screen you can battle the reflection of the light. If both options do not work, you can always buy a screen attachment made specifically for this issue or use a piece of cardbox to create some shade.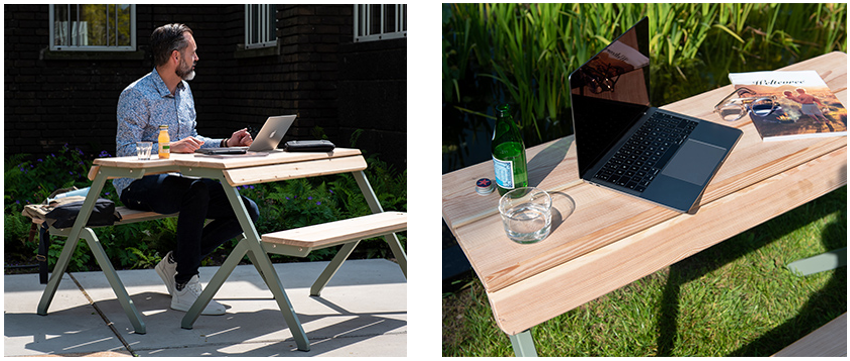 You need a comfortable seat
With office jobs, you spend a large portion of the day sitting down. It is important to watch your posture and to walk around once in a while. Since you can't take your (ergonomic) office chair outside, pillows can help make your outdoor seat more comfortable, but make sure to take plenty of breaks away from your laptop. Invest in garden furniture that can be used throughout the day: from working during the daytime, to enjoying your lunchbreak and dinner.
Face away from the sun
While it is nice to have the sun to shine on your face, you should not directly face the light all day. The bright light will make you squeeze your eyes, which can result in headaches. Sunglasses can help minimize this problem (and will also help with being able to see your laptop screen!).
Working outdoors can give you a sense of freedom and even spark a holiday feeling, something that is very welcome nowadays. We have listed working outdoors before as a way to hold onto a holiday feeling after summer.
Read our other tips here.
However, working outdoors is not for everyone. There's a lot more distractions surrounding you and if you work from a laptop, the light shining on the screen can get annoying. Luckily, there's always breaks in the sun! Make sure to enjoy those and spend your break outdoors.