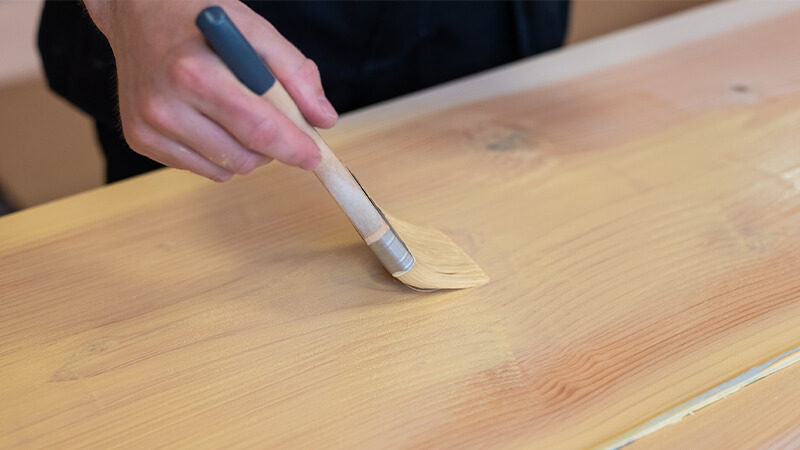 How to: our tips to prepare your Weltevree furniture for the summer!
The sun is shining more often, the days are getting longer... And that can only mean one thing: Summer is coming. Now that the weather is improving, you probably can't wait to spend more time in your garden. But after a long winter, your garden furniture deserves a little bit of extra attention. These tips will get them in tip-top shape for the new season: let's go!
Maybe you've already experienced it: garden furniture that is damaged, dried out or discoloured as the summer season draws to a close. What a shame! To enjoy your Weltevree items for as long as possible, it's important to give the furniture some TLC (tender love and care) from time to time. That means cleaning it, protecting it from the sun and (if necessary) rub it in with some nourishing oil. But how you care for your furniture depends on the material: an aluminium bench needs different treatment from a hardwood table. We are happy to share our care tips with you:
1. Accoya wood
Due to its environmentally friendly and extremely durable properties, Accoya is also known as the wood of the future. This wood is obtained by acetylation: a modification process with a high concentration of vinegar. This creates a type of wood that is non-toxic, does not absorb water, is perfectly recyclable and lasts up to 50 years! No wonder Weltevree is a fan of Accoya wood. We have used it for our Patio series, the Wheelbench and the Tablebench.
Do you have one of these items? Spray the wood twice a year with white vinegar and let it soak in for three days. It is also good to clean the wood with water and a sponge. Do you spot a stain? Remove them - preferably as soon as possible - with a damp cloth. To prolong the life of Accoya wood we also recommend that you treat it with a wood oil in case you wish to preserve the color of the product. When not treated with oil, the Accoya woord will develop a grey patina.
Larch wood comes from the larch tree, a genus of conifers from Europe. It is a very durable material and a conscious choice. The strong wood is ideal for use in outdoor furniture. Without treatment, the wood remains beautiful for 10 to 15 years. The Weltevree range includes the Tablebench and the Fieldchair made from this beautiful material.
To keep your larch-wood garden furniture in top condition, it is a good idea to treat the wood with wood oil, such as our Rubio Monocoat. Do this about twice a year and follow the instructions for light sanding or brushing of the wood. The use of wood oil makes the wood easier to clean and prevents mould from appearing in wet wood. Does mould still appear? Then treat the wood with vinegar first, before choosing heavier antifungals.
Has your Table Bench or Wheel Bench been outside all year? With the following tips, bring these Weltevree products made of larch wood back into top condition.
Step 1: Treat the larch wood with sufficient cleaning vinegar and allow it to dry. Is the sun shining? Let the sun do its magic!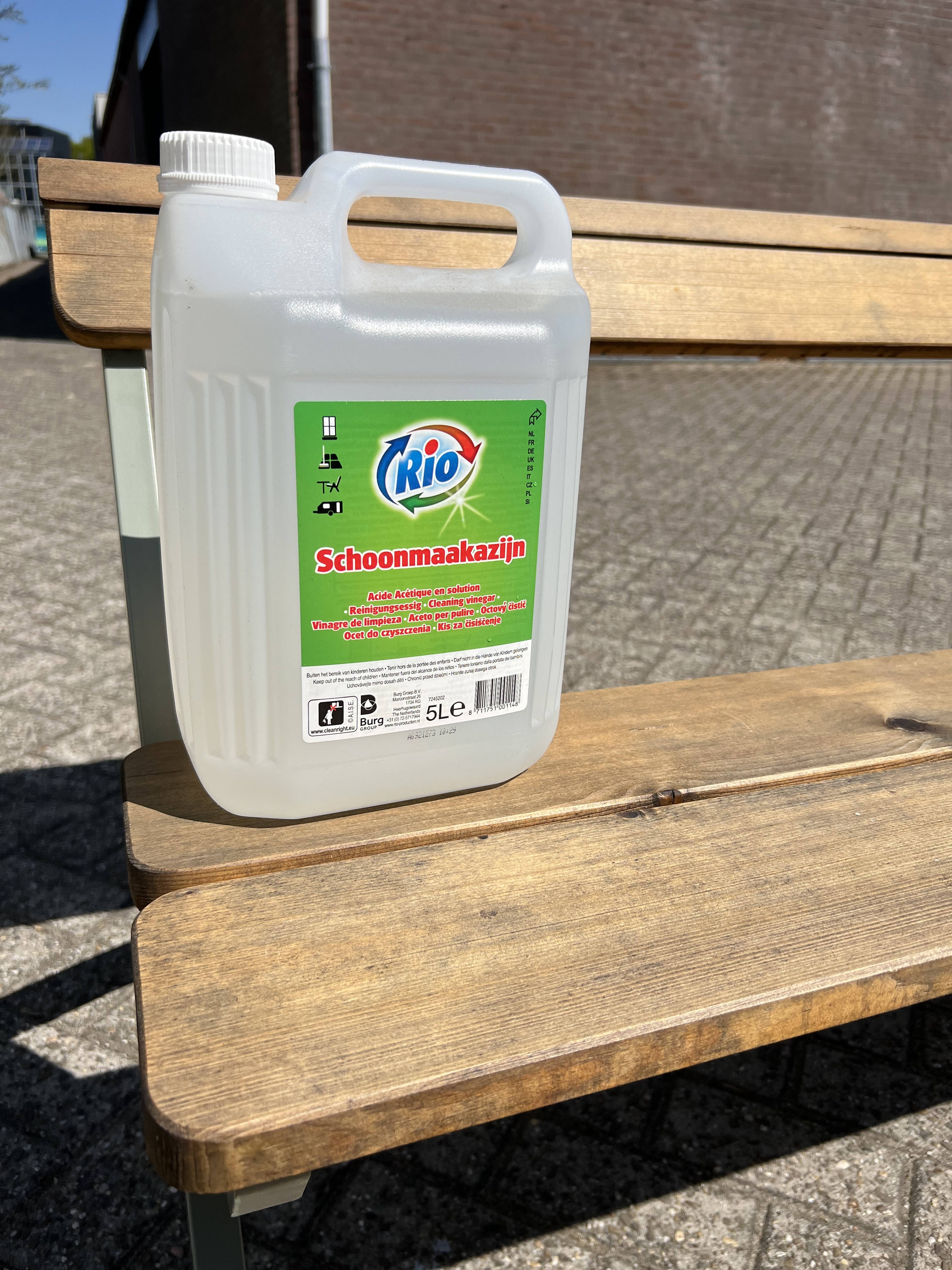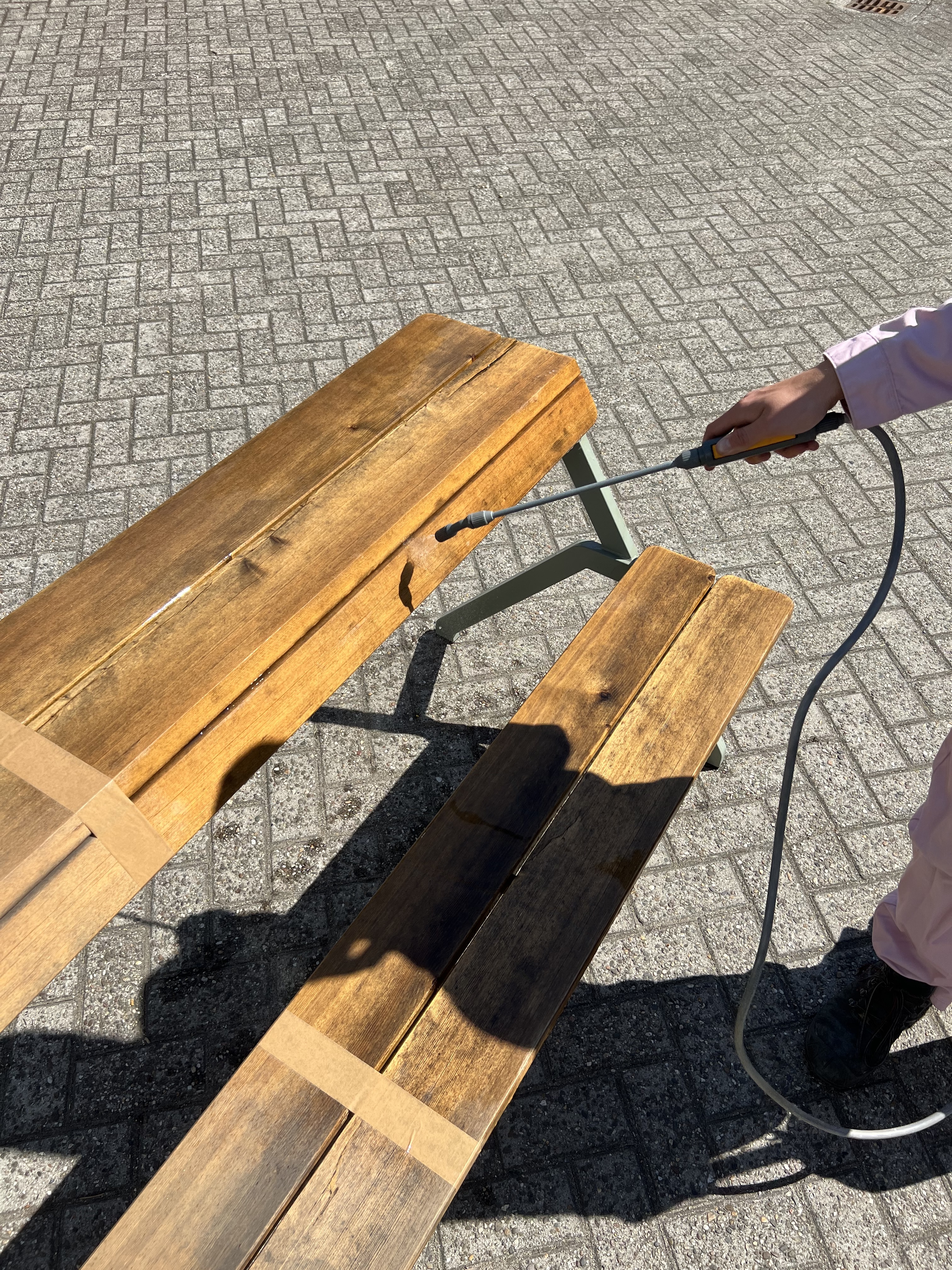 Step 2: Mix enough Green Soap with warm water. Use a dishwashing (soft) brush and scrub the Larch wood thoroughly, while making a rotating movement. Allow the Larch wood to dry.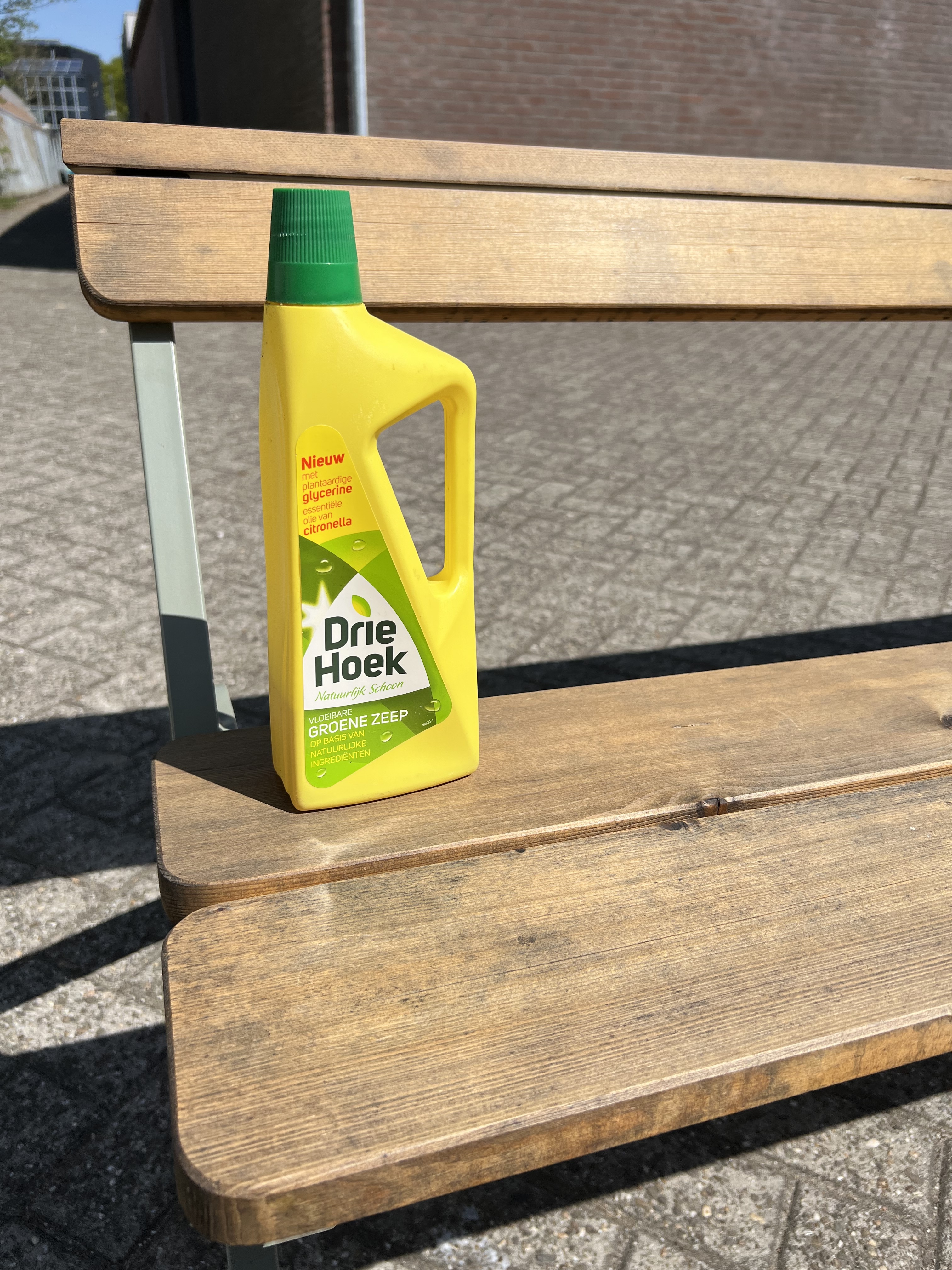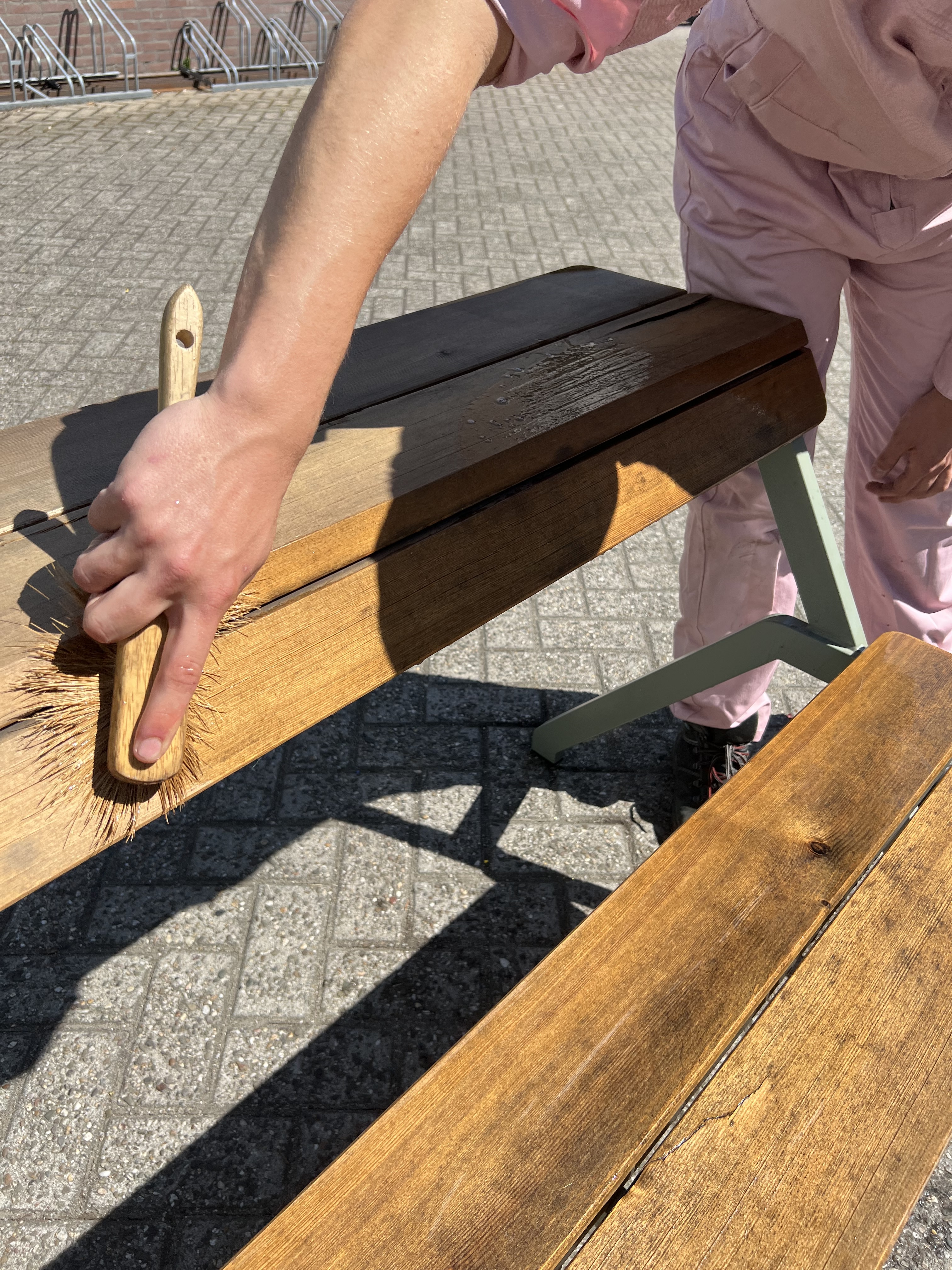 Step 3:
Repeat step 2 if you have not achieved the desired result.
Step 4: Rinse the table and dry with a tea towel. Let the wood dry in the sun for a while.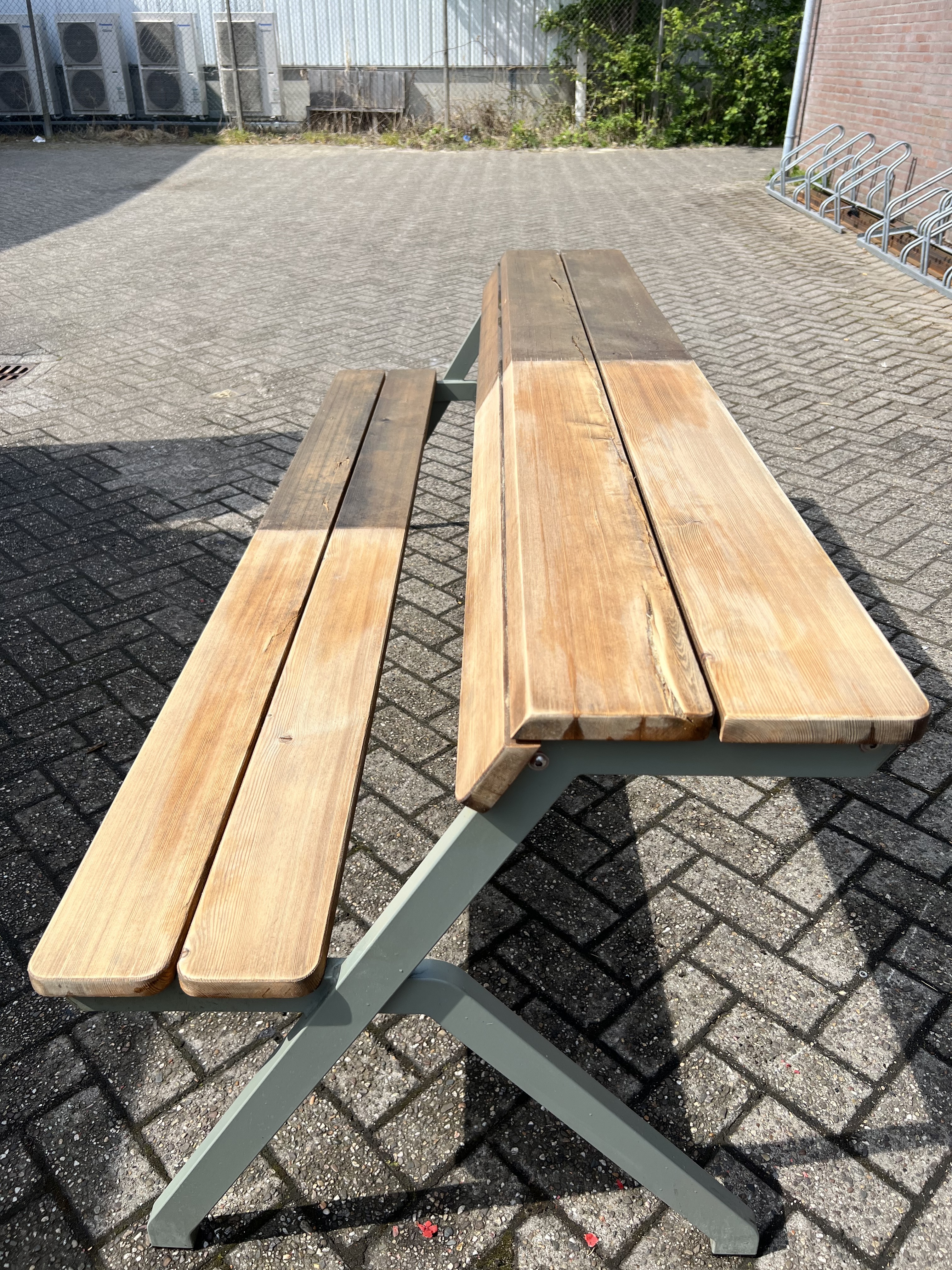 3. Douglas wood
Thanks to its orange colour and lines of annual rings, garden furniture made from Douglas wood immediately creates a warm atmosphere. This type of wood comes from the Douglas tree in Northern Europe. Due to its long life and strength, Douglas wood is often used for outdoor furniture. Without treatment, the wood remains beautiful for 10 to 15 years. We have used this durable wood type in the Forestry Table and the Forestry Bench. As with garden furniture made from larch wood, we recommend that you treat your Douglas fir items with a wood oil twice a year. This will slow down the ageing process and the wood will remain beautiful.
Although Douglas wood does well in rainy conditions, it is important to let the wood dry completely from time to time. Has your garden furniture been wet a lot? Then treat them first with a wood oil. If mould still appears, treat the wood with vinegar first and only then switch to heavier anti-fungal agents.
4. Corten steel
One of Weltevree's absolute bestsellers, the Outdooroven, is made of a special type of steel: Corten steel. This type of steel oxidises and a thick layer of rust will form. This layer of rust allows the Outdooroven to better protect itself against all kinds of weather conditions. Wind, rain or hail: the Outdooroven can handle it all!
Because the Corten steel rust layer provides a certain self-protection, little maintenance is required. However, you can keep the protective layer in good condition by brushing the steel regularly. Always ensure that the Outdooroven is placed in a place where it can dry quickly after rain.
5. Aluminum
Strong, durable and yet very light and easy to move: aluminium is a favourite material for garden furniture. In addition, aluminium outdoor furniture looks sleek and modern. Have you already seen our Bended series? Because aluminium is a rustproof material, and because aluminium furniture is often powder-coated, it requires little maintenance. Simply wipe them down with a cloth to prevent dirt from adhering. Use a mild all-purpose cleaner. Please note that aluminium furniture is sensitive to UV rays and may discolour over time. To prevent this, you can use a 'metal protector'. Enjoy your aluminium garden items!
Check our maintenance page for an overview of all materials. If you would like more information on maintenance (or other matters), please let us know. We are happy to help you!