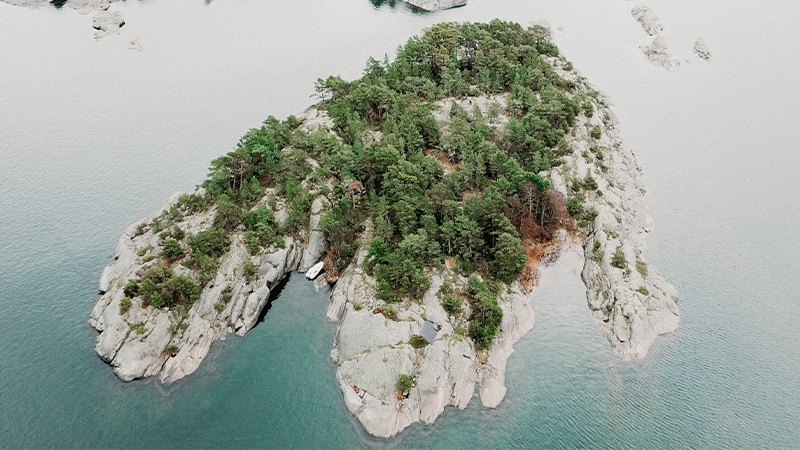 Inspiring destination: Skjulskäret island
Meet Aleksi Hautamäki and Milla Selkimäki, two designers who created a unique spot for themselves to escape to: all on their own desert island! After a search of many years, they found the perfect island in the archipelago of Finland. The island was completely untouched and intact, as there had never been any habitation. Now, they have built and designed their own modern cabins from scratch using only durable materials. The island is completely self-sufficient and uses solar power for energy and filtered sea water for drinking water. We talked to them to find out more about this island.
Could you tell us a little bit about yourself?
We are two designers; (Aleksi is a spatial designer and Milla a graphic designer). We have a 1-year old son called Hugo. We live in Helsinki and the island is a holiday home for us, but we use it throughout the year. Last year we have spent nearly 100 nights there!
Most of our time so far has gone into constructing, but slowly we are starting to get more relax time as well. We walk around the island every day., where we have created various bridges and steps to make the trekking easier. On warm days we cook outside, using the outdoor kitchen or smoking salmon on an open fire. With several dining sets around the house, we can always choose one that best protects us from the wind or sun.
How did you end up deciding on the island Skjulskäret?
We started to get interested in buying an island 6 or 7 years ago, after spending most of our summers boating in the archipelago. We fell in love with it. The Finnish Archipelago has over 10.000 islands, which makes you think that there is plenty to choose from. But the reality is that it is very rare that a good one comes for sale. We went to see a few that did, but none of them fit our requirements and budget. So, we decided to look for one outside the market, by simply looking at islands with no buildings, but with building permission, and calling the owners. That is how we made a deal with Skjulskäret!
What attracted you to the island Skjulskäret?
It is in the shape of a claw and we thought it was superb in terms of its nature. It has everything: a perfect deep dock, really nice smooth rocks on the north, steeper rocks on the west side, a magical forest on the south end, a perfect spot for a sandy beach, and much more. It is also located far enough from the mainland that it can be called wilderness, which we like. The nearest harbor is a 2 hours drive from Helsinki, from where it is a 20 minute boat ride to the island.
Could you tell us a bit more about the design and building process of the cabins?
Our plan was to build two houses on the island; a 45m2 main cabin with a sauna, and a 25m2 workshop. We managed to find a perfect spot for both houses on the north-east corner of the island, right next to the deeper bay. In terms of the shape of the house, we went for a very typical shape used in the Archipelago: the gabled roof house. It is used all over the area, in houses and sheds, old and new.
The overall vision was to have all things necessary with as little space as possible. That is why all individual spaces have been designed to be as compact as they can be, without compromising on functionality and comfort. The cabins can sleep ten people comfortably!
Everything on the island is self-sufficient. Solar power is used for energy and filtered sea water is used for drinking water. Hot running water is produced with a sauna stove and the same system provides heat to the floors.
What are your next plans for the island?
There are dozens of plans! But realistically the next ones will include a guest house of 20m2. It will be in its own pace by the magical forest. Next, we are planning to build a smoke sauna on the southern tip. And our long-term plan is to build a main house of 120 m2.
Are you planning to stay at the island forever?
We have been lucky enough to have stayed at the island for approximately 100 days these past 2 years, and hopefully we can manage to do that in the future too. We also like to live in Helsinki and our jobs are there so we will have two homes. At least for now.
Why did you decide to incorporate Weltevree products?
We saw the Outdooroven somewhere and got really excited about the entire selection and the brand. Since then we've been ordering a lot of stuff from Weltevree and anxiously waiting for new product launches. Weltevree has a very similar feel and values to us. At Weltevree, we value time spent outdoors more than anything.
Could you describe your favorite Weltevree moment for us?
We have plenty of nice Weltevree moments, but the favourite has to be making pizza of smoking salmon with the Outdooroven.