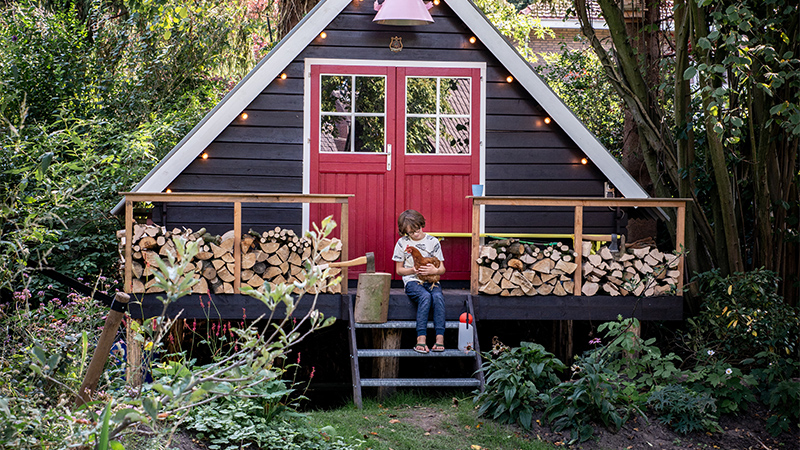 Long live fall! – by Zilverblauw
Fall is truly here. It is getting colder and nature is changing to that pretty autumnal hue. Are you a lover of fall or would you give anything to go back to the warmth of summer? Casper Boot of Zilverblauw falls into the first category and shares his thoughts on the beauty of this season and its changing nature. He also gives tips from his own biodiverse garden that you can apply to your own. Fall is a season to love!
Casper: "Some people hate the fact that summer is over. And I admit, I too long for the warmth sometimes; the joys of shorts, eating dinner outside and diving into the pool or ocean. But every season has its pros and cons. In terms of fall, garden- and nature lovers will feel the same way as I do: the changing of nature is a beautiful thing to follow and experience."
Animals prepare for winter everywhere
"Fall is one of my favorite seasons. The cold mornings, a misty sunrise, dewy cobwebs and the beautiful colors you see everywhere around you; I enjoy it all! As a birdwatcher it is especially nice to experience a bit more 'movement'. In summer most birds tend to keep to themselves, but now that it's getting colder and the leaves are falling, it seems like the birds are more active than before. If we're lucky we might see some winter guests from Scandinavia and North-Russia soon, who fly here for the softer climate and food supplies. Last year I spotted a large group of bramblings searching for food under our red beech. You can see why I always have my binoculars ready in fall!
In the meantime, the squirrels are putting on a show. In our garden, two squirrels frequently show up, which makes fall the perfect time to spot these little acrobats. They eat a lot to build up fat reserves and work on a food stock to get through winter. Acorns, nuts and pinecones are hidden and thanks to their excellent sense of smell, they'll be able to pinpoint their location easily once they need it."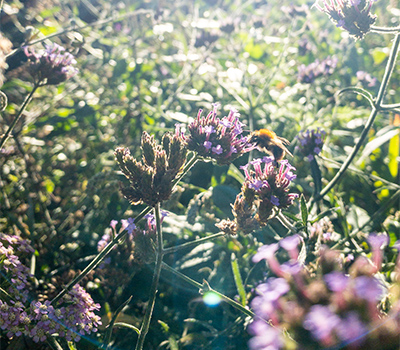 The fallen leaves will benefit your garden
"As a garden lover, there is a lot of chores to be done this time of year. This is the perfect time to plant flower bulbs that will come up in spring. However, most of our time is spent pruning and cleaning up. But, please don't clean up too much! Our pruning waste is placed onto our compost pile. Leaves should be removed from the lawn, but I rake them towards the lawn border and leave them there in a pile. Birds, hedgehogs and other animals will benefit from this and it's a perfect isolation layer for your plants. Furthermore, worms, spiders and insects will eat the leaves and digest them into compost. This leads to a natural fertilization and improves the soil structure. This will make plants grow better and thus improves your garden for the following year. A big gain for you, your garden and nature!"
The results of planting a biodiverse garden
"The transition from summer to fall is the ideal time to look back. We have worked very hard these past six months and created the basis of our biodiverse garden. Our natural pond has already been found by frogs, dragonflies and small water insects. The flowers and herbs we planted in spring have been full of butterflies, bees and bumblebees all summer. We had a bird's nest in our garden and our pear trees grew many pears. We even spotted a small hedgehog last month! We are proud of this result and it is only the start.
Our pride and joy is our a-frame treehouse, largely made of recycled materials. It is a great place to work and chill in the middle of our own little piece of nature. We love sitting on the porch of our hut, with a blanket and a cup of tea, enjoying the views of our own paradise. Long live fall!"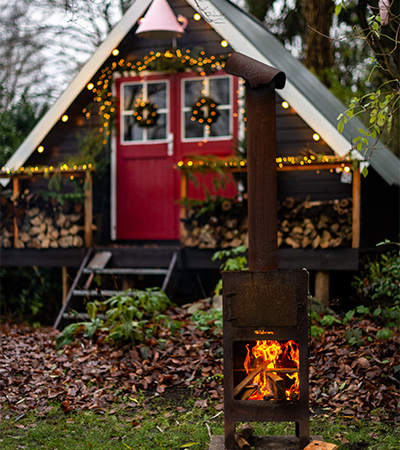 Casper Boot is currently writing a book about his garden, which focuses on durability and biodiversity. It will be released in spring of 2021. Want to stay up to date? Follow their journey at
zilverblauw.nl
,
Instagram
or
Facebook
.