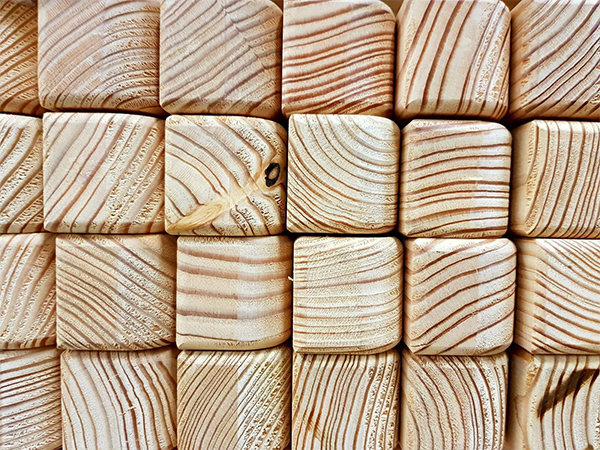 How to maintain wood
Wood is a natural material that we use in a large part of our furniture collection. This page will give you all the necessary information on how to maintain wooden furniture to make sure it stays looking great.
Scroll down to find an overview of all the different types of wood we use in our furniture.
Why do we use untreated wood?
Wood is a material that will change in appearance as it ages. Over time it turns into a beautiful silvery grey when placed outside. To us, this is part of the charm of wooden furniture. The material is alive and it shows.
Our furniture can be used both inside and outside. Even without treatment, we make sure all our materials have a long lifespan. However, when the furniture is placed outside, we do strongly recommend an annual wood oil treatment.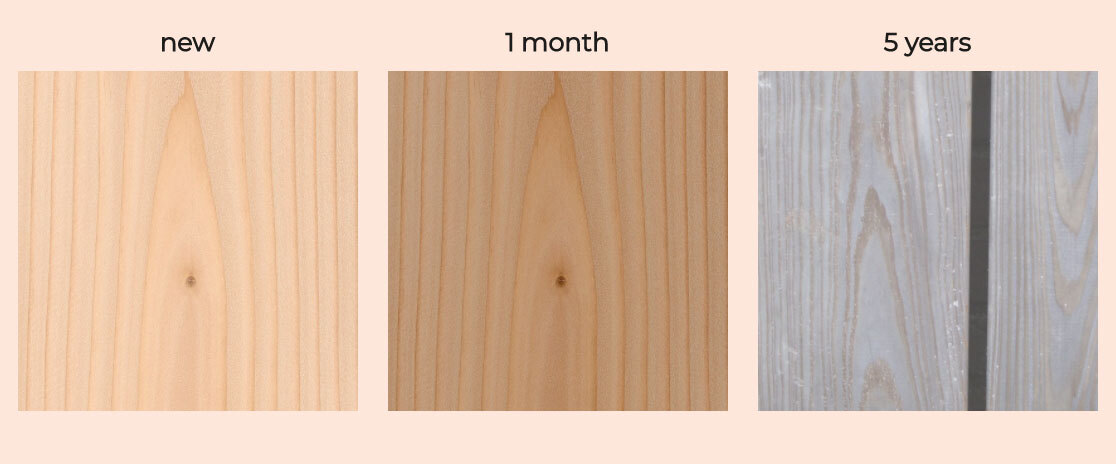 Daily maintenance of wood
To keep your wooden furniture in great shape it is important to regularly clean it. Use a soft moist cloth to remove any dirt from the material.
In maintenance, do not use a high pressure cleaner as this will cause the wood fibres to open up, making the wood more receptive to mold and other stains.

Preventing stains
Spillls on wooden furniture can be cleaned with a moist cloth. It is however important to do this quickly to prevent them from soaking into the material. We recommend using coasters to prevent possible stains from food, drinks or warm dishes.
Preventing mold
Wood does well in rainy conditions. However, it is also important to allow it to dry it from time to time, to prevent mold (this appears as little black spots). If the wood gets wet a lot, treatment with a wood oil is a must. When mold does appear, treat the wood with vinegar first, before trying heavy anti-mold treatments.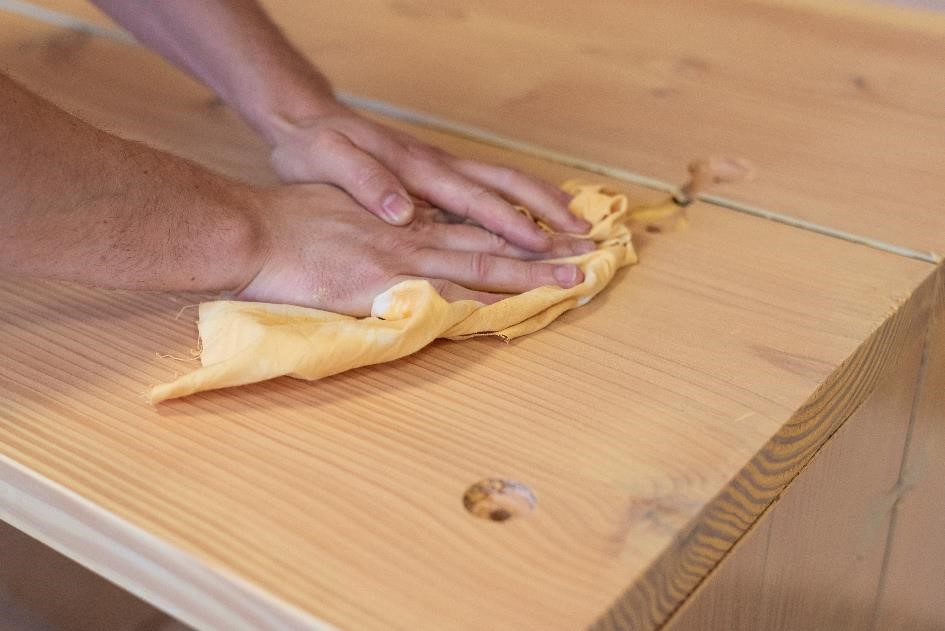 Yearly maintenance of wood
The thorough maintenance of your wood depends on the type of wood that is used in your furniture.
Douglas and Larch wood
To prolong the life of your wood furniture, we recommend oil treatment once a year:
Treat the furniture with a wood oil like Rubio Monocoat or something similar
Make sure you apply a thin layer of oil
Slows down the aging process of your furniture
Accoya wood
For Accoya® wood we recommend simple maintenance once a year:
Spray the material with white vinegar.
Leave for about three days.
Clean the wood with water and a soft bristle brush or sponge.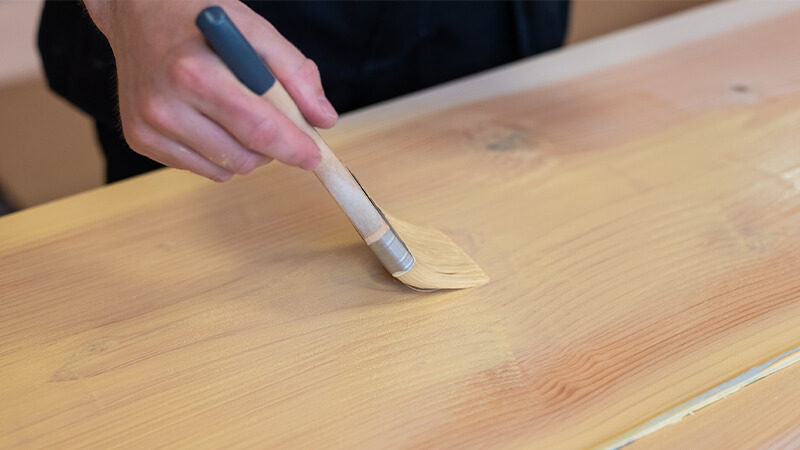 How to remove stains from wood?
In order to prevent stains from wood it is useful to give your product an oil treatment. Especially with products made of Accoya wood. This way, stains will penetrate the wood less fast, making it easier to remove them. Make sure tat when you spill something on the product, you remove it immediately. Do this with just a little bit of water and a soft cloth.
How to sand down wood?
If your wooden product nees to be sanded again, make sure you sand the entire surface. Sand along the grain and finish with a grit of about 240, before treating the product with wood oil again.
How to remove resin from wood?
You can use naphtha to remove resin from your wooden product. Rub the naphtha lightly over the entire wooden surface with a soft cloth. Wipe off the excess naphtha with a dry cloth. Naphtha has a strong odor, so we recommend using this outside in the open air. We also recommend using gloves for this. Don't put fire near this process either.
About the wood used in our collection
Accoya® wood
Accoya® is wood unlike most types of wood you know. It is soft to the touch, sustainable and incredibly durable. Accoya® does not rot, exceeding even the durable teak wood, and keeps its shape with little shrinkage or swelling behavior. This is the result of the acetylation process it undergoes, which guarantees 50 years of use above the ground and 25 years in soil or fresh water.
Douglas wood
Douglas wood derives from the Douglas fir, a softwood from North-Western Europe. It is a highly durable wood type that works well for outdoor furniture. Since the wood is naturally durable, a treatment with chemicals is not necessary, making Douglas wood a great choice for the environment. Even without treatment it lasts for around 10 to 15 years.
Larch wood
Larch wood comes from the Larch tree, a softwood from Europe. It is a highly durable wood type (class 3) and is ideal in outdoor furniture use. Larch wood is a good choice for the environment: it grows fast (making sure a lot of CO2 is turned into oxygen) and is naturally durable, meaning a treatment with chemicals is not necessary. Even without treatment it lasts for around 10 to 15 years.
Oak wood
Oak wood is a type of hardwood that derives from the oak tree native to the northern hemisphere. This wood is a European durable type of wood that grants sustainability class 2, which means it lasts up to 10 to 15 years.
Beech wood
Beech wood is a light hardwood that derives from the beech tree. It is a strong type of wood, making it very suitable for outdoor furniture. We use varnished beech wood in our
Beach Chair
and
Beach Rocker
, meaning there is no extra maintenance required to prolong the lifetime.
Poplar wood
Dutch Poplar wood is used for our clogs:
the Poplars
. As is tradition, the clogs are made from one log of untreated poplar wood. Poplar wood is very workable and has a medium texture and soft grain. This makes this type of wood perfect for making clogs.
Some of our wooden furniture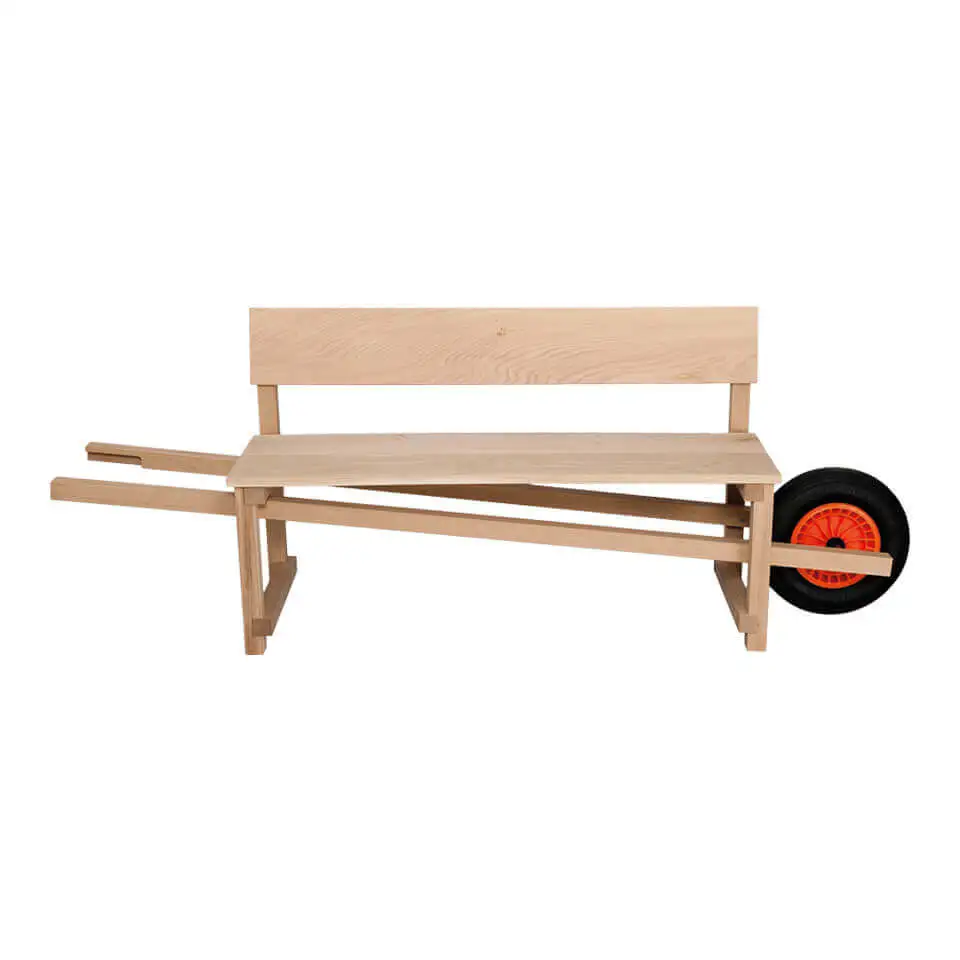 WHEELBENCH
The Wheelbench is an easily movable two- to three-person wheelbarrow bench. The surprising combination between a bench and wheelbarrow wheel enhances the active outdoor feeling. You can also easily move the bench alone, by driving the bench like a wheelbarrow. With the Wheelbench you can easily find a spot in the sun or shade. Place the bench wherever you want, put a sheepscoat on it and enjoy the peace and quiet outside. The Wheelbench is available in two versions: Oak or Accoya wood. Both versions of the Wheelbench come untreated. That gives you the choice to treat the wood yourself with oil or impregnate it to preserve its color. If you don't treat the wood, it will slowly develop a beautiful gray patina.