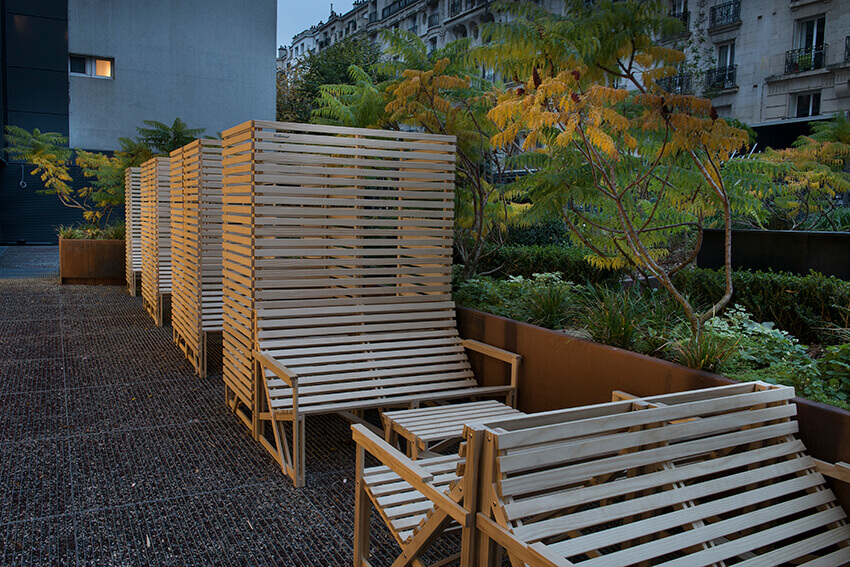 10 Grenelle Paris
After a renovation that took over five years, a new building has emerged in the fifteenth Paris district. The former headquarters of the Ministry of Internal Affairs by famous French architect Pierre Dufau in 1960, has been completely redesigned and adjusted to contemporary requirements. The building, that is situated at the 10 Grenelle Boulevard, is already being called one of the most sustainable buildings in France. One of the innovative additions are the facades facing South; these are equipped with perforated metal plates that serve as a sunscreen. The building is a powerful combination of concrete innovations and complete efficiency, and has therefore earned HQE, BREEAM and LEED, three environmental certifications that only 7% of all office buildings in France have.
The combination of distinctive architectural design by Braun + Associés and the interior design by Ora Ïto, who according to Wallpaper is one of the most influential designers under 40 years of age, makes 10 Grenelle a building with incredible contrasts. Interior designer Ora Ïto has taken the world of design by storm, having created the aluminium Heineken bottle. His vision is based on 'simplexity'; the art of making complicating products easier to use. A simplexform is paradoxical in the way that it seems simple but has an invisible intricacy. The main goal is to offer user an object without any complication. The more that products are easy to use, the more the user will use an easy, uncomplicated and natural approach. A "simplex"-object thus has an uncomplicated vigour, but fits its functionality in a sophisticated way. Simplexity is also found in the 10 Grenelle building in its four well-lit levels, and the predominantly use of white interior. On the other hand a dynamic staircase with different structures of wood graces the entire building. About the staircase the designer says the following:
'I wanted the staircase to become the centre of the building. A presence that swivels into the area for the use of structure, in a welcoming way".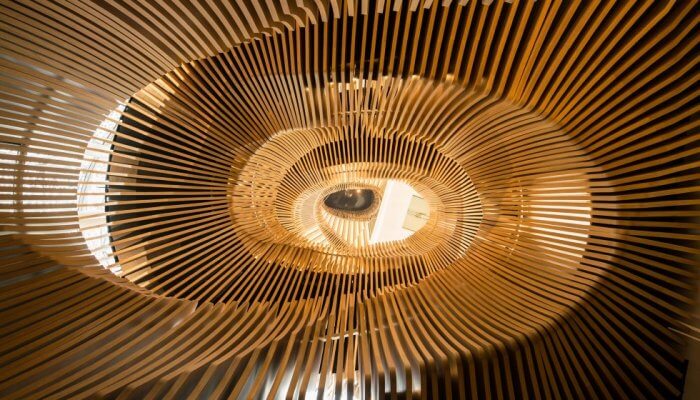 An eccentric and unusual addition to a utility building, where it is more common to choose a quiet environment. "The staircase design goes beyond usual architecture. Most offices are minimalistic, quiet, functional and without distracting decorations. The surprising visual design of the staircase stuns employees and visitors, but elevates them to different departments within the building. Unique, but functional."
ABCDesign has decorated the garden in the restaurant and filled it with furniture from the Weltevree collection. The Patioset fits the out of the ordinary vision used to design 10 Grenelle. The Patio High Back, a uniquely designed garden sofa with a increased backrest, creates an intimate and stylish spot where a true porch feeling can be experienced. The use of the extremely sustainable Accoya® wood ensures the use of the set for over 50 years, fitting the durable and innovative ambiance of the building. Visitors can rest in the comfort of the Patioset after a long day.
Website: www.grenelle10.fr
Source: ABCDesign, Ora Ïto