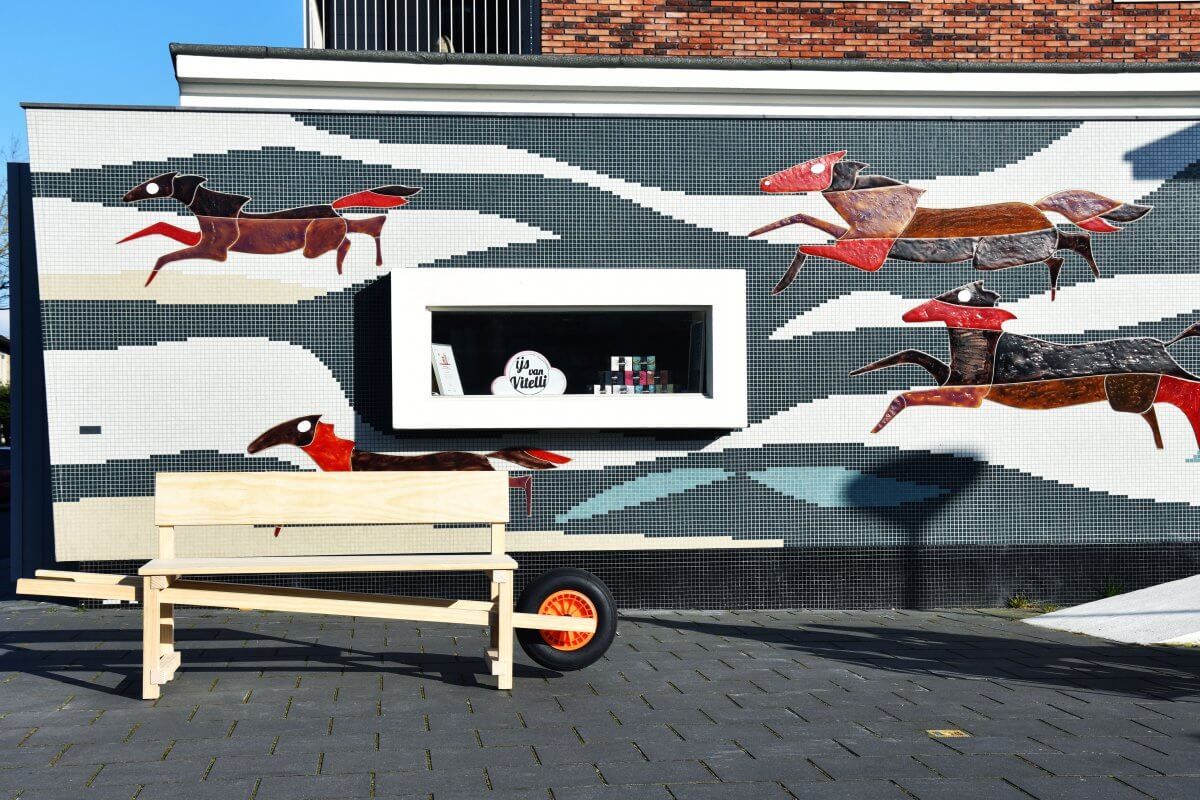 Vitelli
In 1957, this former petrol station was built in Amersfoort by order of the Benzine en Petroleum Handel Mij. (BP). The design is by architect Arie van Wageningen and urban planner Arie H. Rooimans. Artist Jan Boon created a mural with horses for the small building, which symbolised the horsepower of the cars that could be bought there. These old petrol stations have now become rare in the Netherlands, which is why the petrol station was registered as a municipal monument in 2011. After being vacant for years, the building was given a new purpose in 2015 and after a major renovation, including the reinstatement of the mural by placing a new mosaic, the building is home to ice-cream parlour 'Ijs van Vitelli' (Ice-cream by Vitelli).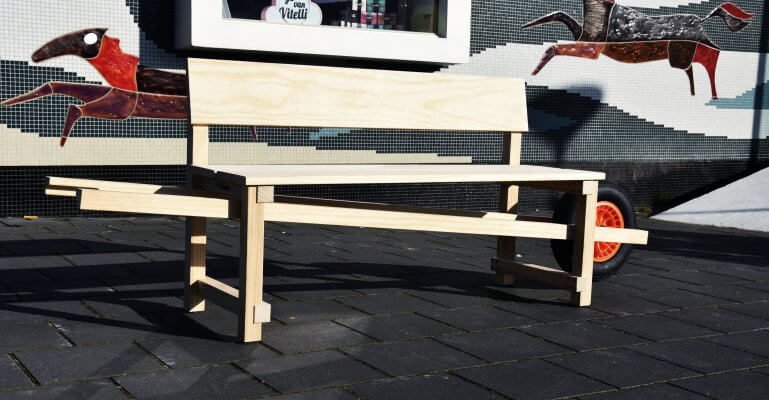 van Voorn has worked in the hospitality industry for over 25 years and was ready for a new challenge in 2014. He finished an ice-cream making course in 2009 and when the iconic petrol station became available for a new use in 2015, he drew up a plan for the ice-cream parlour. The name 'IJs van Vitelli' is Italian with a touch of Amersfoort and is based on the Casper van Wittelplantsoen where he lives. Casper van Wittel, a famous painter from Amersfoort, went to live and work in Italy in 1675 and changed his name to Gaspare vanVitelli. This inspired the name 'IJs van Vitelli'. The ice-cream parlour along the river Eem in Amersfoort serves freshly made ice-cream every day during the summer months. The ingredients are sourced locally where possible, such as organic farm milk and regional fruit. The production process is fully powered by wind energy. On the terrace you can take a seat on one of the two Wheelbenches van Accoya® wood; a sustainable and fair choice that fits in with the vision of the ice-cream parlour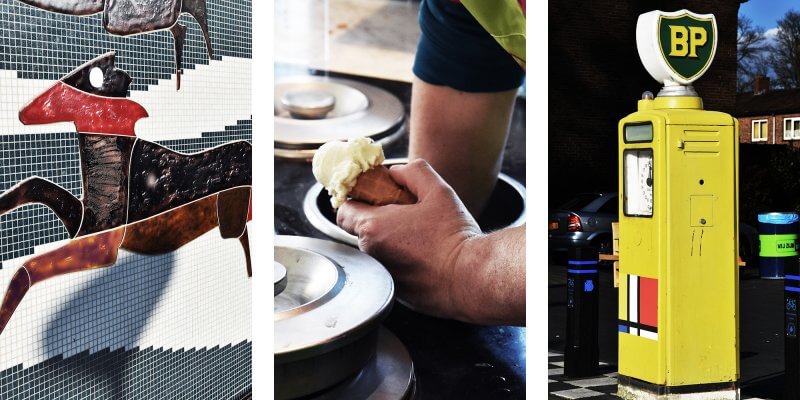 Specifications
Client: BP
Design: Arie Rooimans, Arie H. van Wageningen
Location: Amersfoort, Nederland
Products used in this project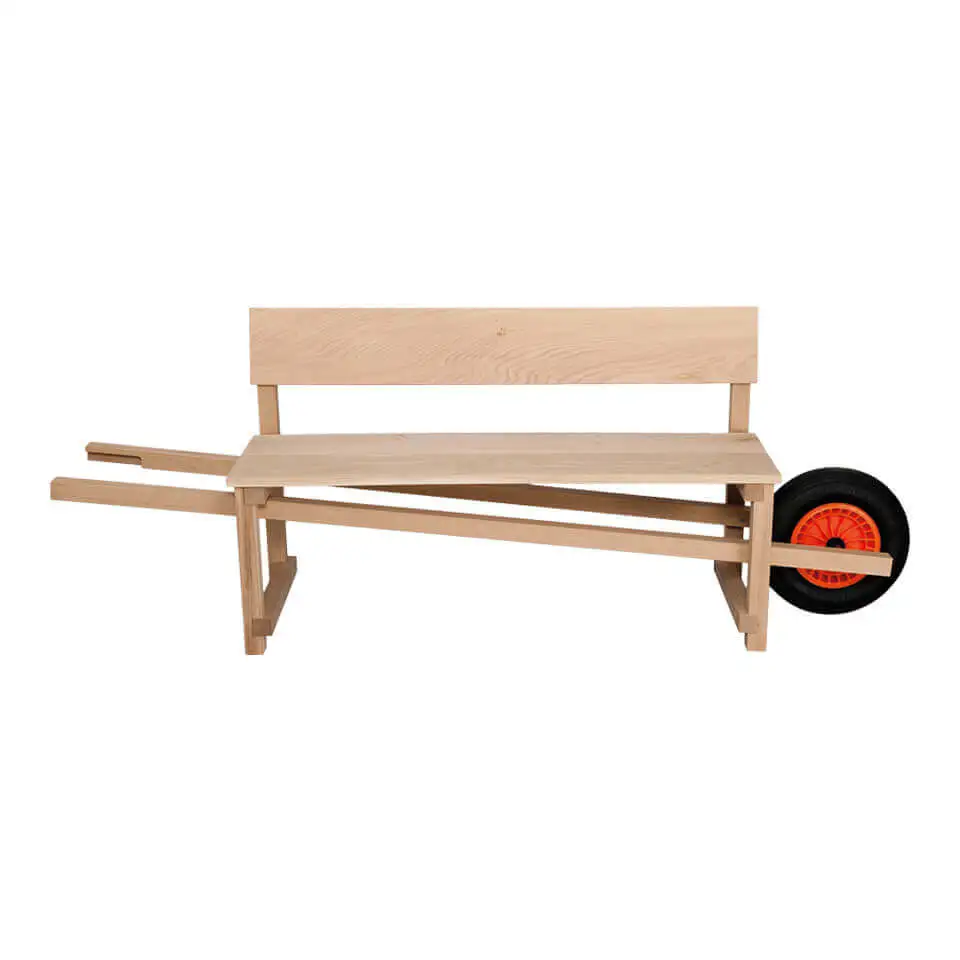 WHEELBENCH
The Wheelbench is an easily movable two- to three-person wheelbarrow bench. The surprising combination between a bench and wheelbarrow wheel enhances the active outdoor feeling. You can also easily move the bench alone, by driving the bench like a wheelbarrow. With the Wheelbench you can easily find a spot in the sun or shade. Place the bench wherever you want, put a sheepscoat on it and enjoy the peace and quiet outside. The Wheelbench is available in two versions: Oak or Accoya wood. Both versions of the Wheelbench come untreated. That gives you the choice to treat the wood yourself with oil or impregnate it to preserve its color. If you don't treat the wood, it will slowly develop a beautiful gray patina.