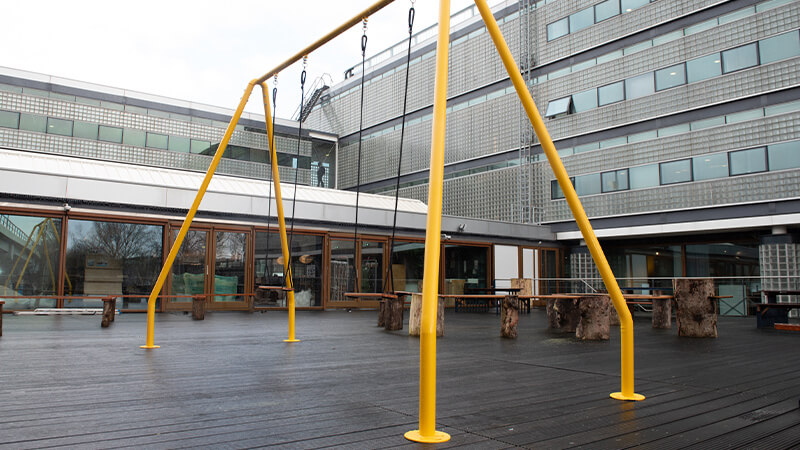 Who says swings are just for little kids?
The name says it all; our Serious Swing takes swinging seriously. Because who says swings are just for little kids? It is a great way to clear your thoughts and gain new perspectives. The Serious Swing allows you to do so on a stylish grown-up swing. And more importantly… it is really fun!
Find your inner child
Whether you physically or metaphorically outgrew the swing set, it is a sad fact that we all stop swinging from a certain age. Do you still remember going as high as you could and feeling on top of the world while you did so? This total feeling of freedom is something we might need even more in our adult lives! Swinging is a great way to let go of daily struggles, if only for a minute. It is all about finding that inner child.
However, while fun, most swings for children are not that aesthetically pleasing. Everything about the Serious Swing is for grown-ups. This not only changes the look of the swing, but the experience as well. What makes the Serious Swing so special?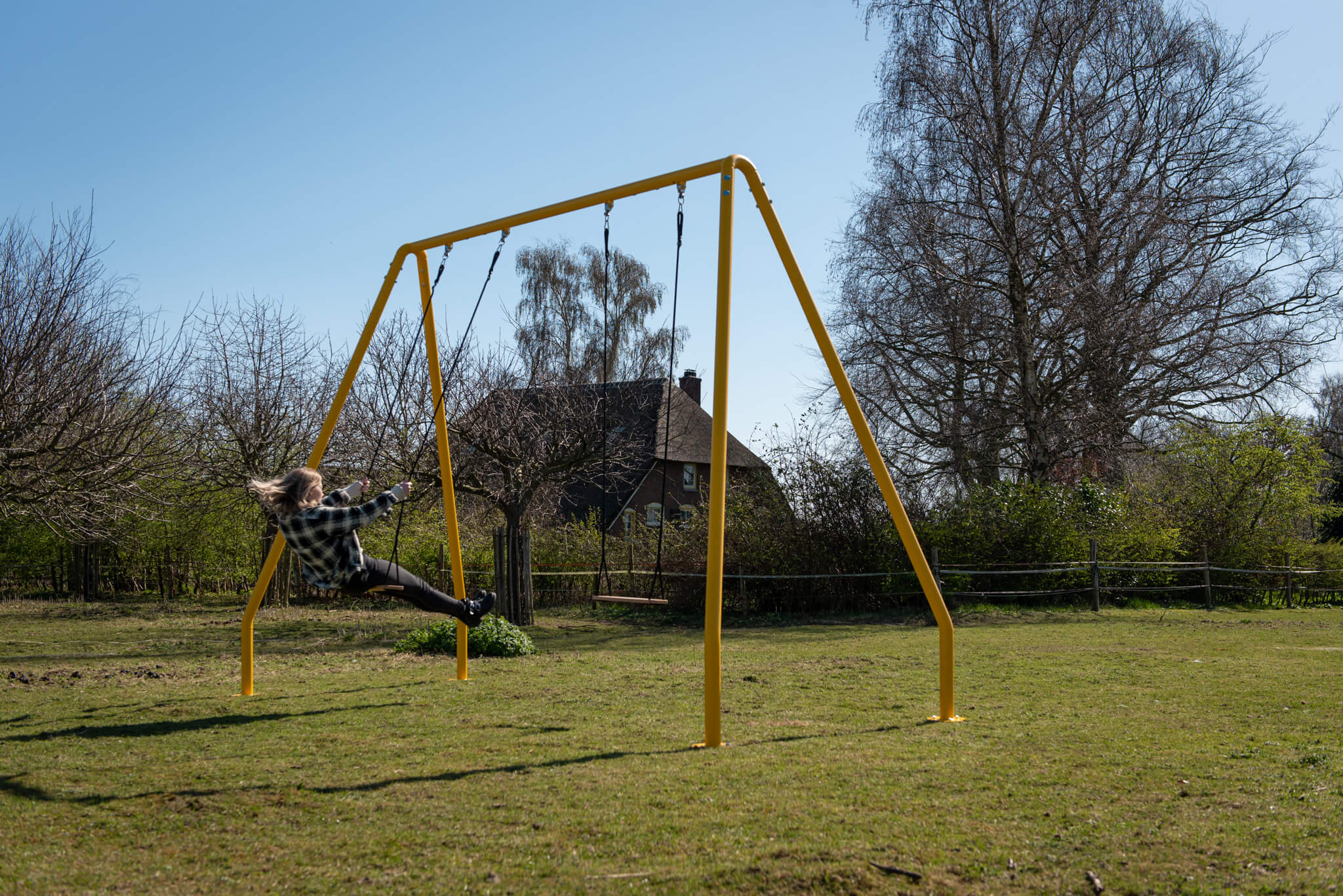 Tall enough for adults
The Serious Swing is seriously big. With a height of just over 3 meters, a width of 4.75 meters and a depth of nearly 2 meters, you can be sure it will be big enough for you to swing on. Everything about this Swing is designed with adults in mind.
Stylish design
The Serious Swing is great when it is in use, but it is equally great to look at! With an impressive modern and sleek design, this swing will definitely catch your attention. The (optional) built-in garden lights make it even more pleasing to look at. The lights shine down over the wooden swing sets and light up the entire ground beneath it, creating a grand effect. The swing is made from aluminum and is finished off in a powder coated warm yellow color, with the option to request your own color.
Indoors or outdoors
While the Serious Swing works well in an outdoor space, it can also be used indoors! The Serious Swing lends itself perfectly to an office setting. The two swing sets next to each other offer space for a casual meeting; And taking a 10-minute break on the swing is a great way to reset and come back with more inspiration or concentration. We speak from experience!
The Serious Swing will be available for delivery from May onwards. You can however, pre-order now. If you would like to know more about this design, send us an e-mail at
info@weltevree.nl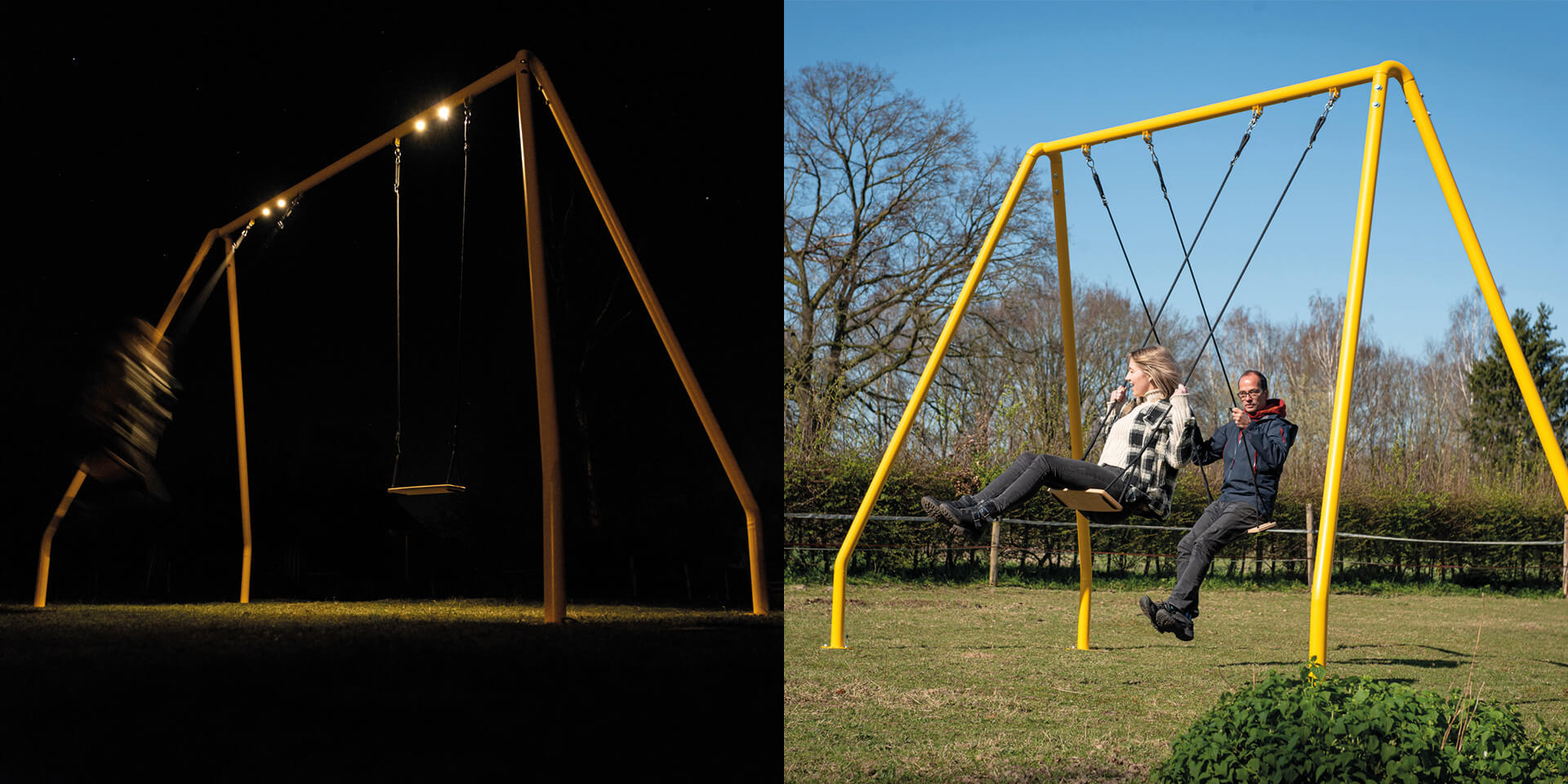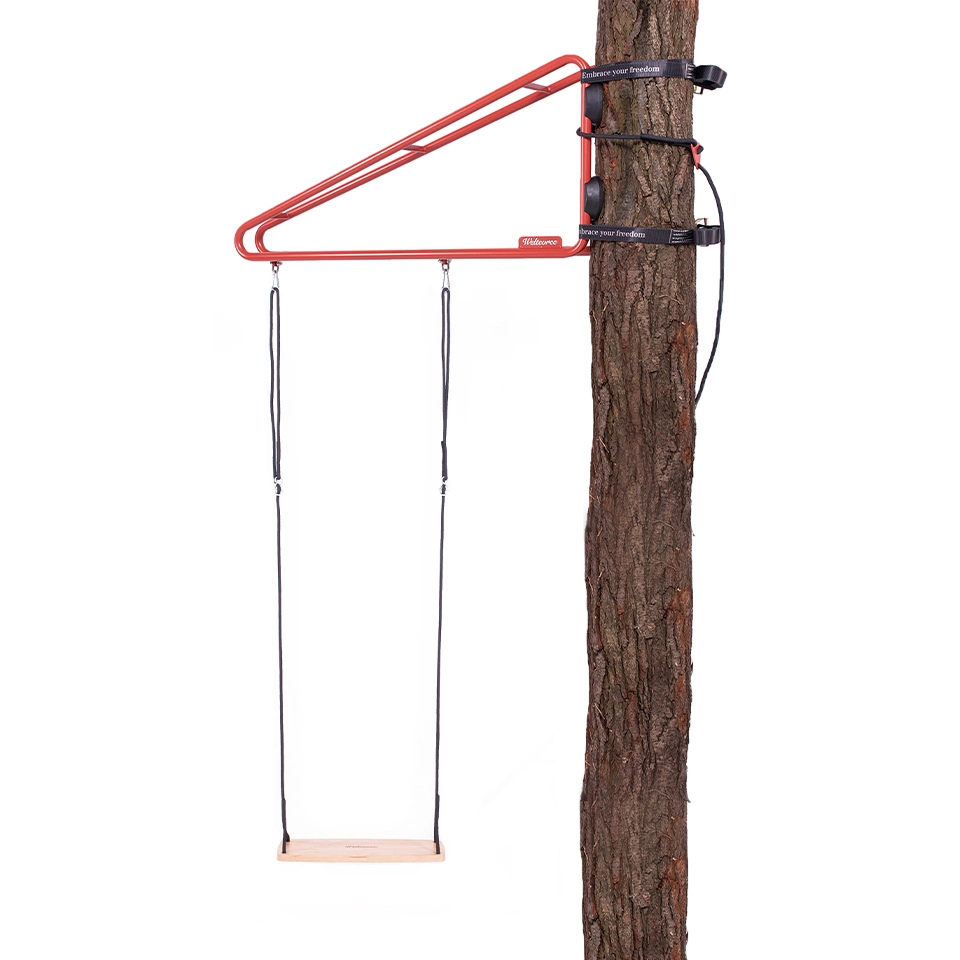 SWING
The Swing, designed by Thor ter Kulve, turns any tree into a playground. The straps used to attach the Swing are suitable for trees or poles up to two meters circumference. Simply attach the swing to a pole or tree and discover your surroundings from a new perspective. A wonderful way to put your thoughts aside or have fun with the kids. Circumfence of the tree should be between 94 and 200cm, for a tree thicker than 2 meters in circumference we have extra long straps, these are available separately in the webshop. There are 4 guidelines for the Swing: The swing has a maximum load capacity of 100 kg. For domestic use only. Designed for outdoor use only. Due to choking hazard not suitable for children under 3 years of age.