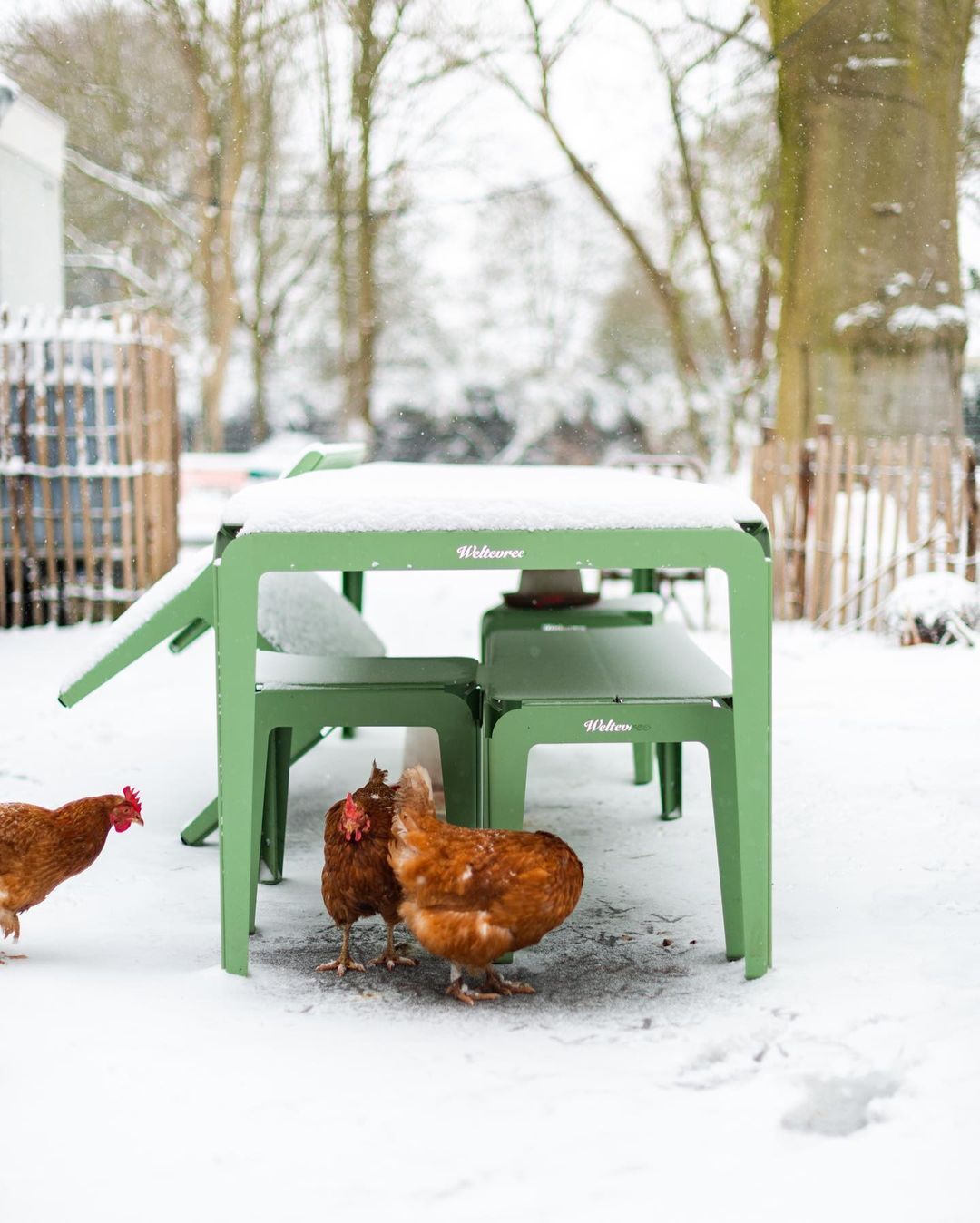 A peek into the garden of: Casper Boot, nature guide, 'gardener' and green revolutionary. The garden as paradise for man and animal
Graphic designer Casper Boot is a man with a mission. Less miserable grey tiled gardens and more greenery is his credo. He wrote the book 'Je eigen paradijs' (Your own paradise) about it and makes the two-weekly podcast 'Tuinbroekies', about his garden adventures. And his own garden? He sets a good example.
Trained nature guide, fanatical birder, councillor for a green party, writer, podcast maker: Casper Boot has many labels, all of which refer to his passion for nature. Four years ago, the graphic designer started renovating their 1920s house with his partner Anki, after which the neglected garden was transformed into a true paradise. About this adventure and his findings, he wrote the book 'Your own Paradise', with many practical tips to help the reader make the garden greener. Biodiversity is also a central theme in the podcast 'Tuinbroekies', which Casper produces every two weeks with friend Nanne Eldering. From chickens to 'those damn leaf blowers', from seed mixtures for under your trees to nude gardening: the subject is illustrated from all angles. In short, this man knows how to turn a garden into a biodiverse paradise. How exactly did he do it in his own garden?
Birds, hedgehogs and ladybirds
It was always my dream to live in a beautiful house with a large garden," says Casper. That dream came true. Ankie, with whom I run graphic design agency Zilverblauw, and I live in a detached 1920s house with beautiful stained glass and a decent plot of land. We're very lucky to have a big garden and lots of space for nature'. Biodiversity, or the variety of plants and animals, is very important to the two of them. Among other things, I made a pond and kept many places nice and messy, as if it were a forest. I have also created beautiful spots where we can sit and enjoy ourselves. The aim is for the garden to be a nice place for our family, but also for all the bees, butterflies, birds, hedgehogs, ladybirds and other creatures.
Second-hand greenhouse
Besides biodiversity, sustainability plays a major role in Casper's paradisiacal garden. Casper and Ankie know how to do a lot of DIY and reuse materials. We bought a shed and greenhouse second-hand, almost for free. It takes some time and energy, but it's fun to do and the result is amazing. Not everything has to be new! Casper also stresses the importance of choosing the right plants. Preferably indigenous, i.e. plants that occur naturally in your living environment, organic and non-toxic. Unfortunately, this is not always the case, so you have to search for the right grower or shop. Tip: Sprinklr, a webshop for plants, and Cruydt Hoeck, a webshop for seed mixtures. Fortunately, garden centres are also selling more and more good stuff.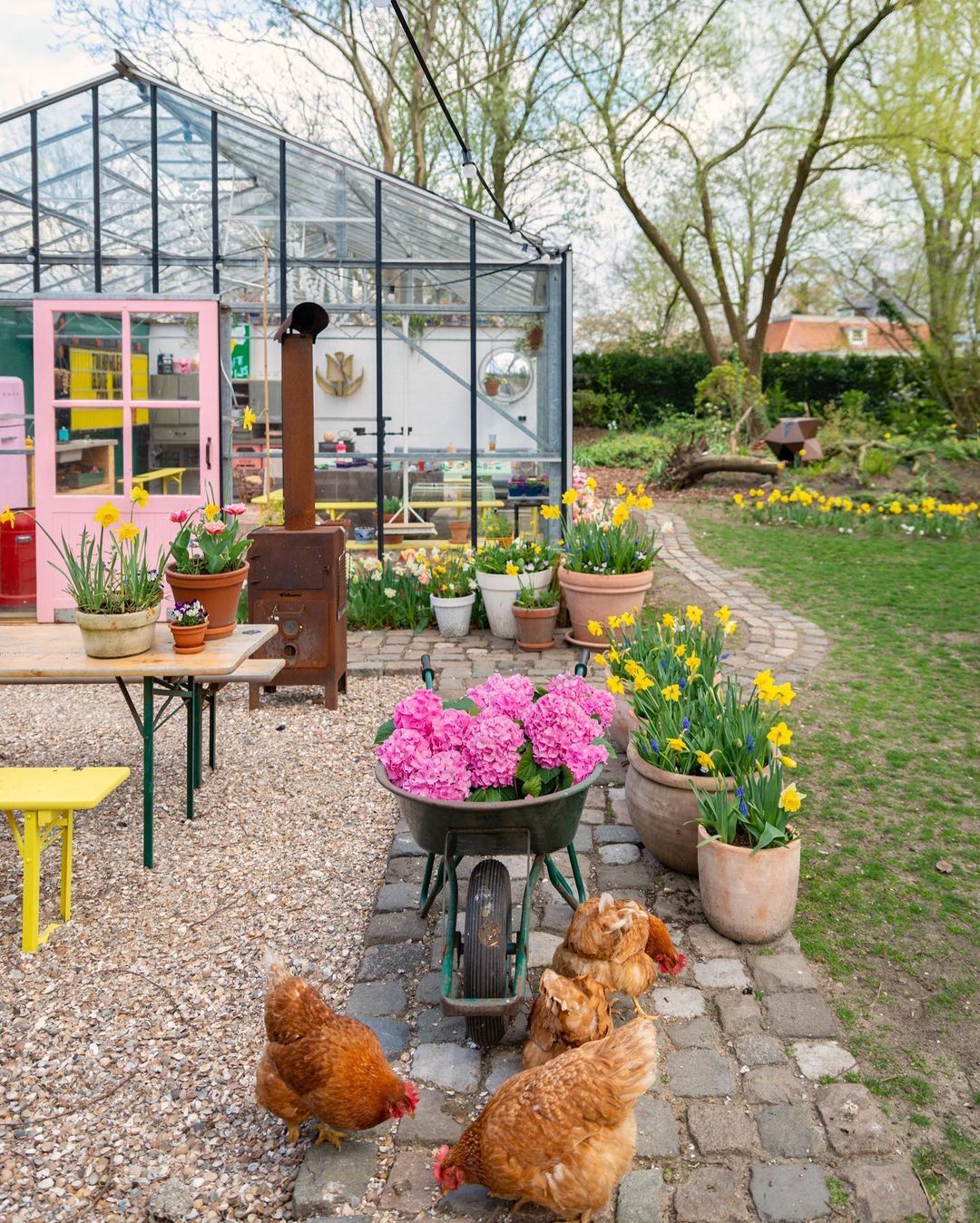 Adventure with Weltevree
His love of nature and desire to make the world a little more beautiful prompts Casper to choose second-hand garden furniture or quality outdoor design such as Weltevree. Several Weltevree bestsellers can be found in Casper's biodiverse garden. Weltevree stands for beautiful, honest, Dutch design. There is a clear connection with sustainability, being outside and having adventures. That fits our vision and our garden perfectly. Casper and his family have enjoyed the
Outdooroven
for many years, making their own pizzas in it. It's great to do after a hard day's work in the garden. I also think the Waterworks (a handy workstation for in the garden, ed.) is a fantastic product, so clever. I'll be using it a lot this year. The Flying Dishman is still on the wish list; that seems like a nice place to chill out among the wild flowers that I have sown.
Dreaming away in the Dutchtub
For those who want a garden as heavenly as Casper's, he has one message: just do it. Don't hesitate, just start. You can do more than you think. Casper and Ankie got their inspiration from second-hand magazines, books from shops and Pinterest. They also visited gardens owned by professionals and private individuals: free and fun to do. That's how you come up with ideas, wishes and a vision. And finally a first design. For this, the graphic designers enlisted the help of a garden designer who, in her own words, 'paints with plants'. She fine-tuned my design and also drew in the plants. Then we just went to work. My advice is to follow your own intuition and not to blindly do what you are told. That certainly worked in our case. Does this mean that Casper is completely content with his garden as it is? Yes, but I keep dreaming. As we sit in the Weltevree
Dutchtub
, with a clear starry sky and a beer, I dream about ending up on a farm with even more land and possibilities. Our own food forest, a guesthouse and space for sheep and even more chickens...'.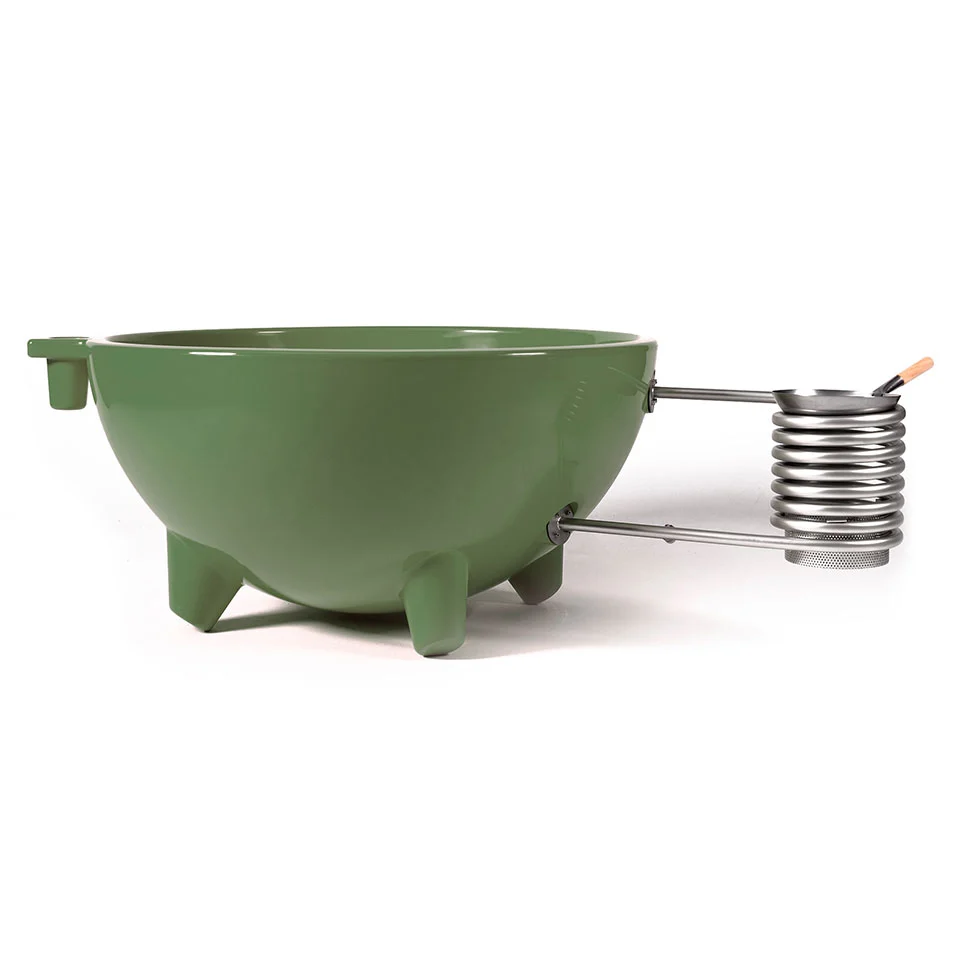 DUTCHTUB ORIGINAL
Experience nature from within the Dutchtub original and experience the luxury of outdoor bathing. The iconic wood-fired hot tub allows you to fully relax in your own backyard all year round. The Dutchtub Original is made of polyester and a steel coil. The water at the bottom of the tub is drawn in through the coil and heated by the fire of the wood-burning stove. The water flows into the tub and in this way uses natural circulation of the water. The Dutchtub holds 600 liters of water per splash.The Dutchtub is comfortable, a real eye-catcher and with its 75 kilos it is easy to move. To make moving it even easier, the Hand Trailer is available separately in the Webshop. Place the Dutchtub in a nice spot in the garden, heat the water and lower yourself into the water. Close your eyes and focus on your surroundings and the sounds around you. Combined with a drink, the Dutchtub is a cozy drinking spot for an evening with friends. The design of this special hot tub is by Floris Schoonderbeek. The Dutchtub Original, a Dutch design, is available in three different unique colors, comes with a wok and insulation mat. The tub seats four people and reaches a temperature of 38 degrees within about 2 hours. Complete the Dutchtub Original with a variety of accessories. Also explore our other Dutchtub models here.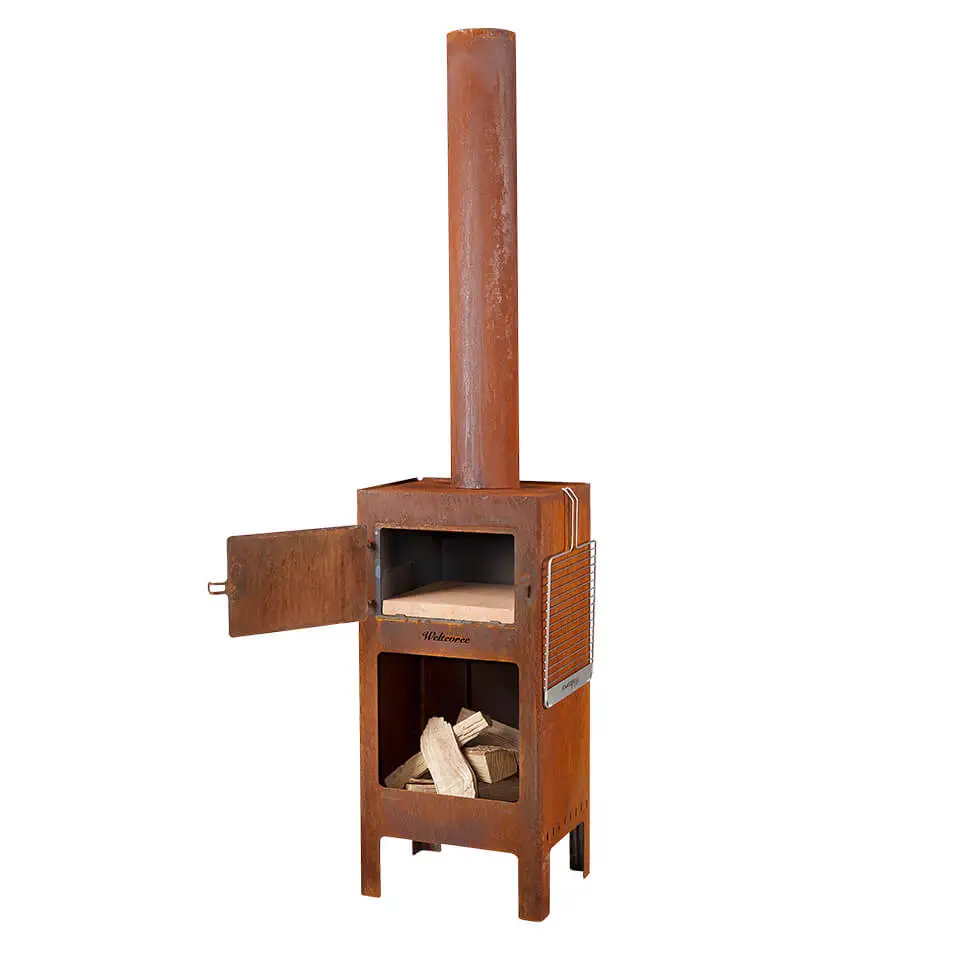 OUTDOOROVEN
This outdoor oven is an eye-catcher in any garden! Enrich your garden or patio with the Outdooroven Original. From bread rolls for breakfast to pizza or sparibs for dinner: the outdoor oven is a real all-rounder and contains an outdoor fireplace, oven and barbecue grill in one. So you can enjoy adventurous meals outdoors all year round. In summer with a cocktail and in winter with a hot chocolate. In the lower open compartment the wood fire is stoked. Above it is a compartment with a lockable flap, in which you can bake. The top of the Outdooroven is flat and warm enough for cooking. The outdoor oven easily reaches temperatures up to 350 degrees and is expandable with various accessories. This iconic design by Dick van Hoff is made of high-quality 3mm thick Corten steel and will last at least 10 years. The outdoor oven comes complete with pizza stone, grill grid and 1 meter stove pipe. Complete your Outdooroven with various accessories. Light a fire, make some goodies in the outdoor oven and chat with your friends while enjoying the crackling wood fire in the background.