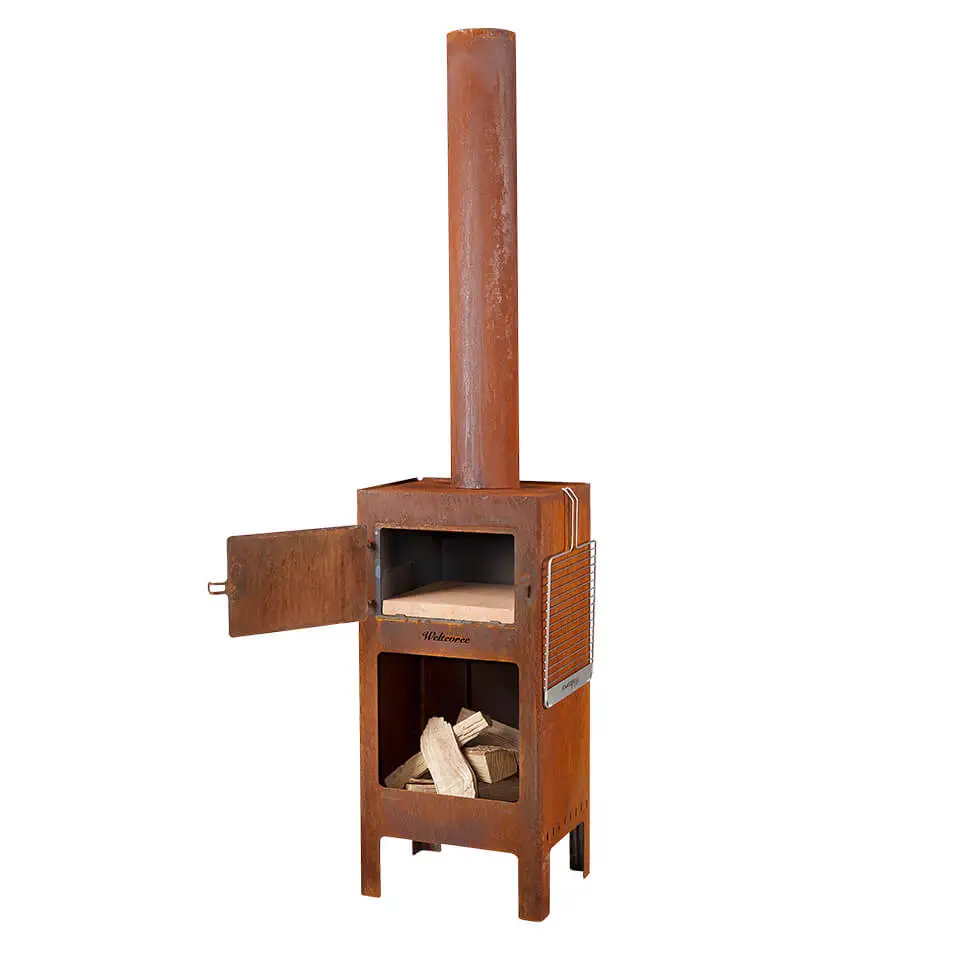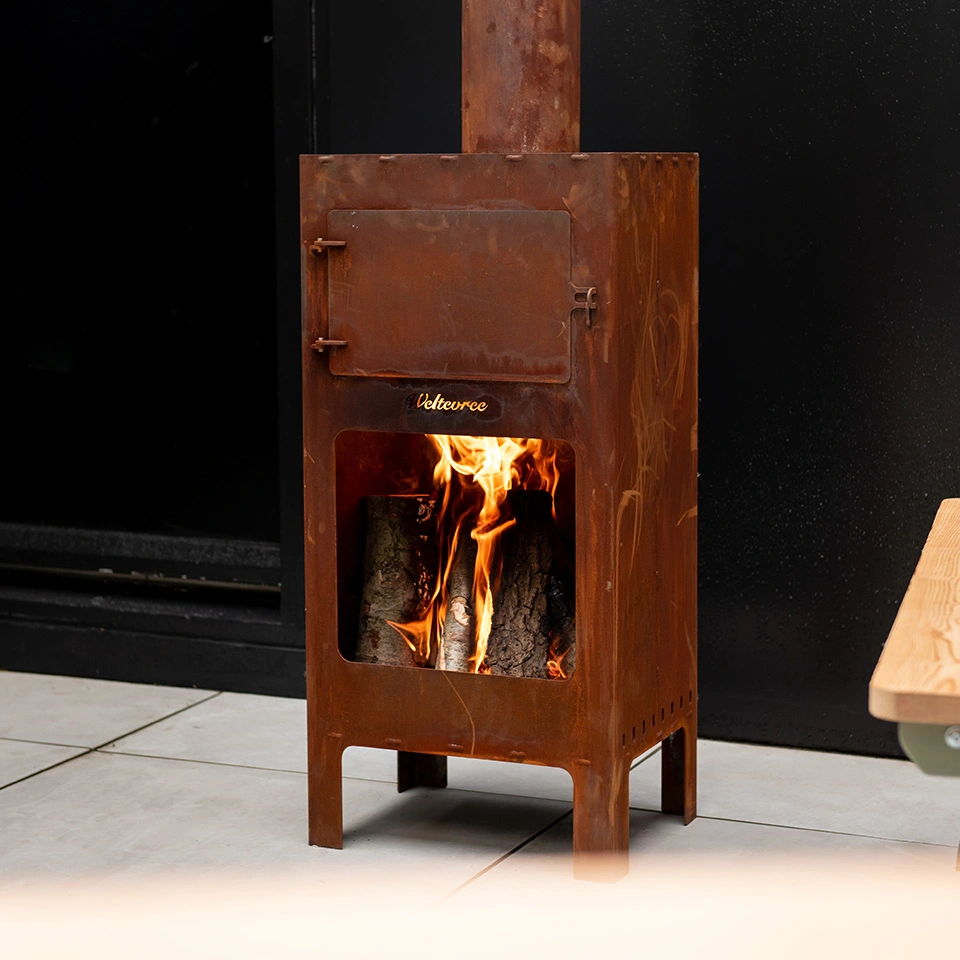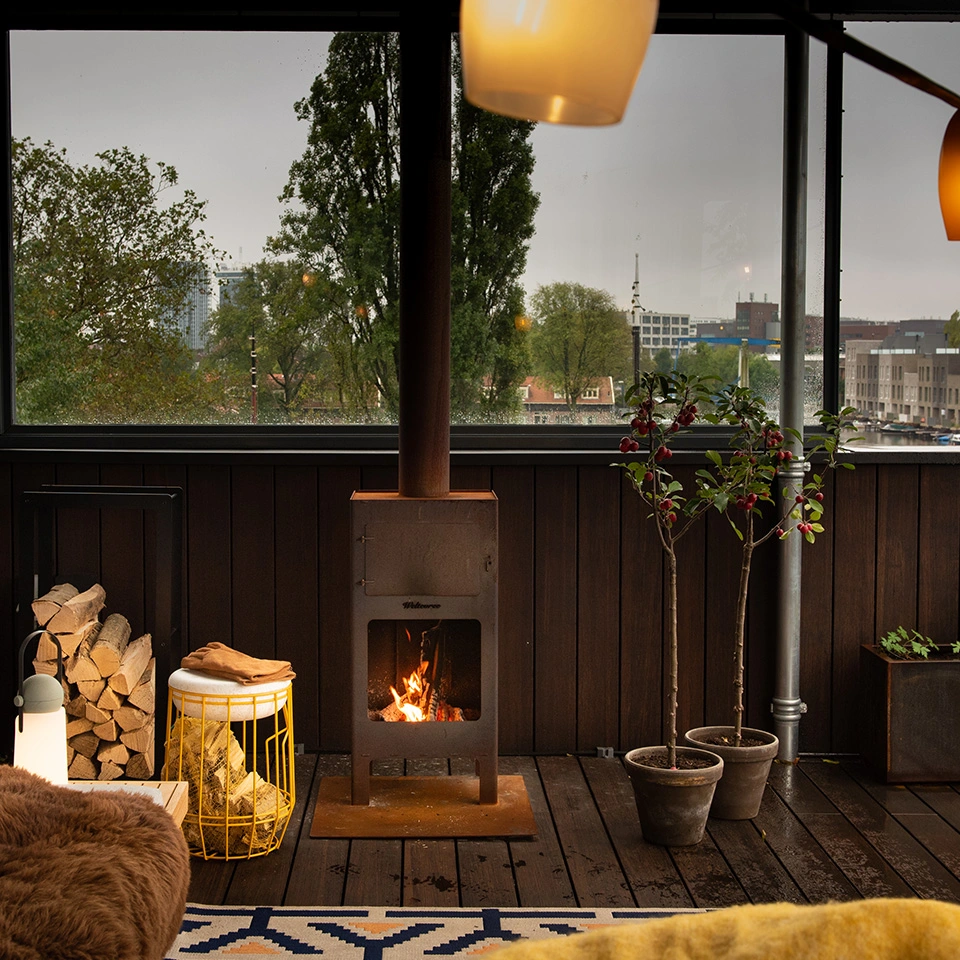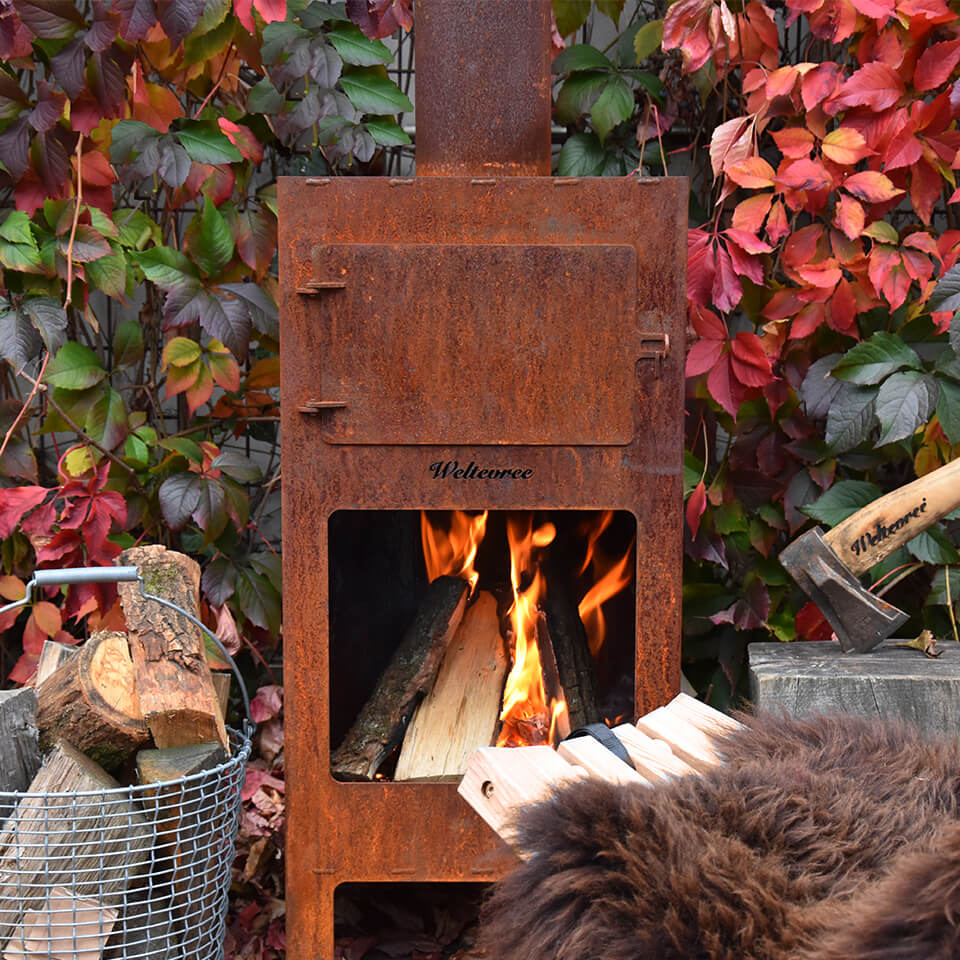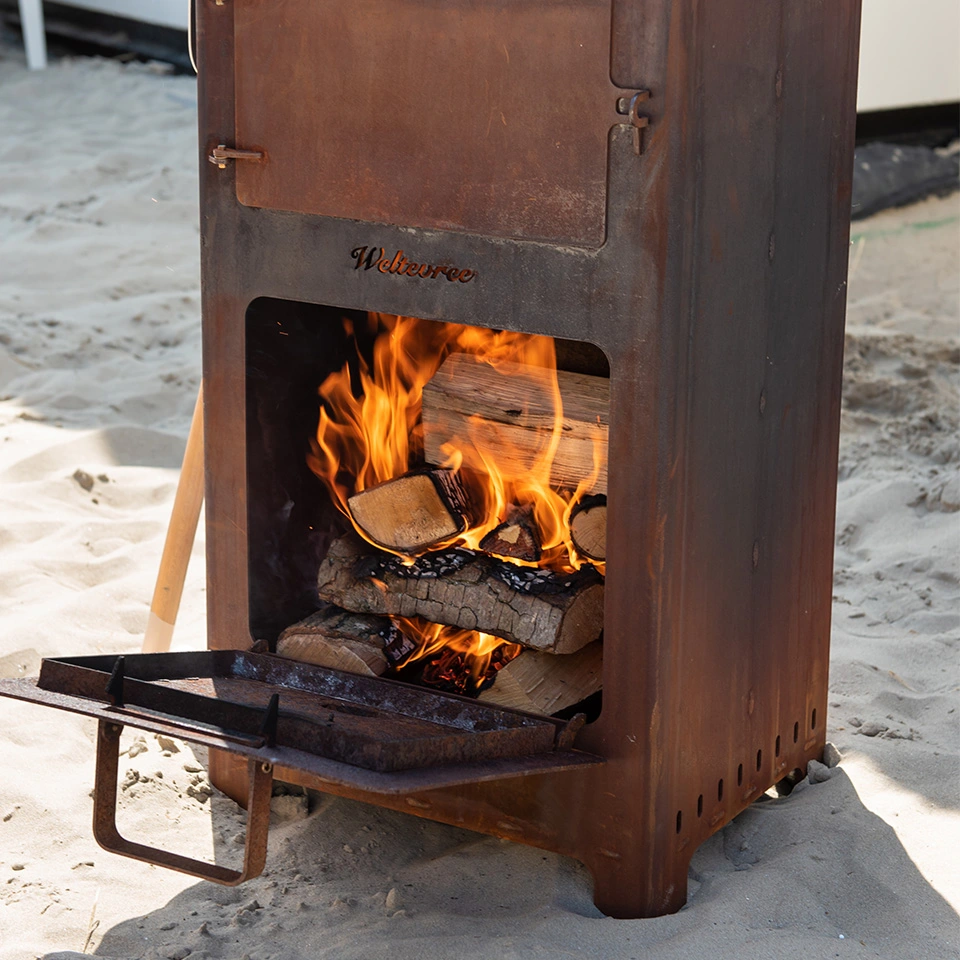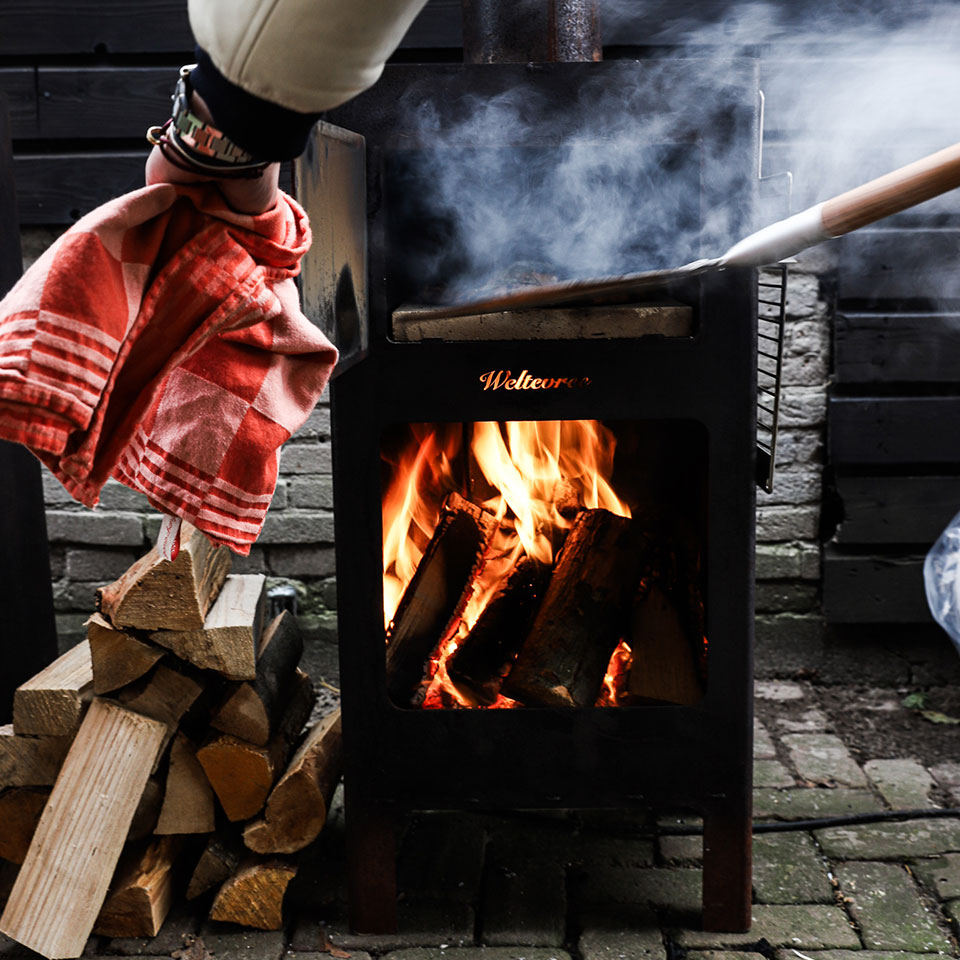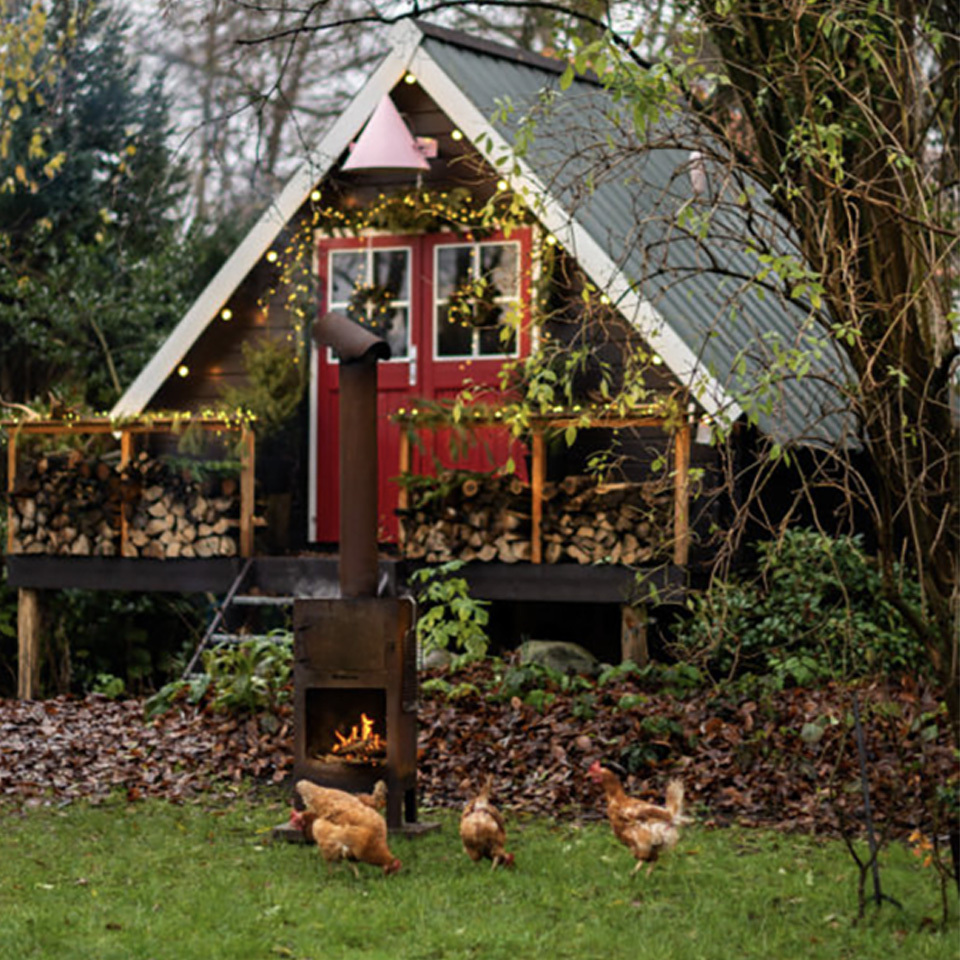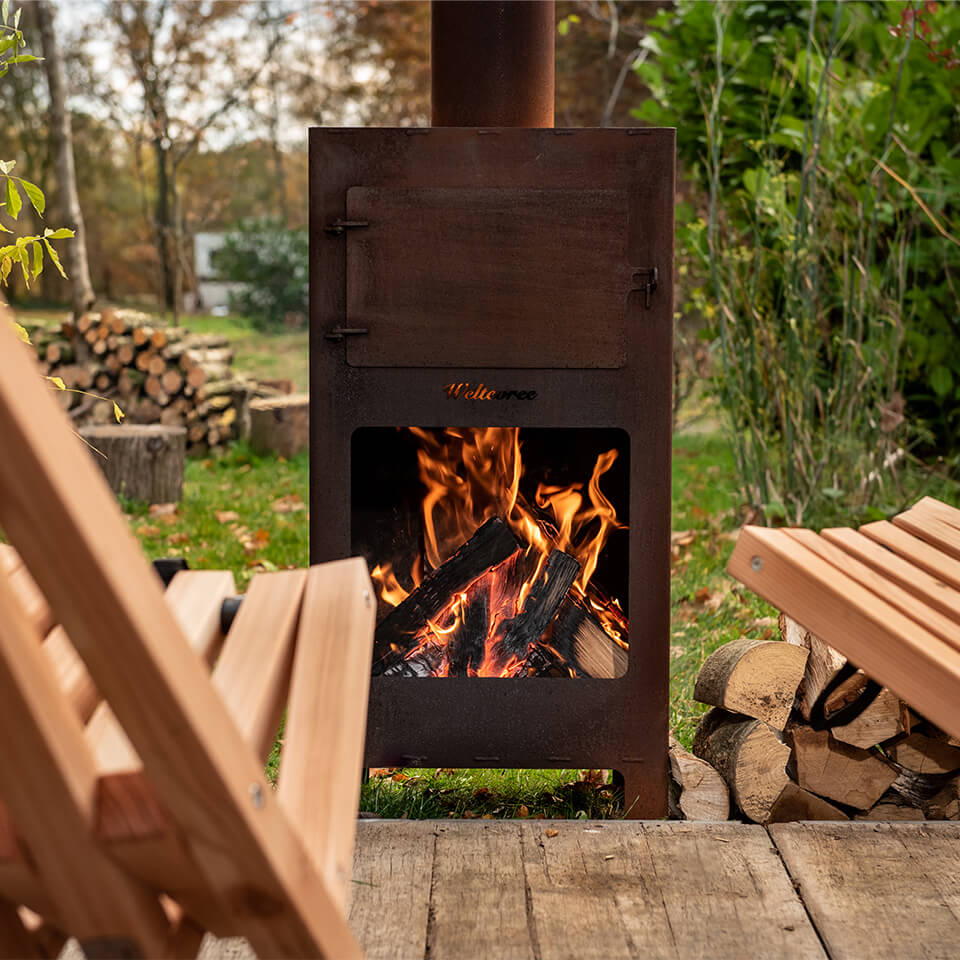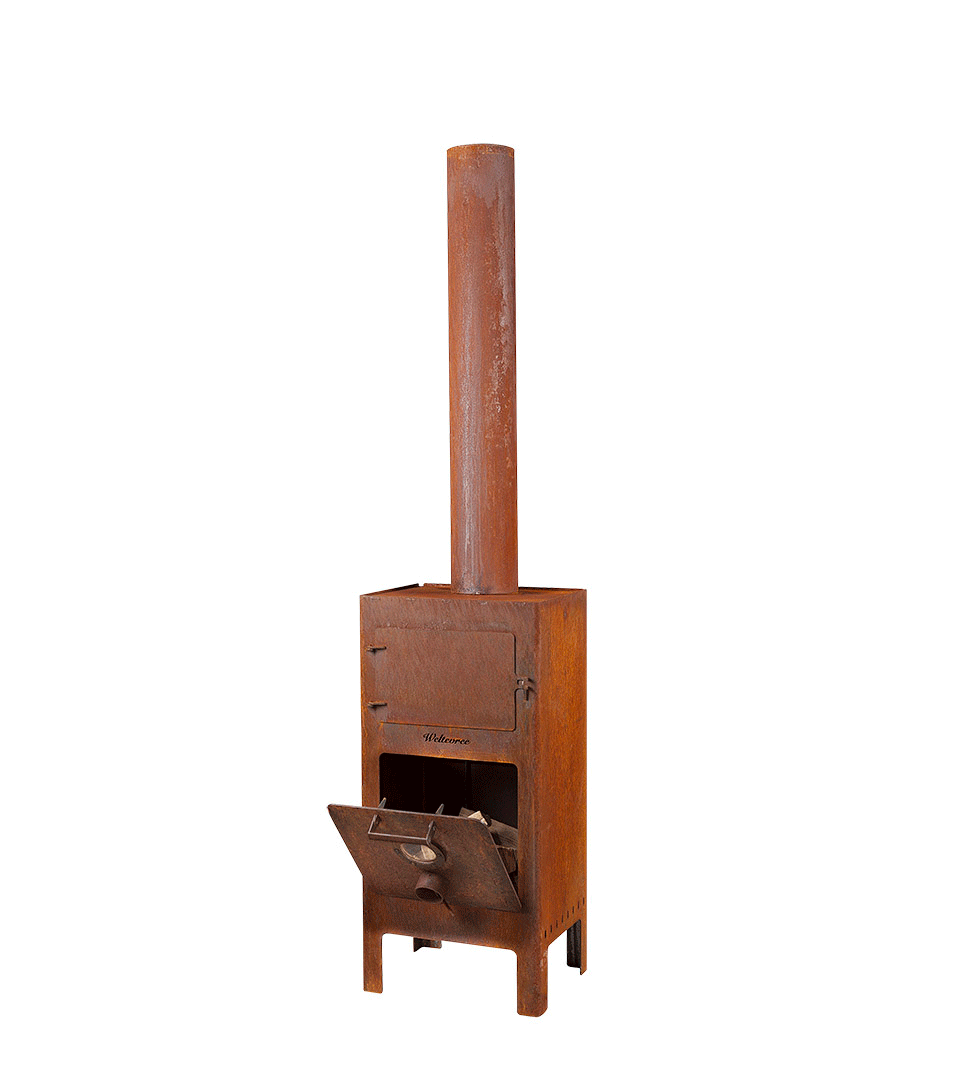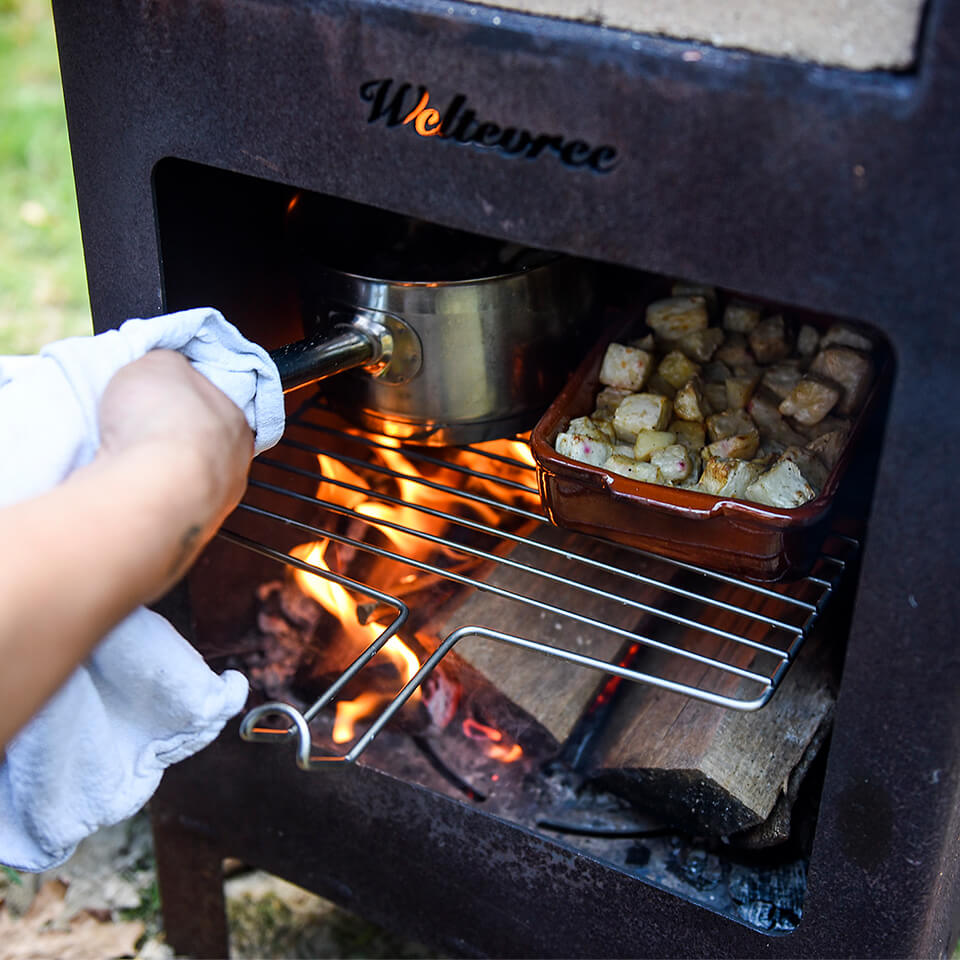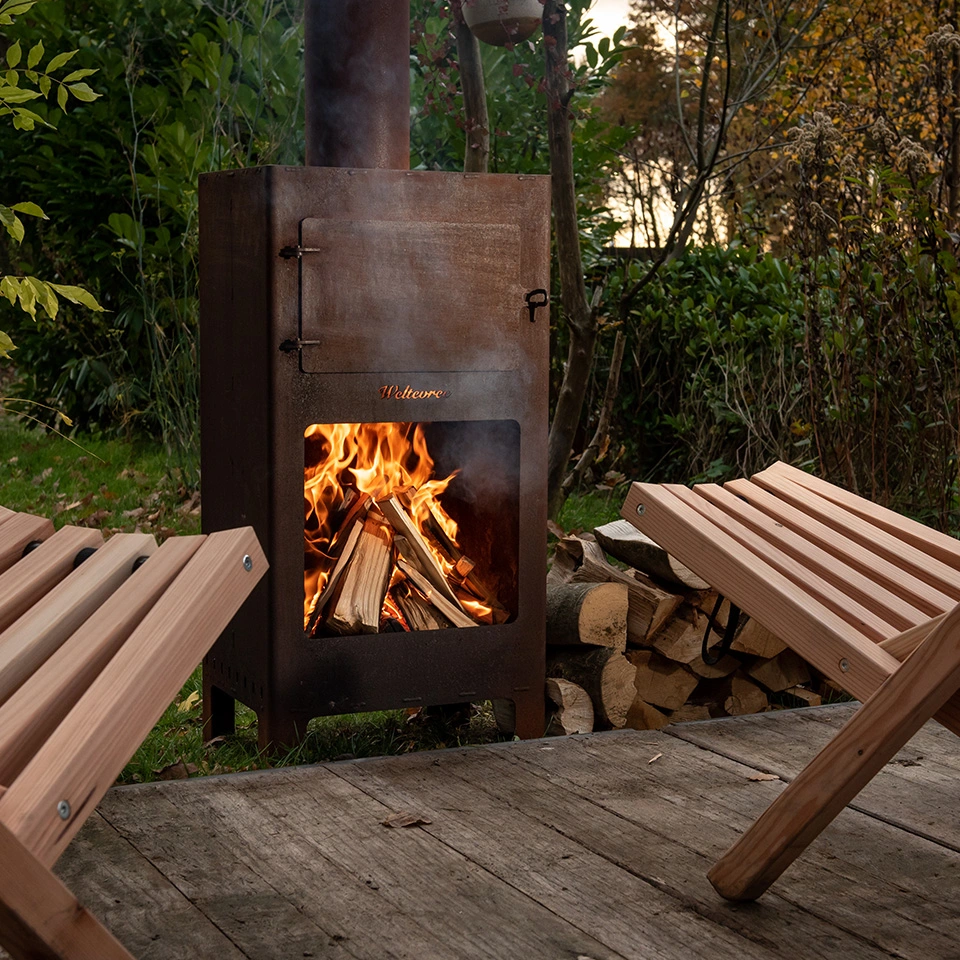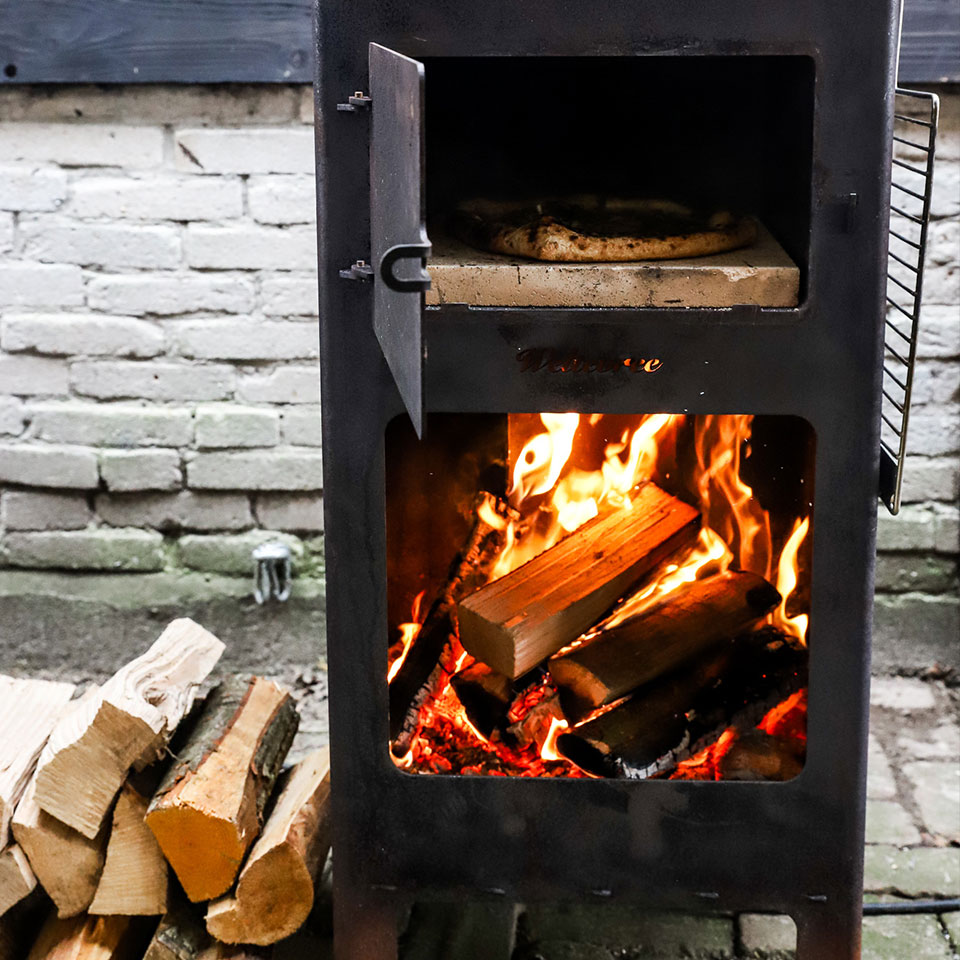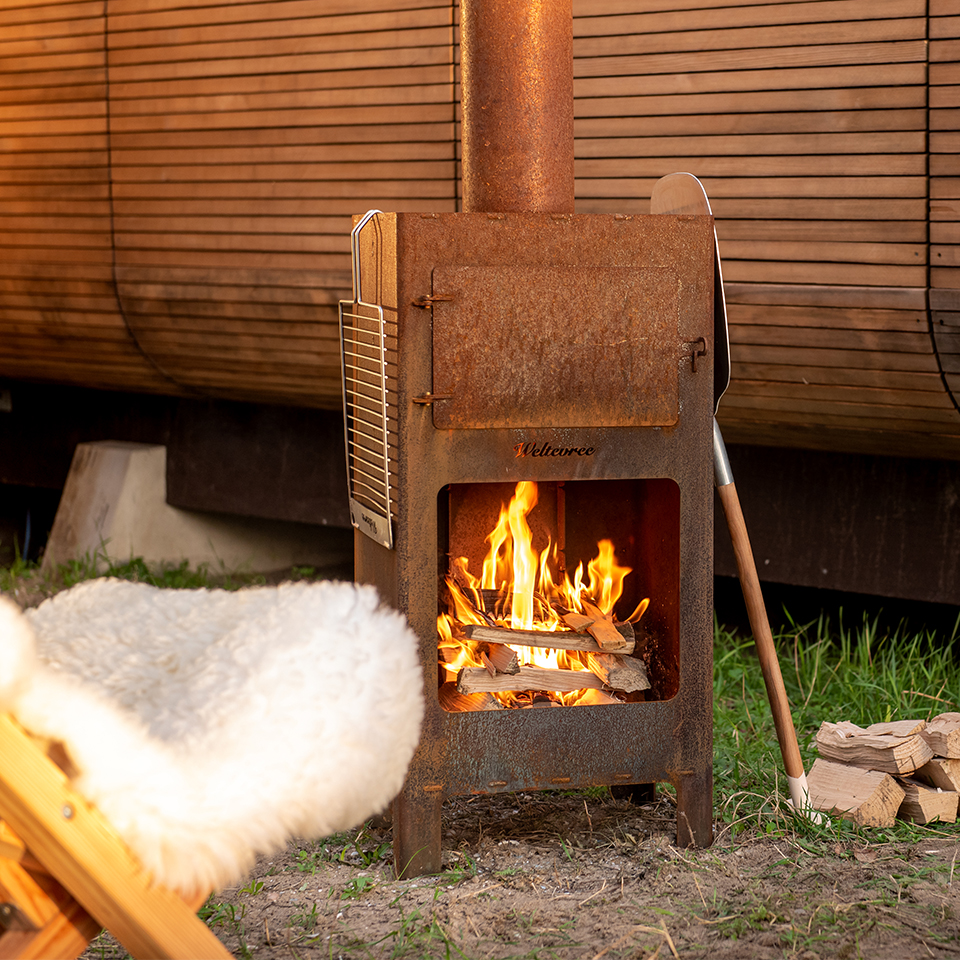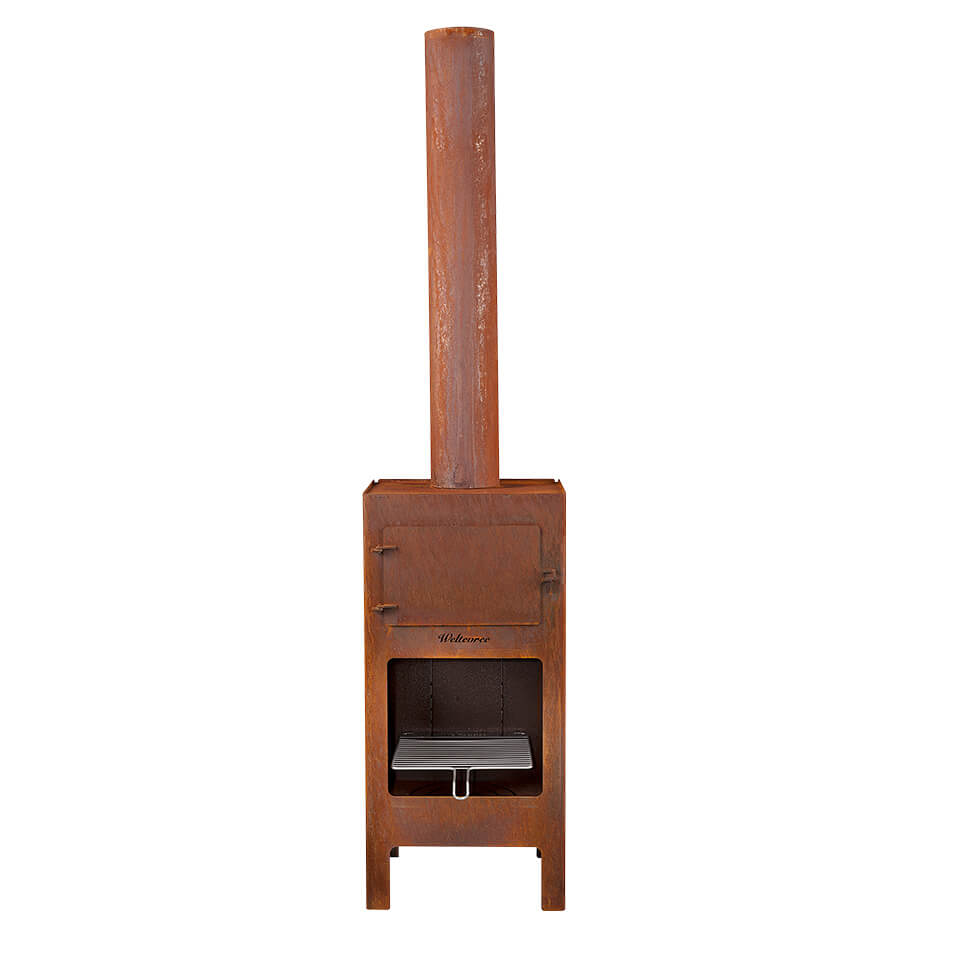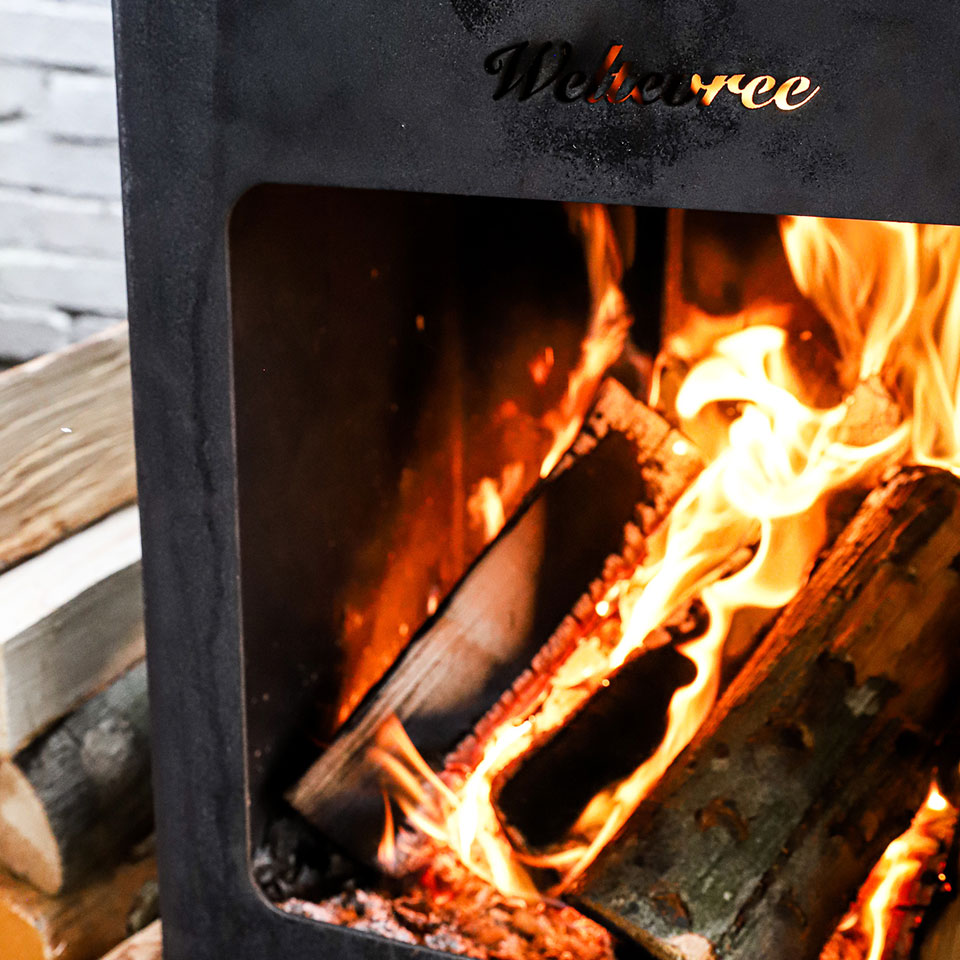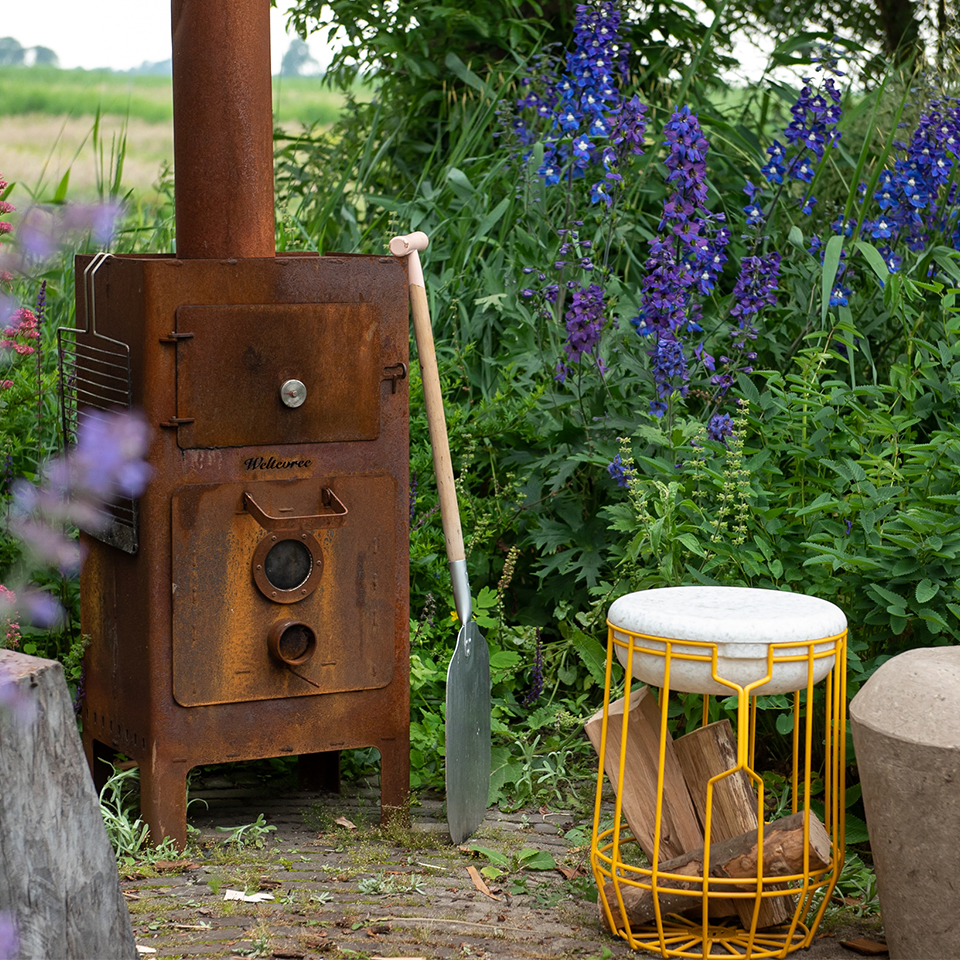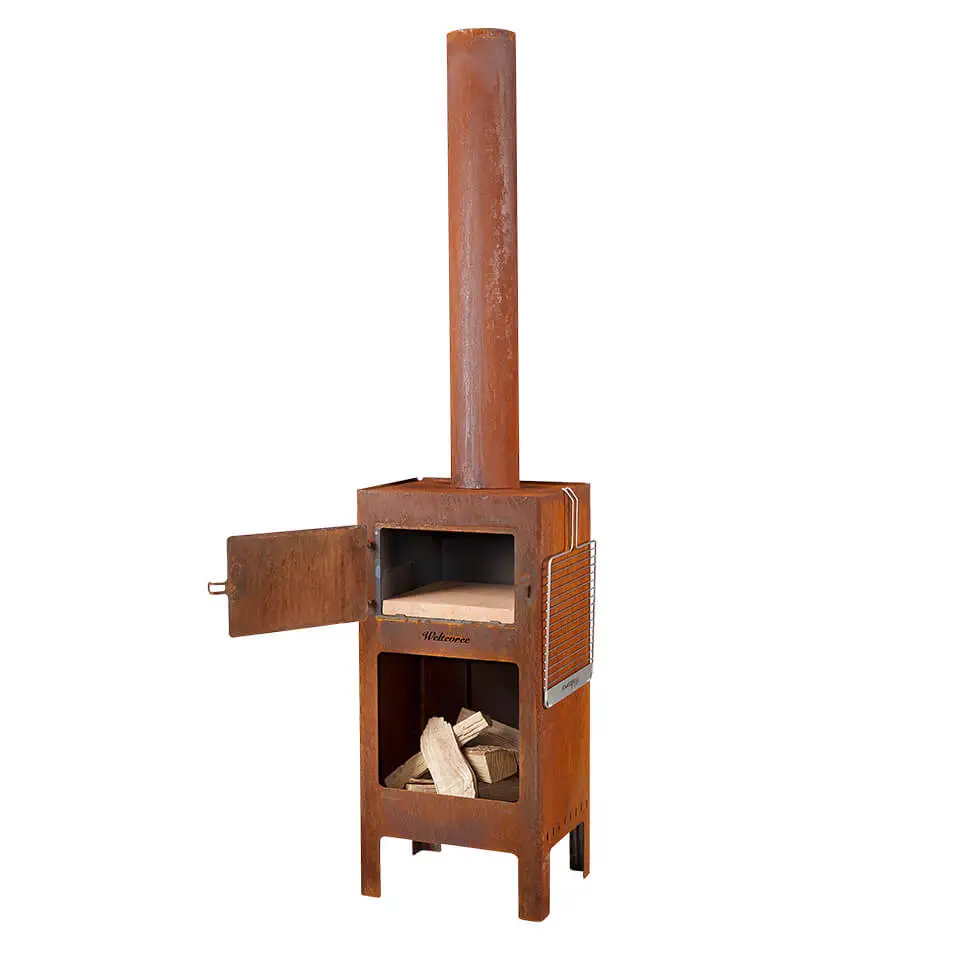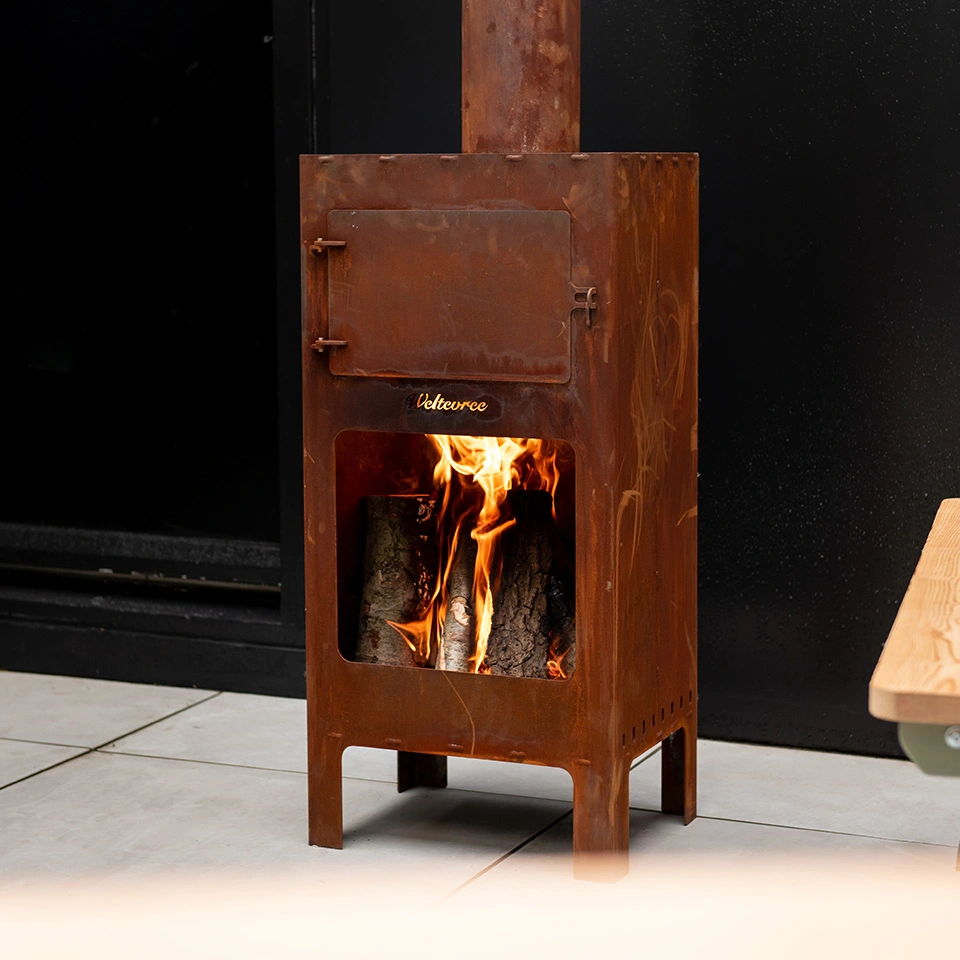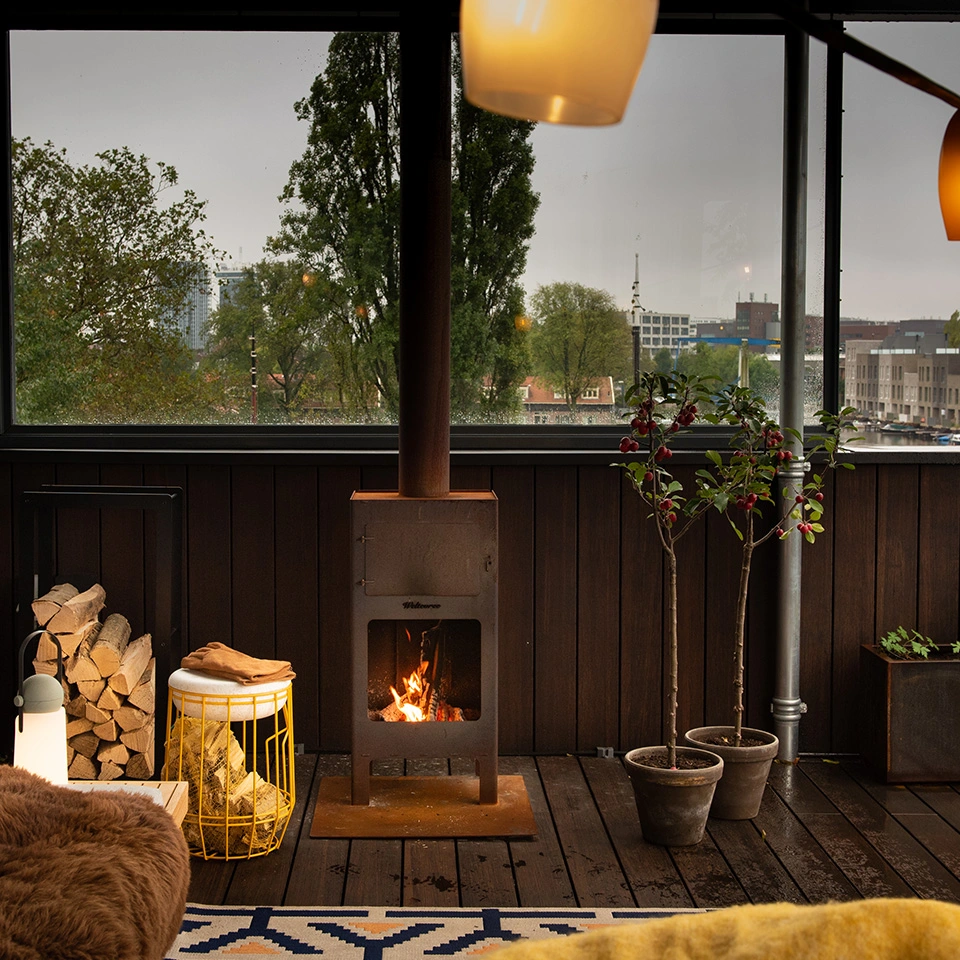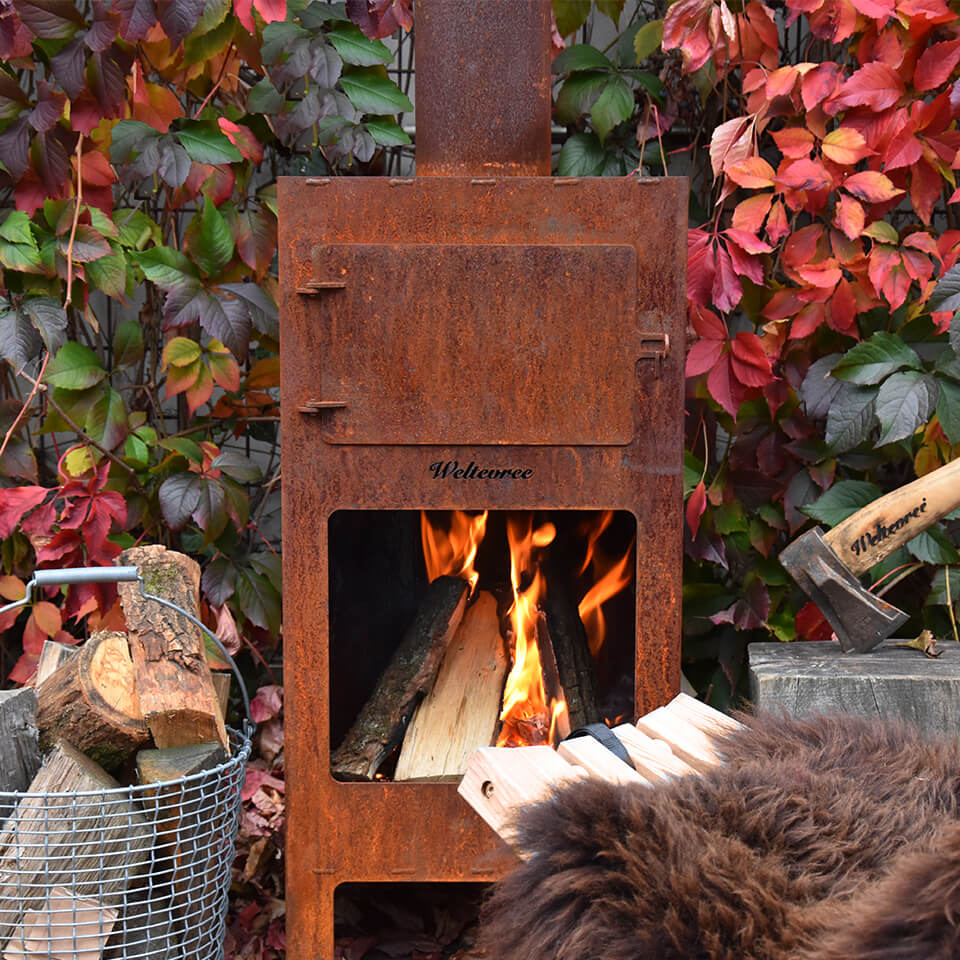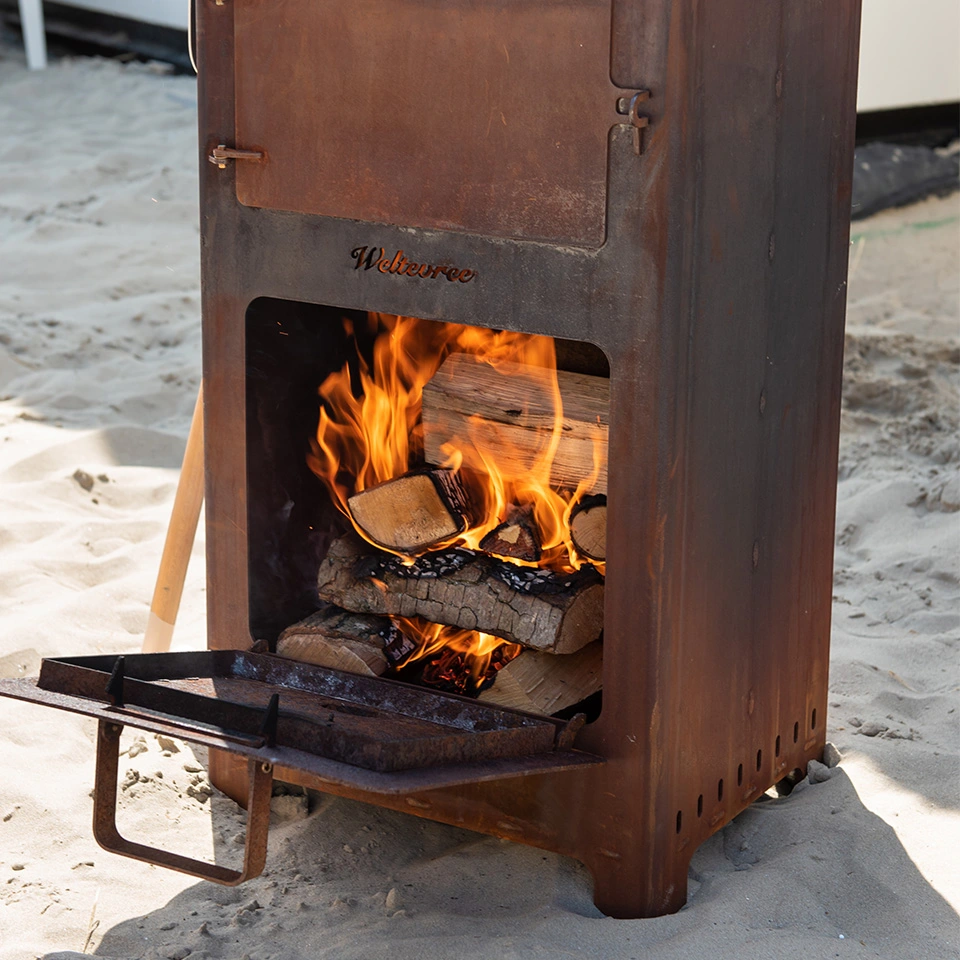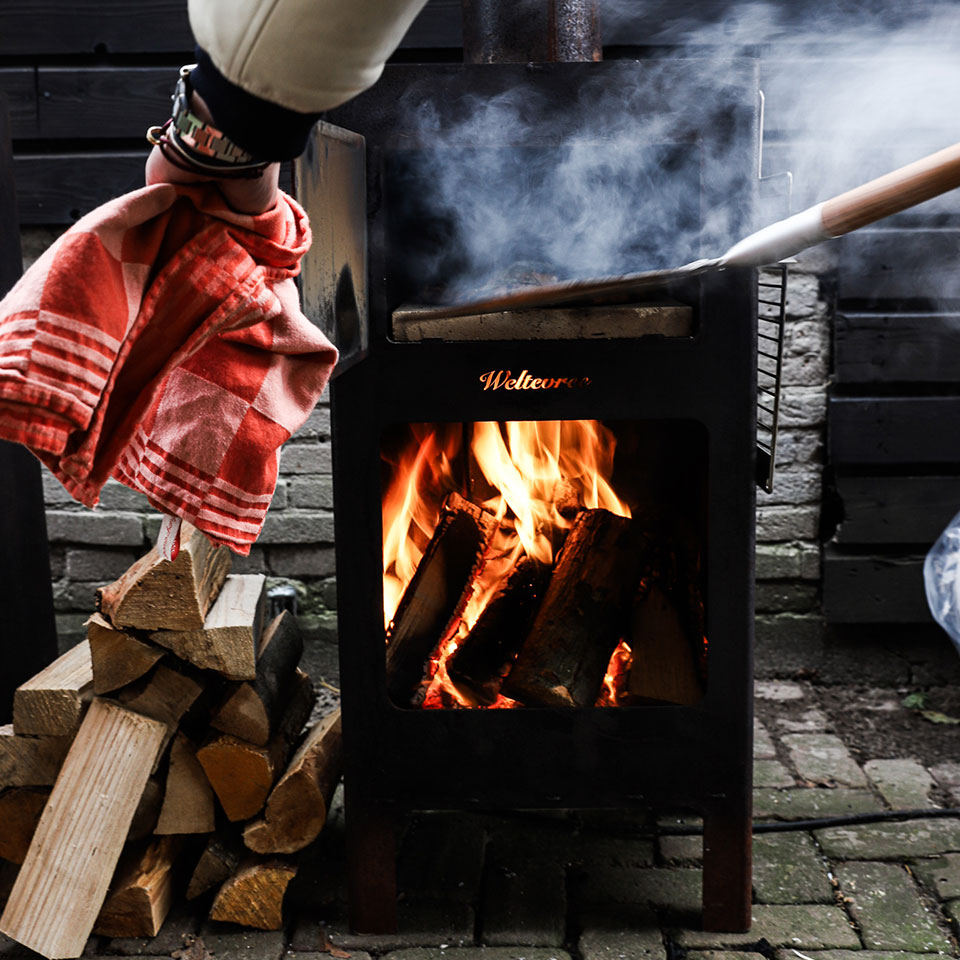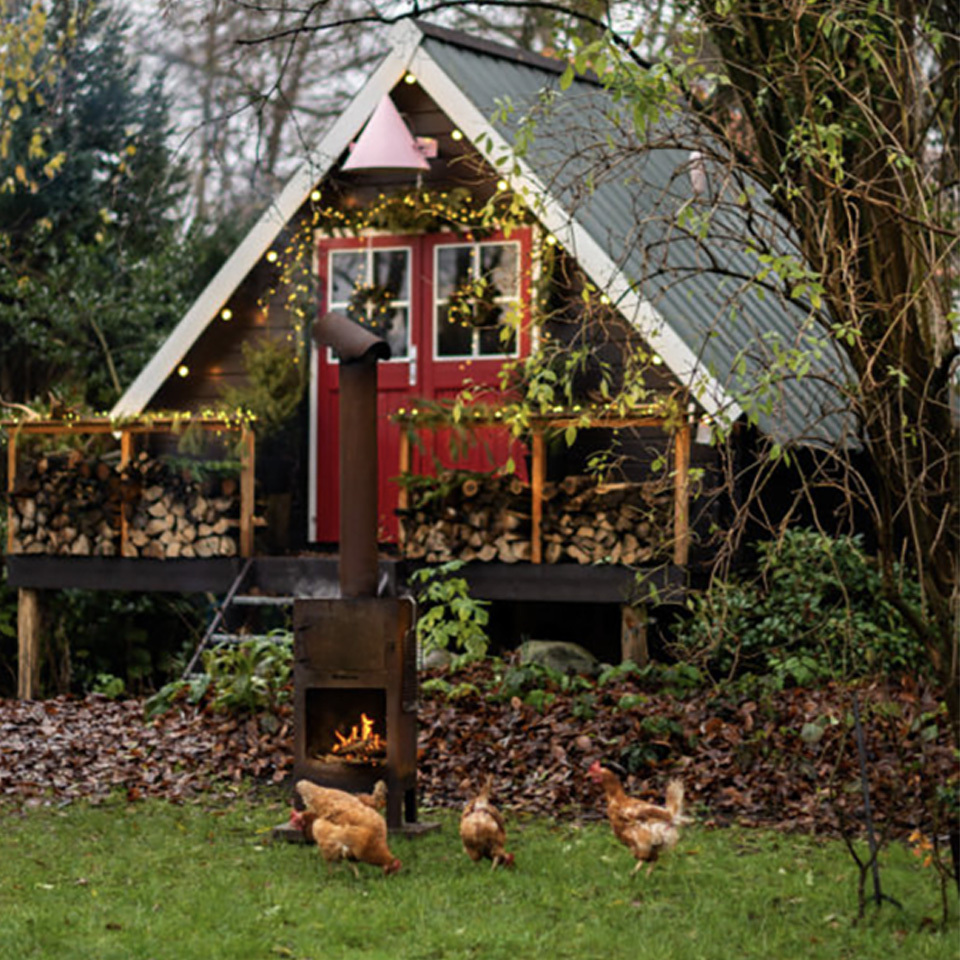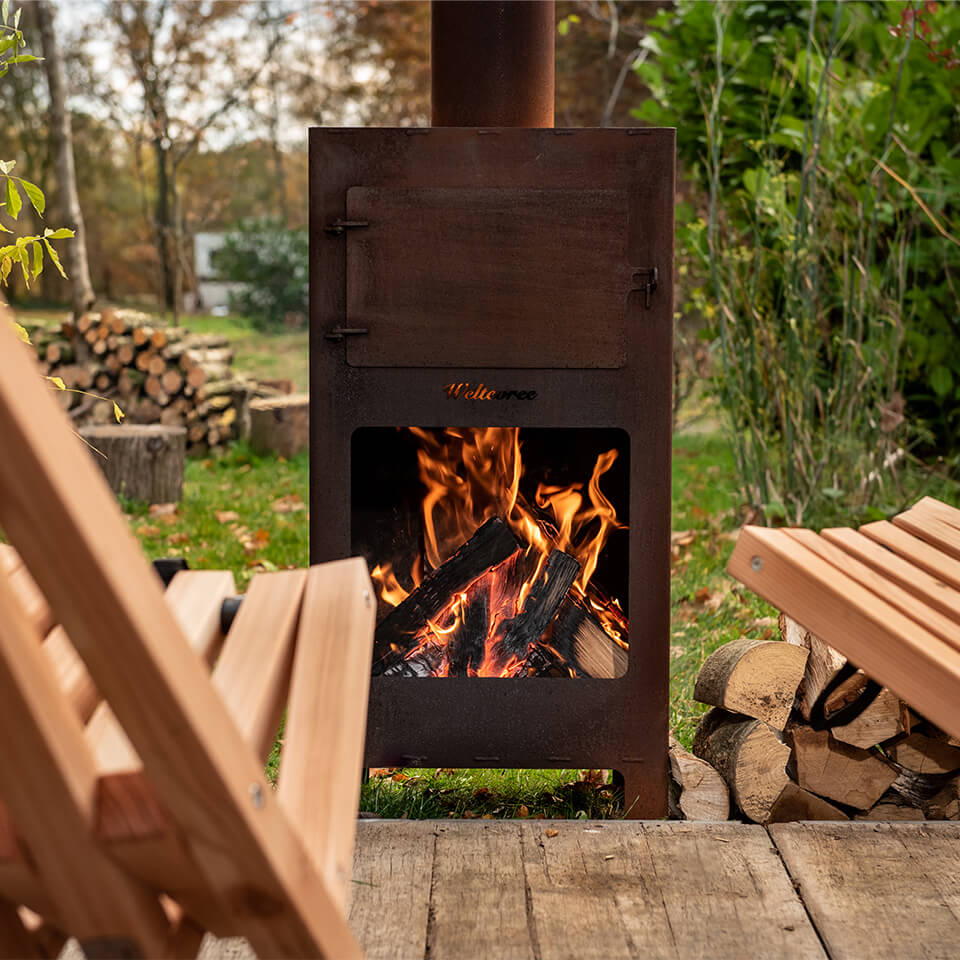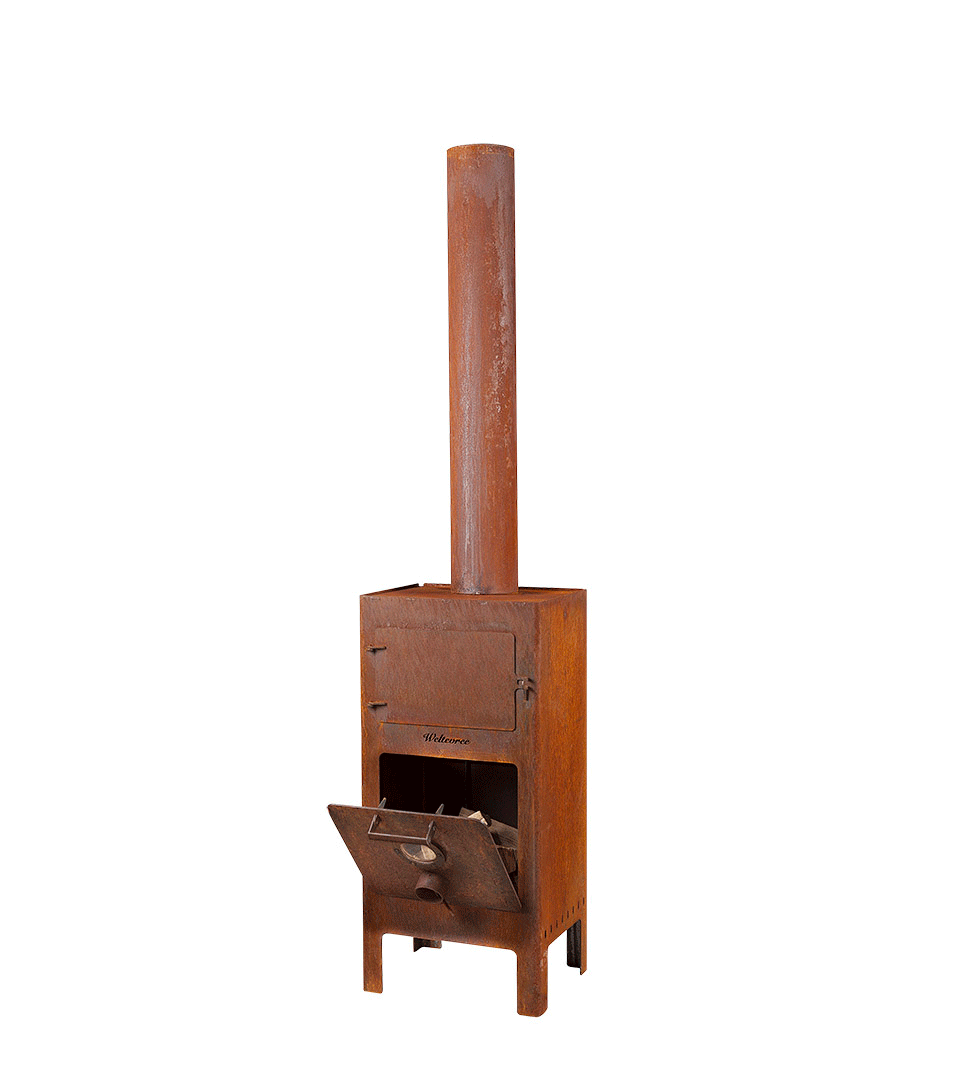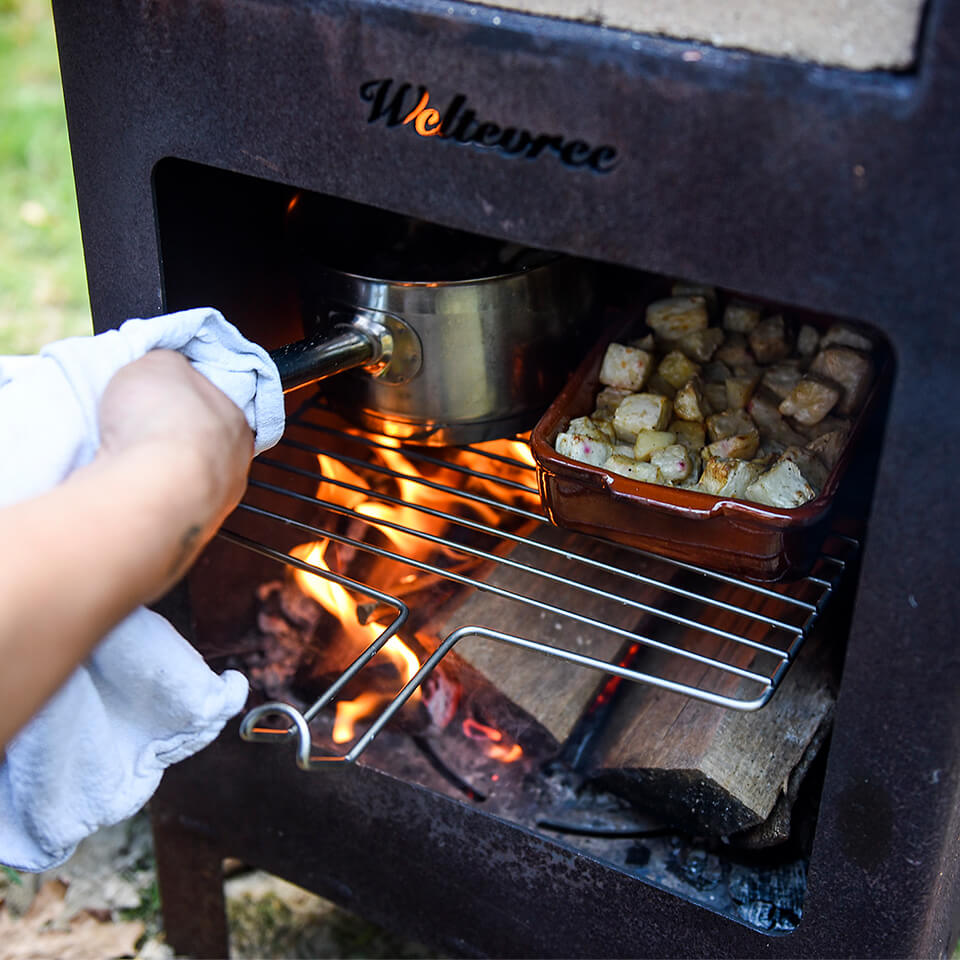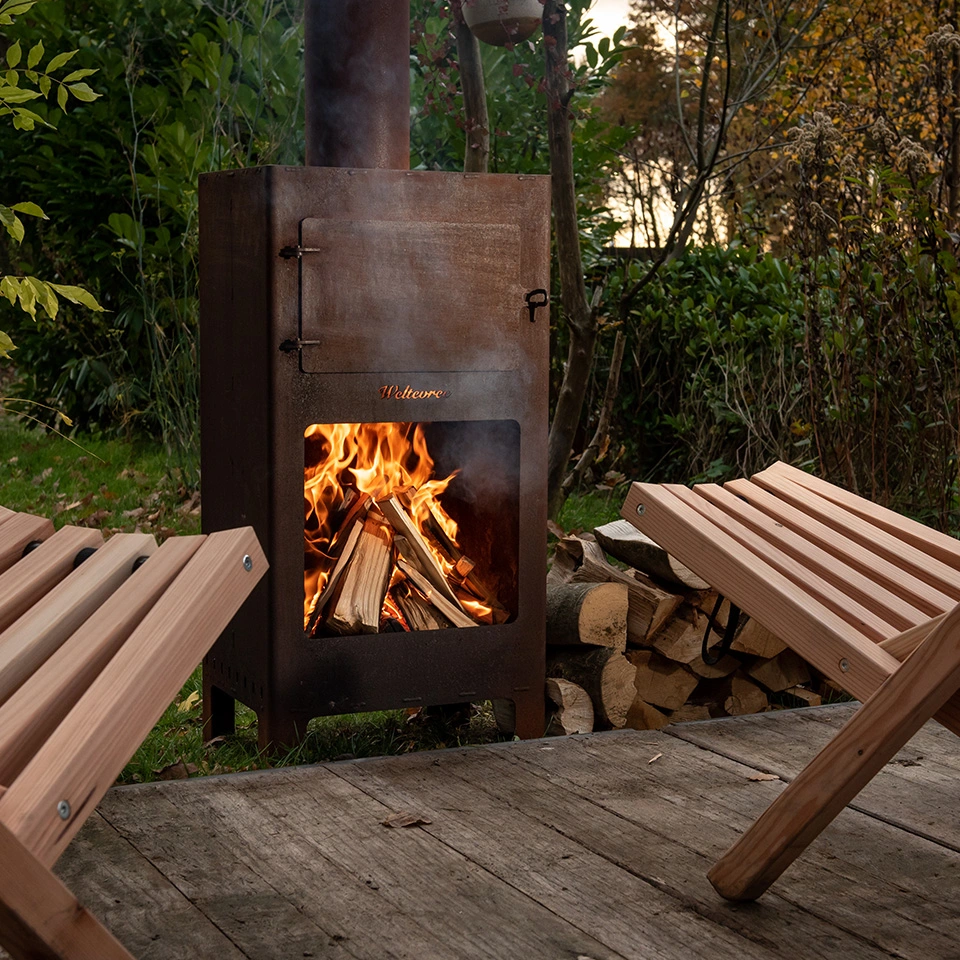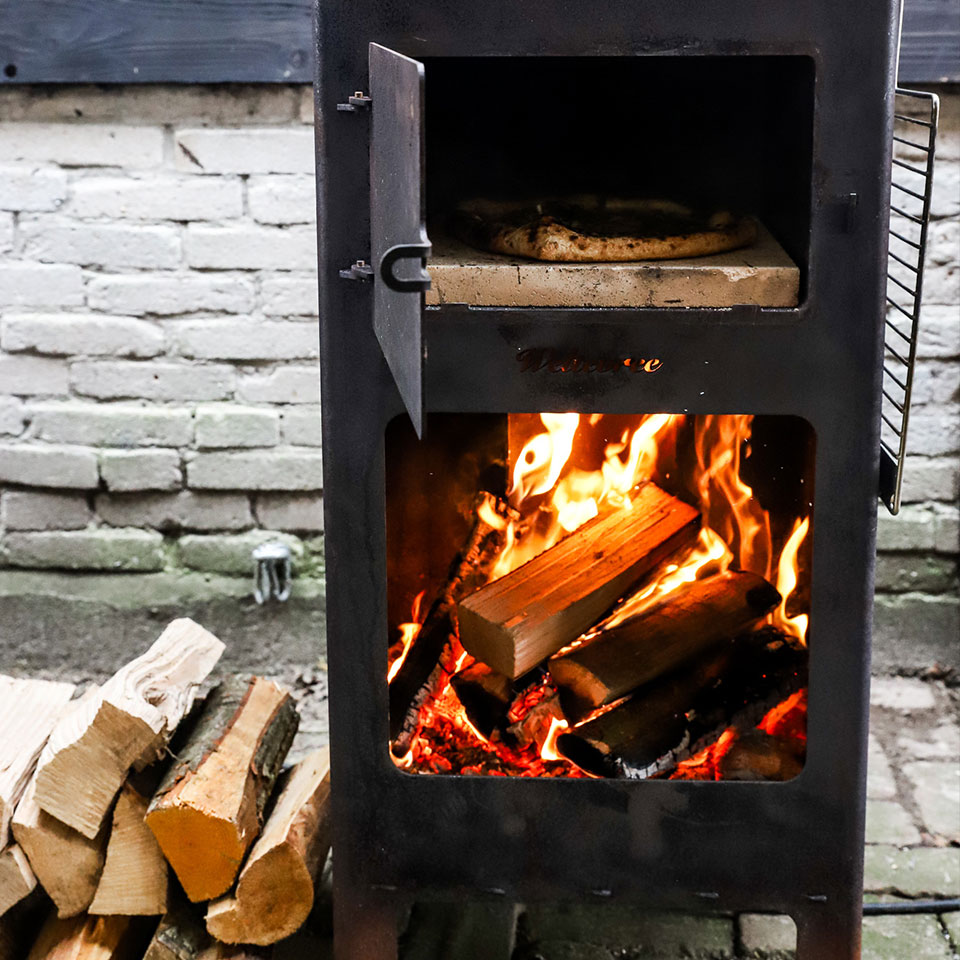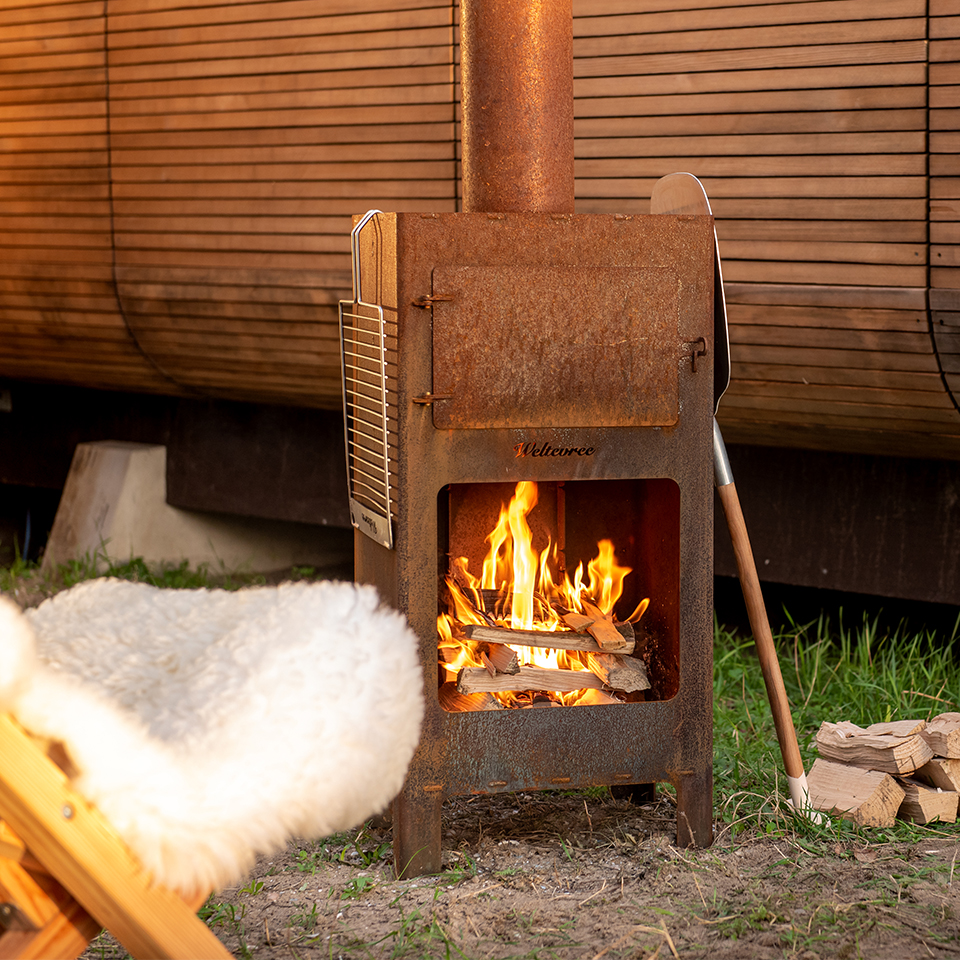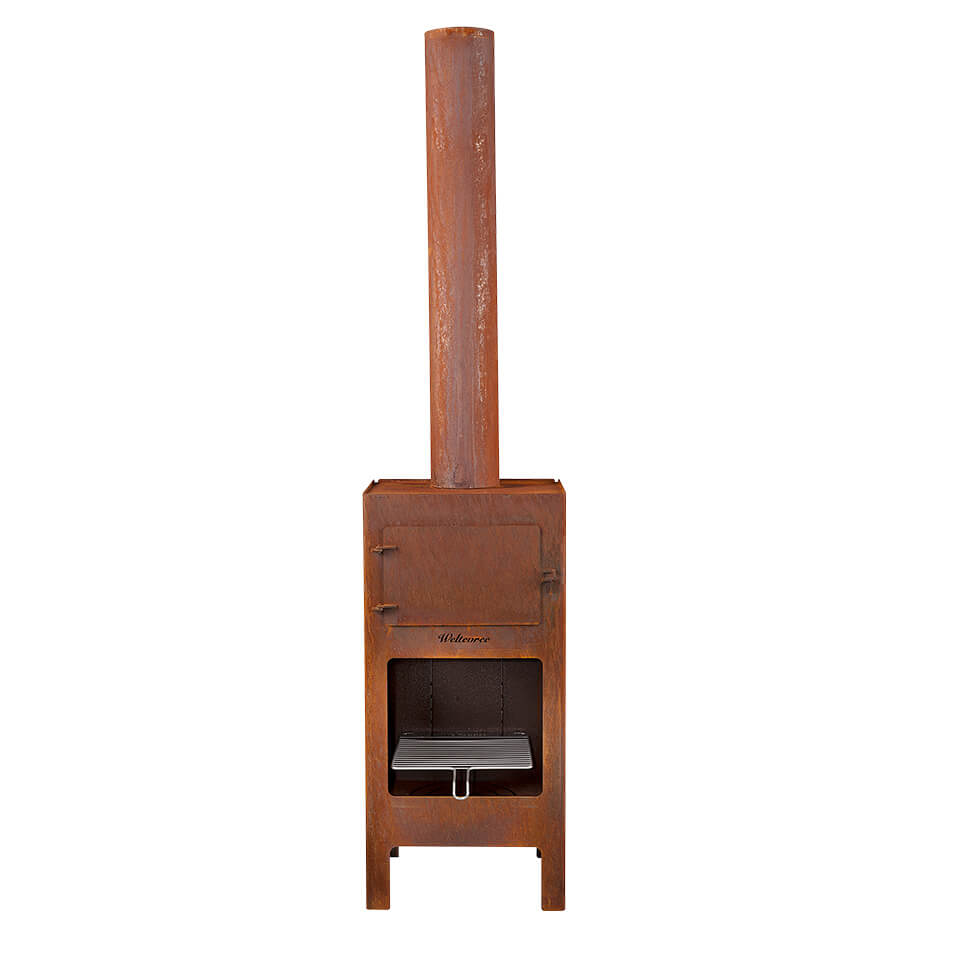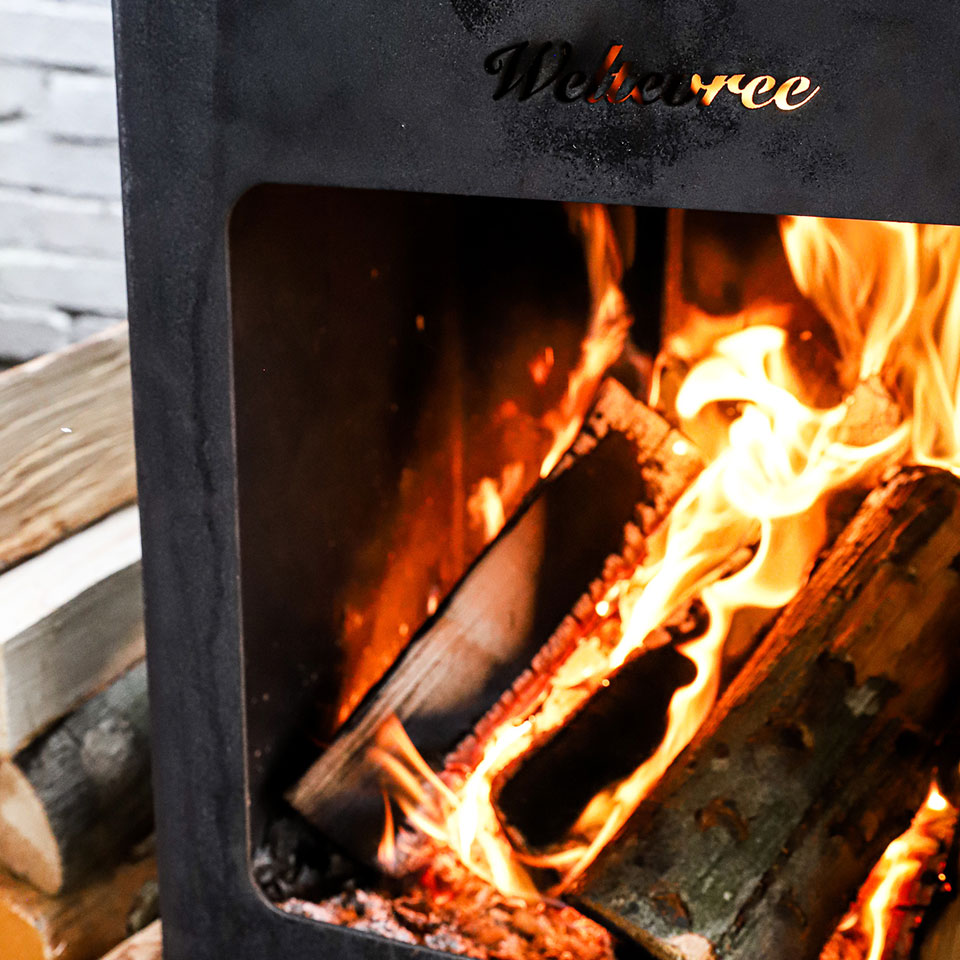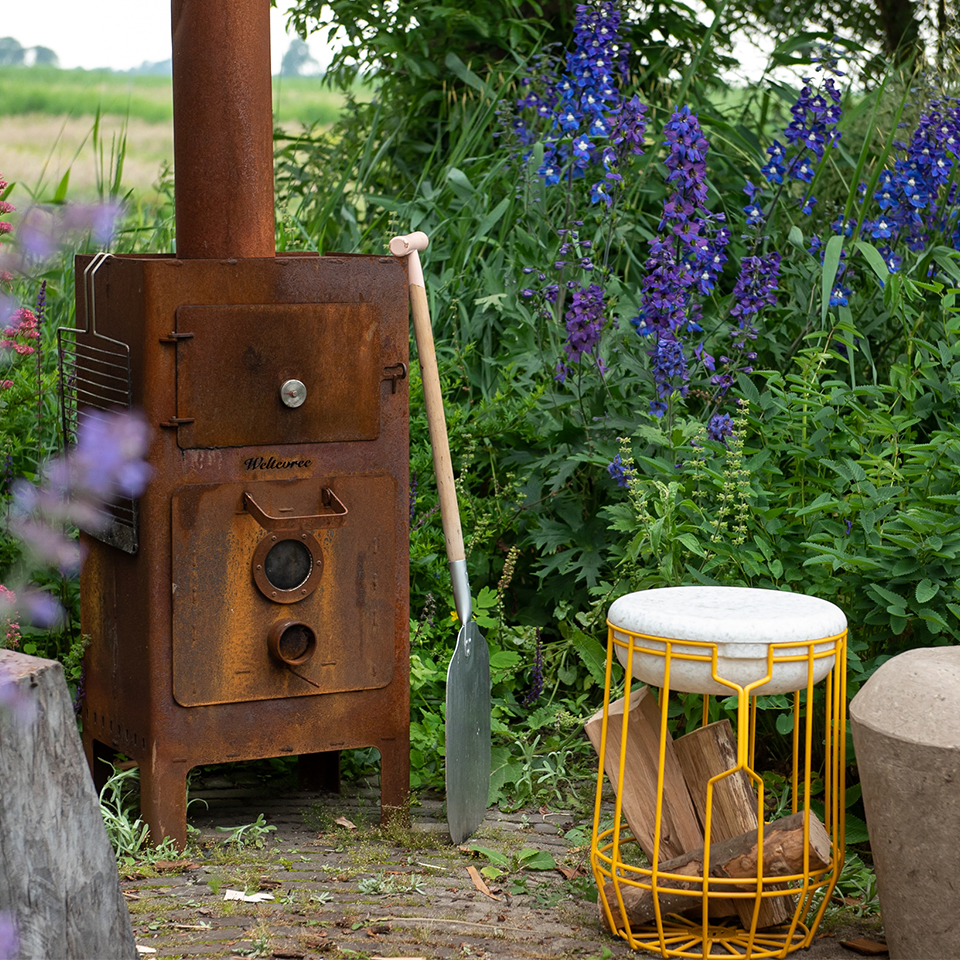 OUTDOOROVEN
Pizza oven and outdoor stove
Delivery time 2-5 workingdays
connected products
Complete the set with our matching products or accessories.
This outdoor oven is an eye-catcher in any garden! Enrich your garden or patio with the Outdooroven Original. From bread rolls for breakfast to pizza or sparibs for dinner: the outdoor oven is a real all-rounder and contains an outdoor fireplace, oven and barbecue grill in one. So you can enjoy adventurous meals outdoors all year round. In summer with a cocktail and in winter with a hot chocolate.
In the lower open compartment the wood fire is stoked. Above it is a compartment with a lockable flap, in which you can bake. The top of the Outdooroven is flat and warm enough for cooking. The outdoor oven easily reaches temperatures up to 350 degrees and is expandable with various accessories.
This iconic design by Dick van Hoff is made of high-quality
3mm thick Corten steel
and will last at least 10 years. The outdoor oven
comes complete with pizza stone, grill grid and 1 meter stove pipe
. Complete your Outdooroven with
various accessories
.
Light a fire, make some goodies in the outdoor oven and chat with your friends while enjoying the crackling wood fire in the background.
| | |
| --- | --- |
| EAN: | 8719274200116 |
| Length: | 440 mm |
| Width: | 440 mm |
| Height: | 1900 mm |
| Weight: | 58 kg |
| Designer: | Dick van Hoff |
| Heating Room: | 30x33cm |
| Space: | Suitable for outdoors |
| Warranty period: | 12 months |
| Material: | 3mm Cortensteel |
Can I also use coal for the oven instead of wood?
You can, but this can only be done for grilling, not for pizza baking.
What accessories can I use and what is the use?
Our Floorplate protects the ground from falling ash. The extra meter of pipe ensures a better draught and thus better combustion. The Chimney Cowl keeps out rain and dirt. It does stop some sparks, but insurance will not approve this product as a spark arrestor. Within our collection we also have a Pizza Oven, Gloves, Ax, Ovendish, Cookbook, K-lumet and Thermometer.
My rust layer is coming off or starting to peel, now what?
This can be prevented if the stove is cleaned regularly as described in the manual. It is quite normal for the rust layer to come off when the outdoor furnace is used and not cleaned regularly with a wire brush. Smoke and soot mixed with rust form a layer that can fall off after some time. After cleaning, another layer of rust will then form here again. Cleaning with a steel brush and flaking off the rust does not affect the service life. If you measure the steel with a caliper gauge after brushing, it will still be 3mm of Corten steel.

I can't get the oven hot enough, what can I do?
Try dry and smaller wood. Also, remove the ash from the combustion chamber to ensure air supply through the side holes.
Can I install an outdoor furnace under a canopy?
We have a
manual
available for more information on how to install an outdoor furnace in a canopy. To install the outdoor oven through the roof, a special roof grommet is required, which can be purchased at your local hardware store. The outdoor oven must also be placed at least one meter from any flammable object. An outdoor furnace is not suitable for indoor use because of the gases and heat released, it is not possible to place it in a closed space.
My hotplate is crooked, what now?
This can happen, but is not a problem for the use of the outdoor oven. It can be bent back so that the heating plate no longer wobbles. New heating plates are also available on our
spare parts page.
A part is broken or I have lost a part of the Outdooroven, how do I fix this?
On our
spare parts page
you can order small parts that have been lost. If you are really missing a part at delivery, please contact us at
info@weltevree.nl
How can I maintain my Weltevree products in the best way?
ALL-ROUND HEAT SOURCE
The top of the oven heats up as heat is spread throughout the Outdooroven. This makes the flat top suitable for keeping a pan with contents warm as well. For example, heat up crispy sausages, chocolate milk or a sauce on it!

WOOD-FIRED
The Outdooroven is wood-fired. The fire can be used for warmth and coziness as well as for cooking, grilling and baking. The fire should burn for about 30 minutes before the oven and pizza stone are ready for use. Need help starting the fire? Read how to do it
here
.
EMIT LESS SMOKE
The Outdoor oven has a double wall. Between them, smoke is directed away from the fire, past the oven and through the chimney. Because of this construction, less smoke is emitted through the fireplace opening and the food in the oven section does not come into contact with the smoke.
"It seemed natural to me to combine the practical with the pleasurable."
Dick van Hoff
OUR PRODUCT, USED BY OUR COMMUNITY
Mention #worldofweltevree for a chance to be featured and inspire others.