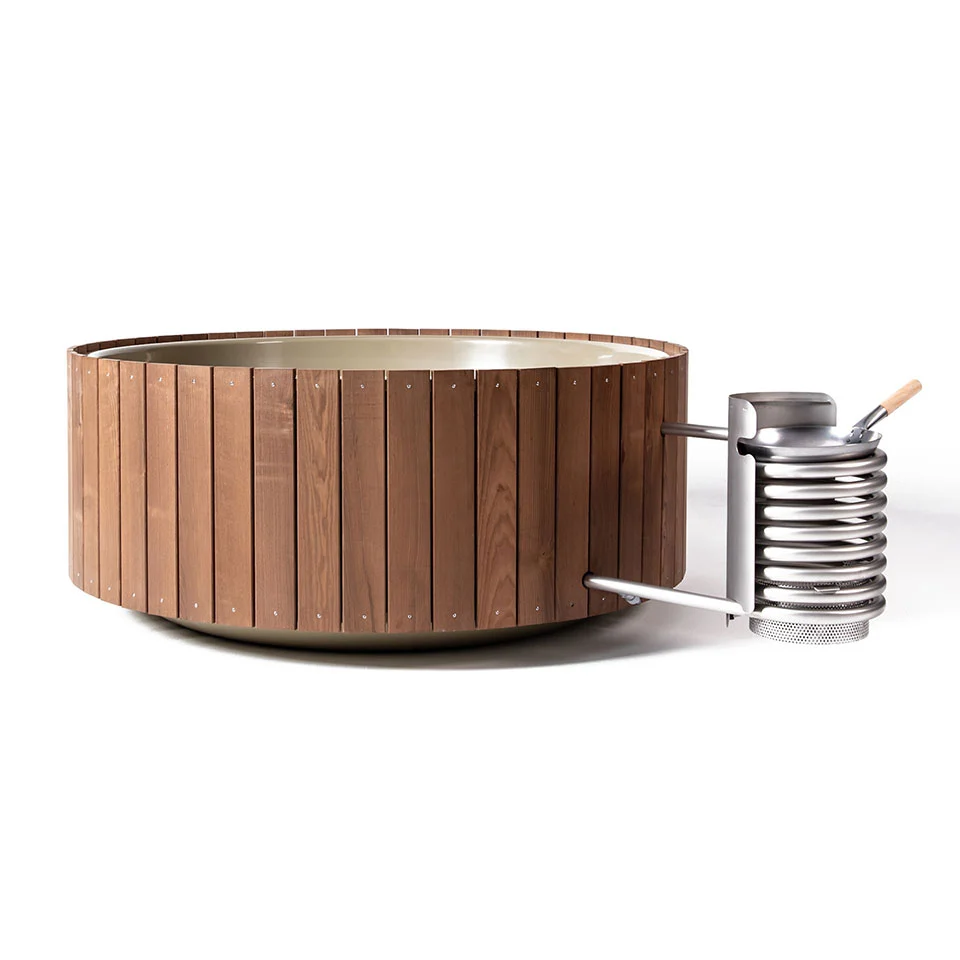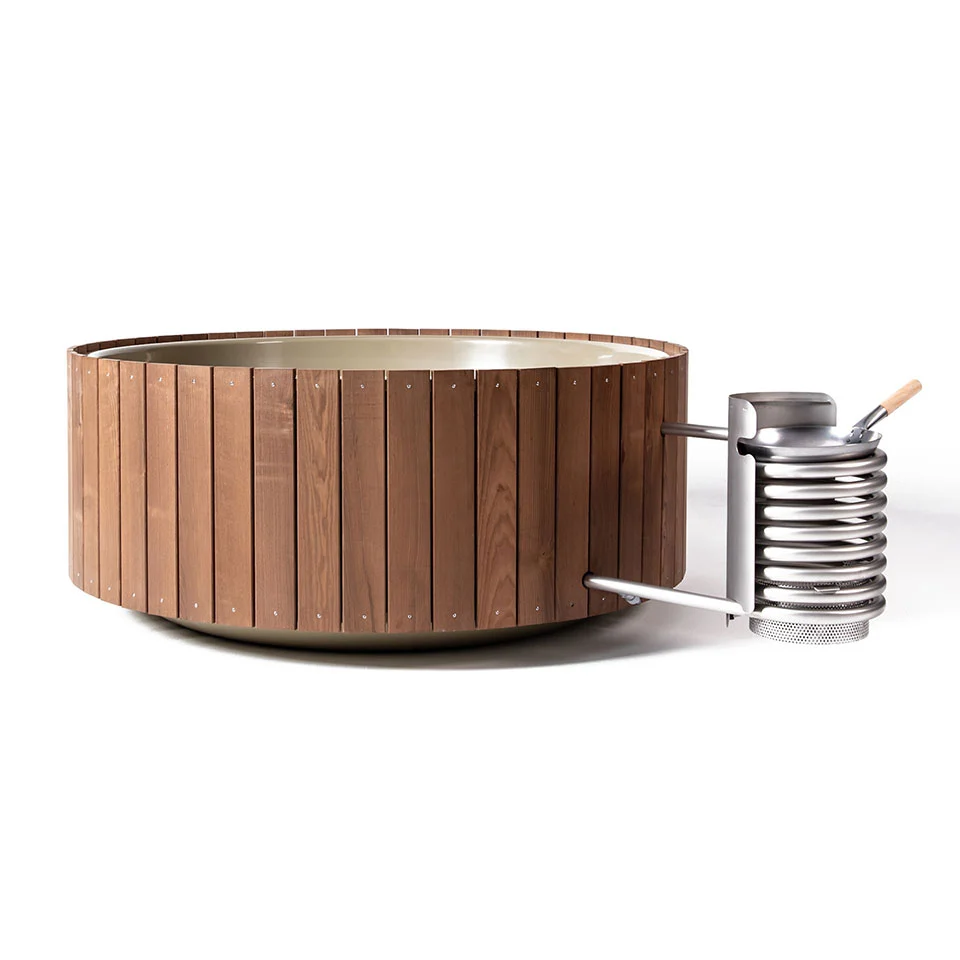 Accessories
Complete the set with our matching accessories.
Dutchtub Wood is one of three iconic outdoor bathtubs from the Weltevree. collection. The Dutchtub Wood is finished with wooden Plato wood panels which received a thermal treatment making sure they last for a long period of time. The tub can accommodate a maximum of four adults. The water is heated via natural circulation by lighting a fire in the steel coil attached to the Dutchtub.
The Dutchtub Wood from Weltevree comes with a cover and a wok for cooking on the heating coil. The cover serves on the one hand to protect when the Dutchtub is not in use, but also ensures that the heat created stays in the Tub during firing. Matching the Wood, the Weltevree range includes a separately orderable side table designed exclusively for the Dutchtub Wood. Available in RAL 7002 with wooden paneling.

EAN:

8719274200581

Length:

2340 mm

Width:

1700 mm

Height:

720 mm

Weight:

85 kg

Designer:

Floris Schoonderbeek

Product Color :

Grey Green RAL 7002

Space:

Suitable for outdoors

Warranty period:

12 months

Material:

Fiberglass

, Stainless Steel

, Thermally Modified Ash Wood
OUR PRODUCT, USED BY OUR COMMUNITY
Mention #worldofweltevree for a chance to be featured and inspire others.
ONE WITH NATURE
The Dutchtub Wood has a natural look: The tub is namely covered with wooden panels, making it blend into its surroundings. The wooden panels of the Dutchtub Wood are made of thermally modified ash wood. By choosing ash wood, we are more certain that no tropical forests are being cut down for our products.
THERMALLY MODIFIED
The thermal modification of ash wood changes the cell structure of the wood and causes the wood to absorb less moisture. This is an environmentally friendly process that makes the wood resistant to wood rot and fungi. It extends the life span to 15-25 years or even longer. The wood gets a nice dark color, but still ages naturally.
NATURAL CIRCULATION
The Dutchtub is heated by the natural circulation of the water. Water that sits at the bottom of the tub is sucked in through the spiral. There it is heated by fire. Then the heated water flows back into the tub through the spiral at the top. By stirring the water from time to time, the warm water is distributed throughout the tub. Depending on the conditions, it takes about 2 hours for the tub to reach a temperature of 38 degrees.
"I feel a strong need for direct contact with my surroundings. I want to experience again the pleasure of discovering something myself, the feeling of independence. Products that you have to do something with, that come to life in use. The Dutchtub Wood can be heated with wood. After some effort you can sit down satisfied in the warm comfortable bath and enjoy your surroundings."

Floris Schoonderbeek