A comfortable camping trip with Weltevree
Whether you are going to a campsite, choosing a more luxurious glamping option, or staying in your own garden; our products are here to bring some comfort to your outdoor adventures.
Chargeable and multifunctional light
We've mentioned it before: the Guidelight is the ideal travel buddy! Due to its multifunctionality you can use it for multiple things around the campsite. How it works? The head of the Guidelight contains a focused beam and can turn upwards or downwards. By turning it downwards, the beam fills the body with light. This creates a cozy ambient lighting ideal for lounging around the tent at night.
By turning the head upwards, the light shines brightly from the beam. Hold the Guidelight by its handle and use it as a flashlight or set it down and focus the spotlight in one specific spot. Perfect for reading or cooking in the dark.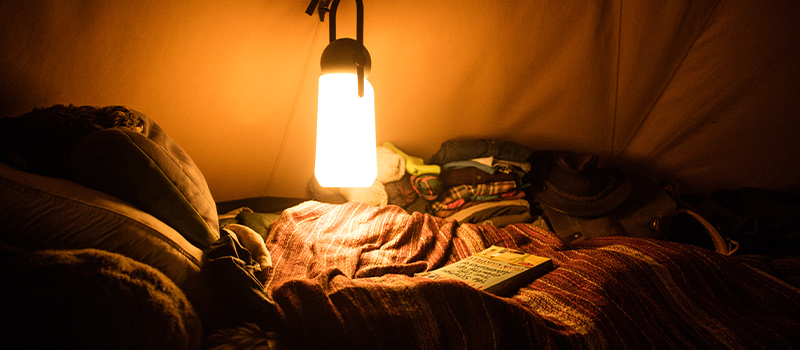 Foldable and portable chairs
Being in the outdoors does not mean you have to hold back on comfort when it comes to seating. However, chairs should of course be easy to take along with you at the same time. A selection of Weltevree chairs definitely fit both standards.
T
ake the Fieldchair. This wooden chair folds up into a compact size, making it an ideal portable chair. Thanks to the leather handle it is easy to carry the Fieldchair with you or store away. When you have reached your destination, simply unfold the chair and enjoy its surprising comfort.
Another great option is the Beach Chair. The beach look will put you in a holiday mood instantly. Did you know the colors of the fabric are based on the sunset and sunrise? Since the Beach Chair is a nesting chair, it does not take up a lot of space and can be taken along with ease. Another fun fact about this chair: the beech wood and cotton fabric both come from the Netherlands.
Campfire essentials
Nothing says camping holiday like sitting round a campfire at night! We have everything you need to start one. First of all, our sharp Splitting Ax is perfect for chopping up firewood. When you're done, wear the Gloves when collecting the campfire to avoid splinters from the wood.
Once you have chopped and collected the wood, our K-lumet fire starter will make starting the fire much easier. It is an ecologically friendly and odorless fire starter, which burns for about 15 minutes. You will be roasting marshmallows in no time!