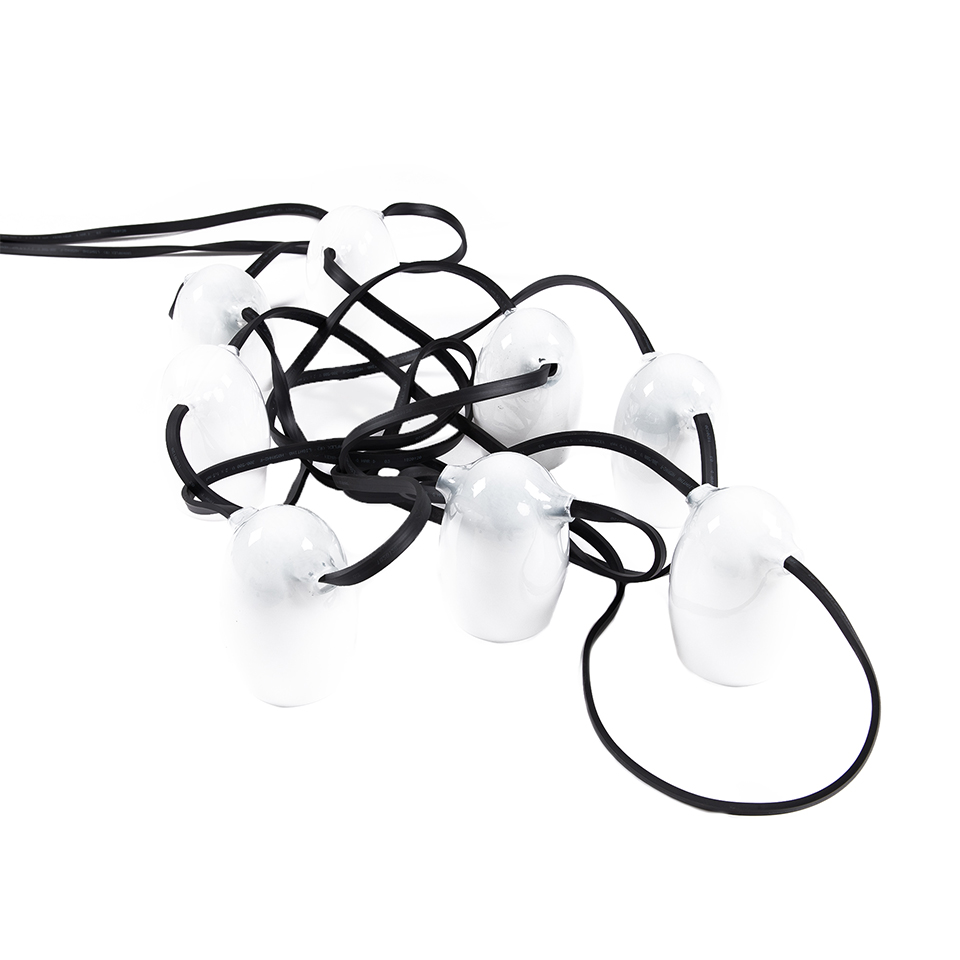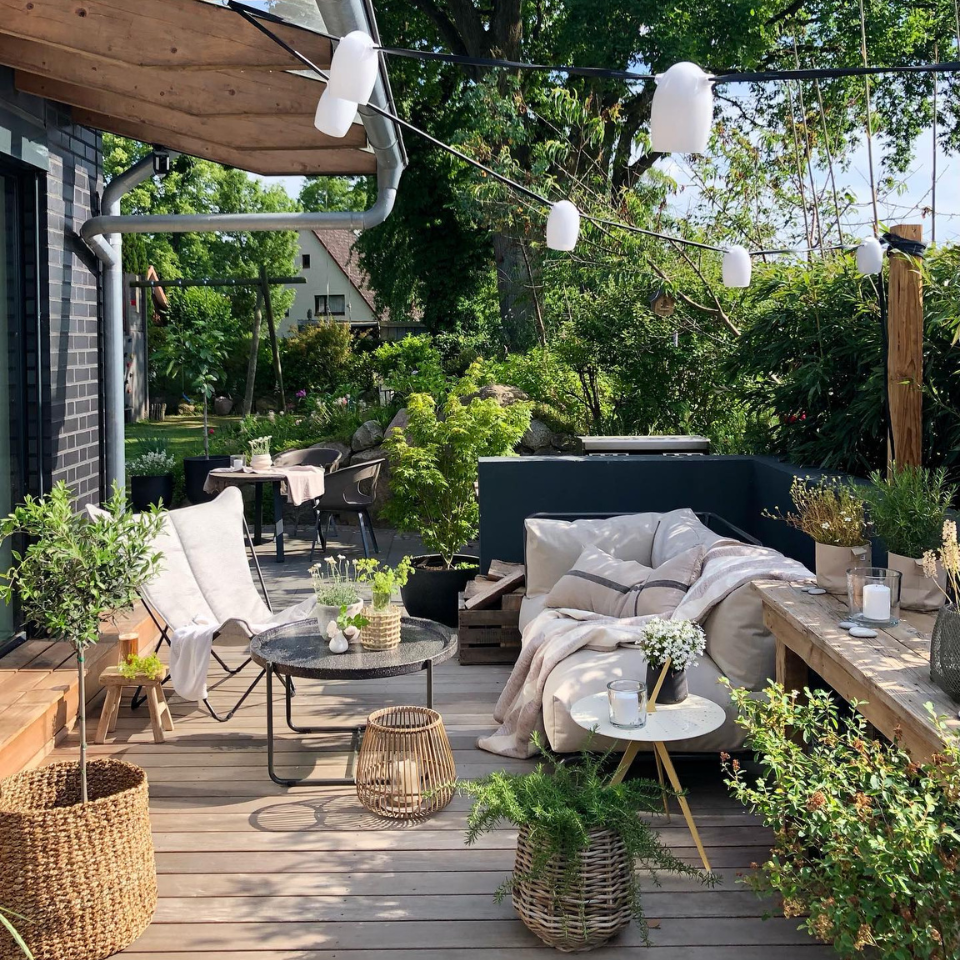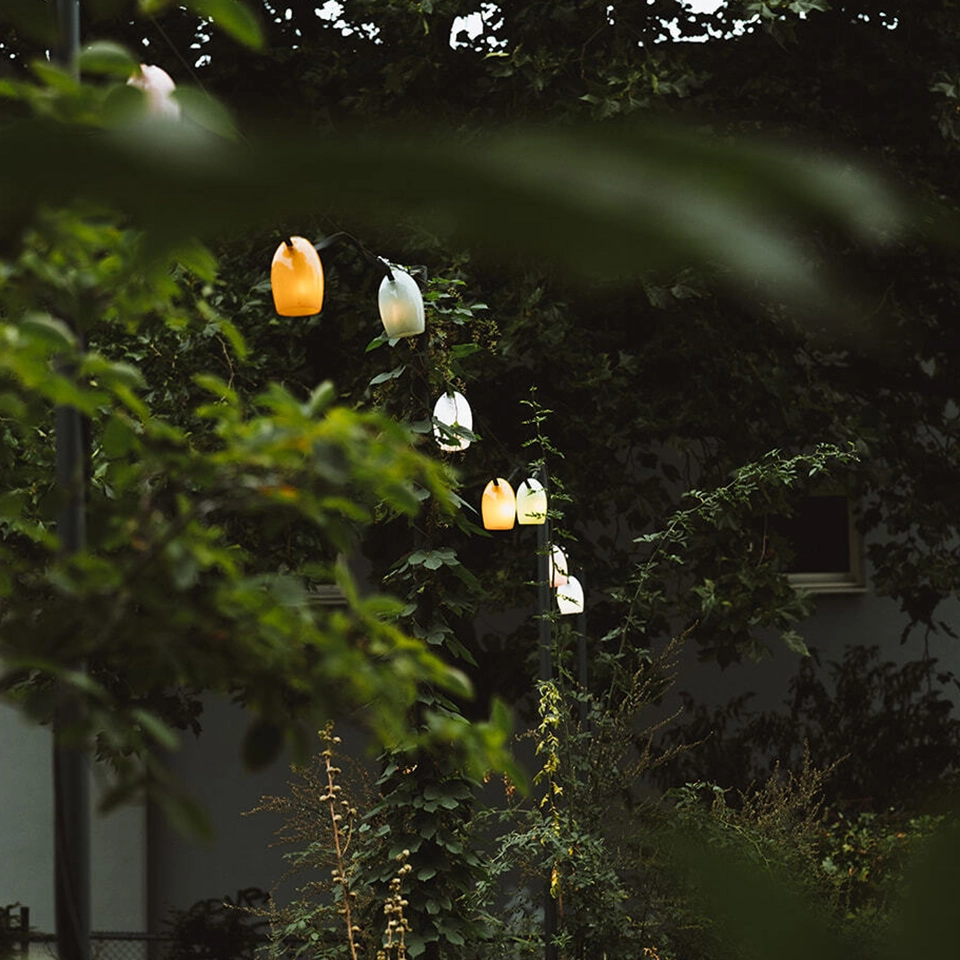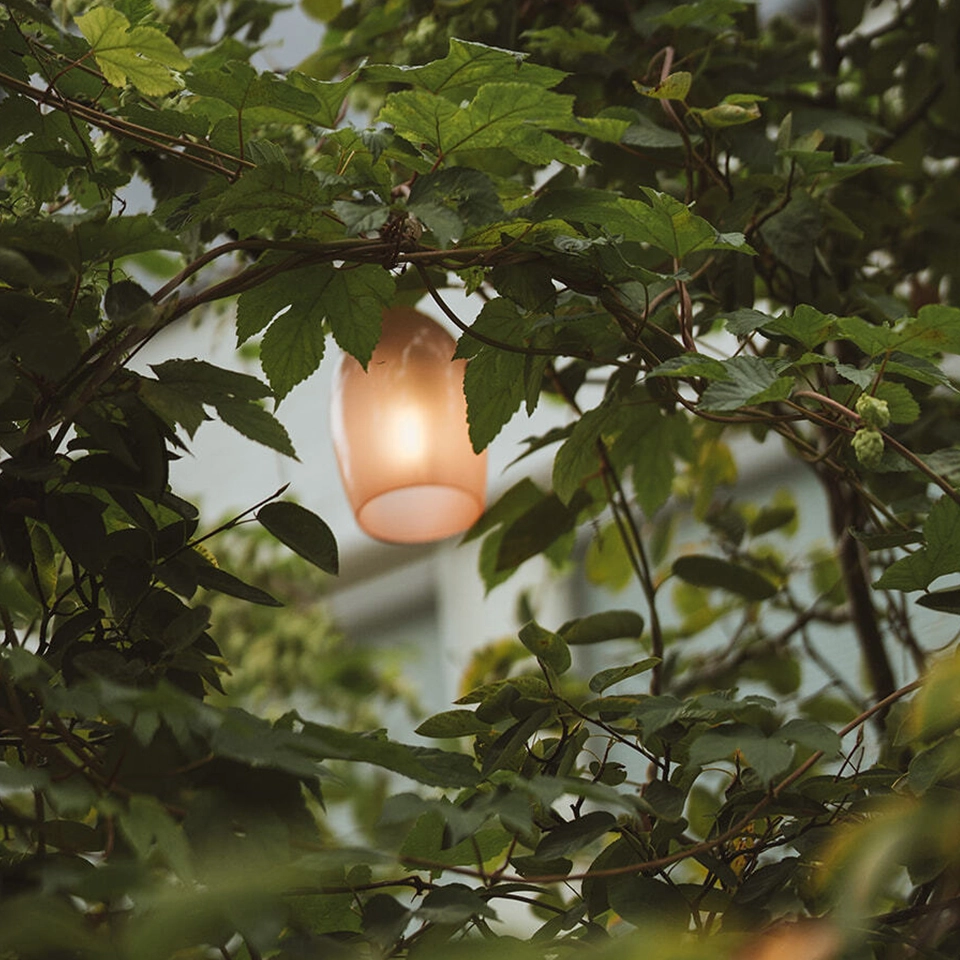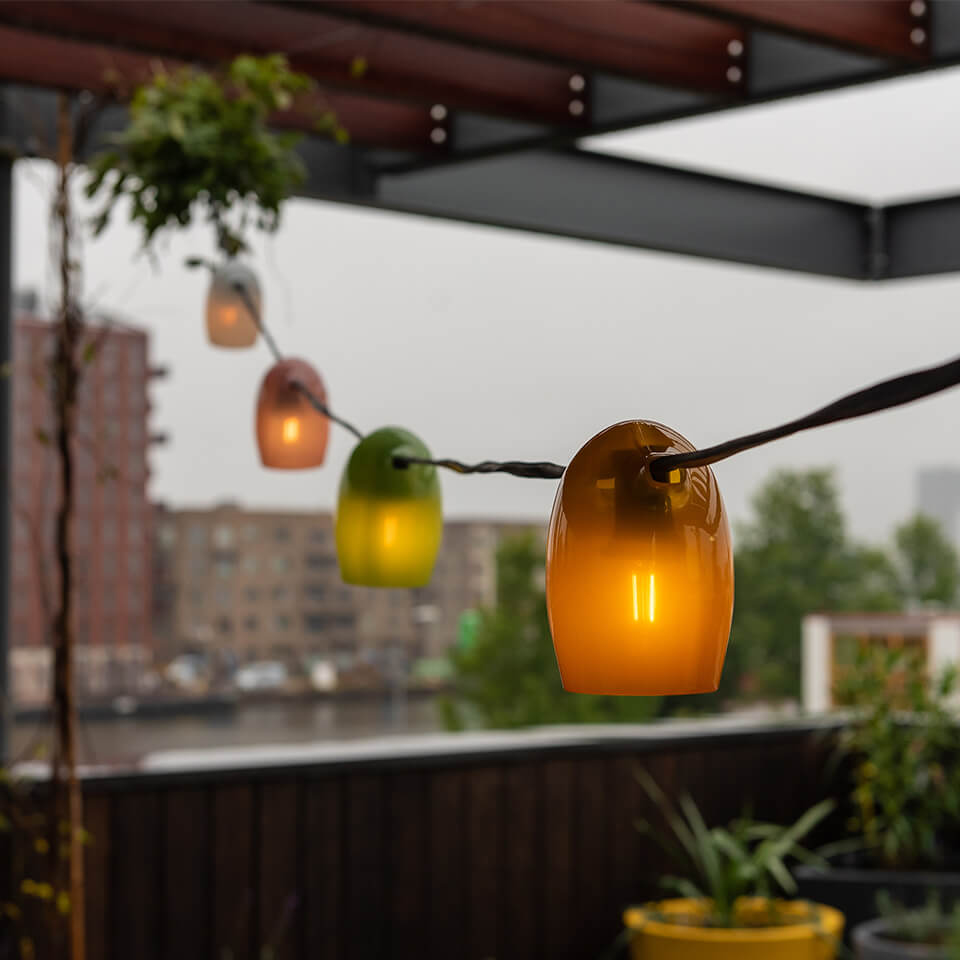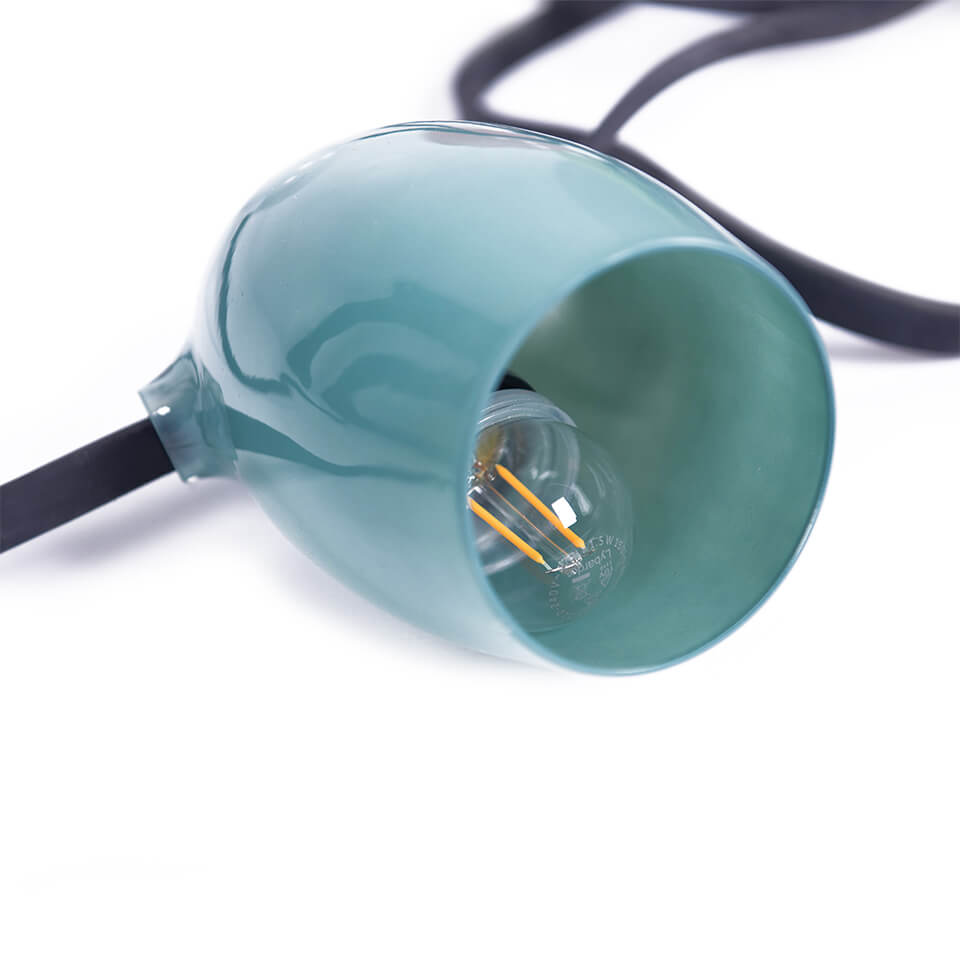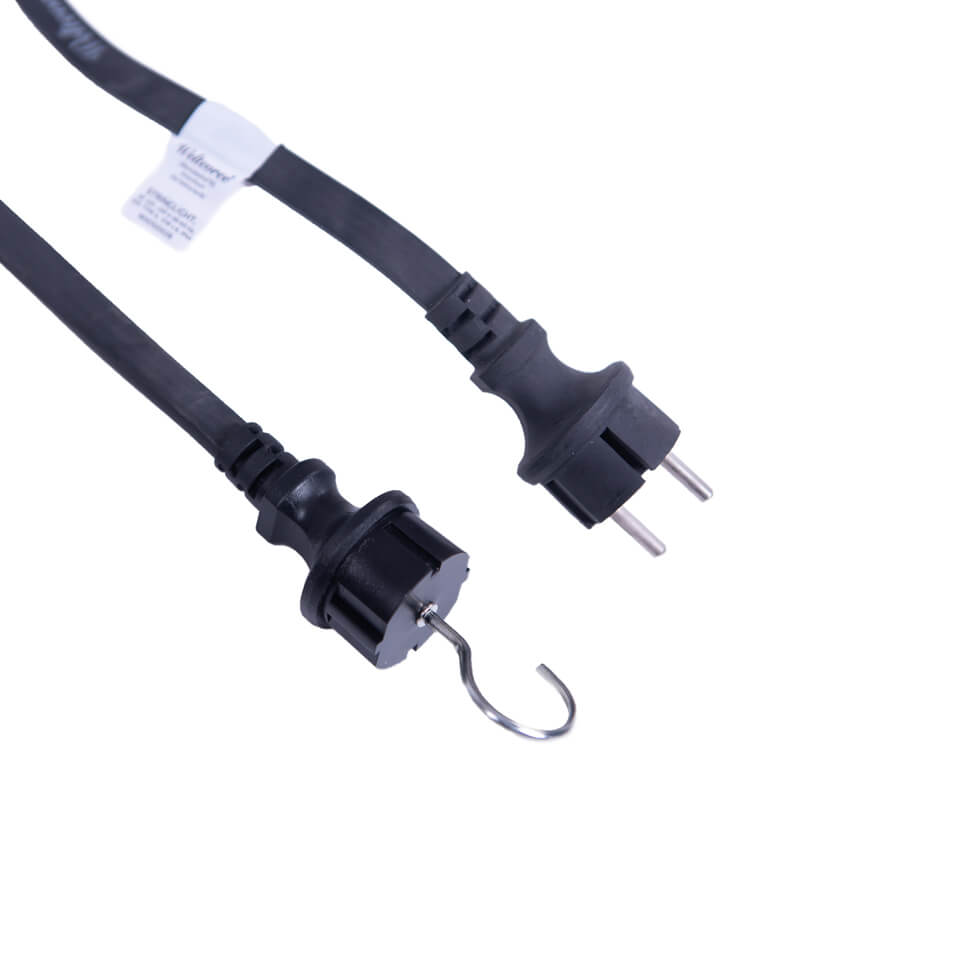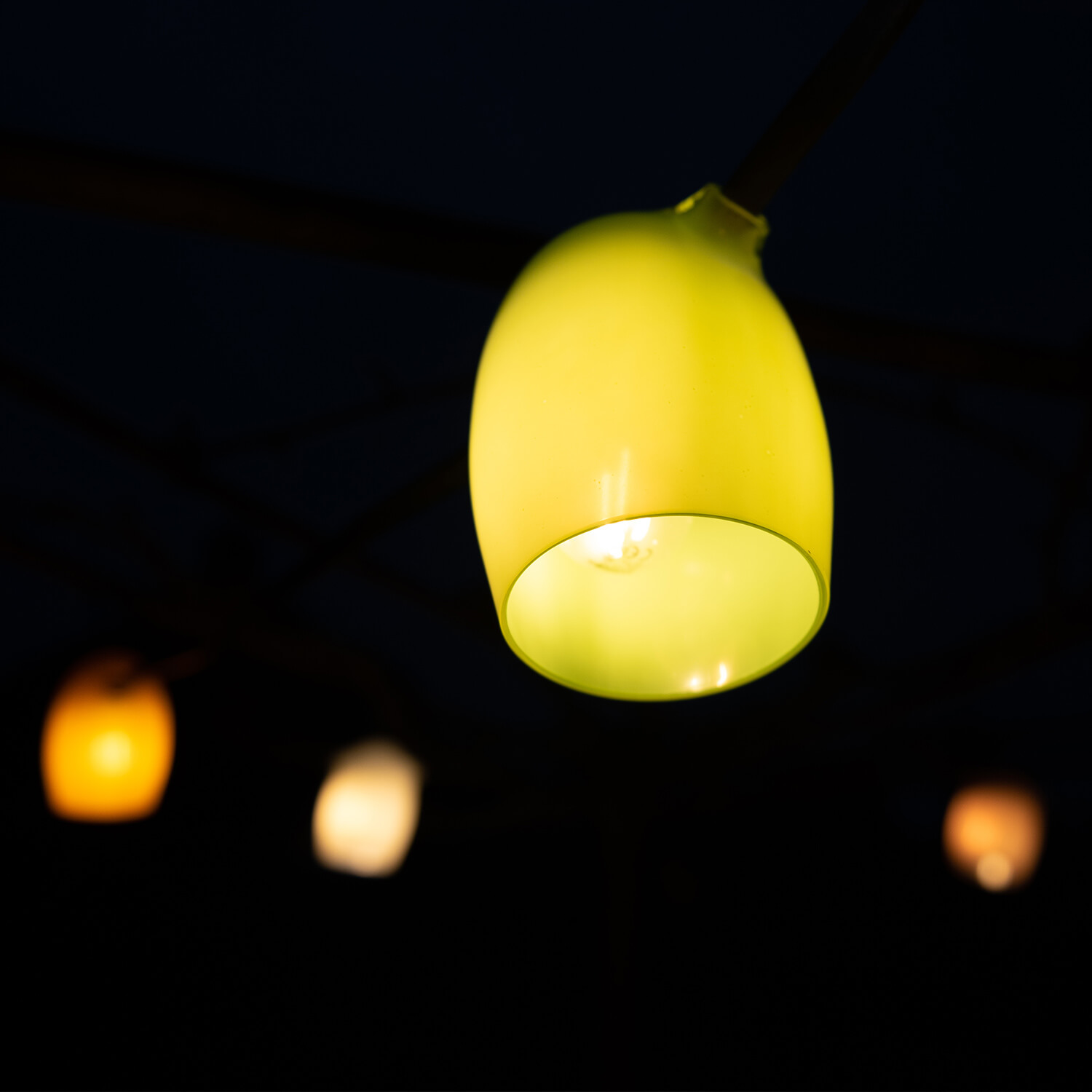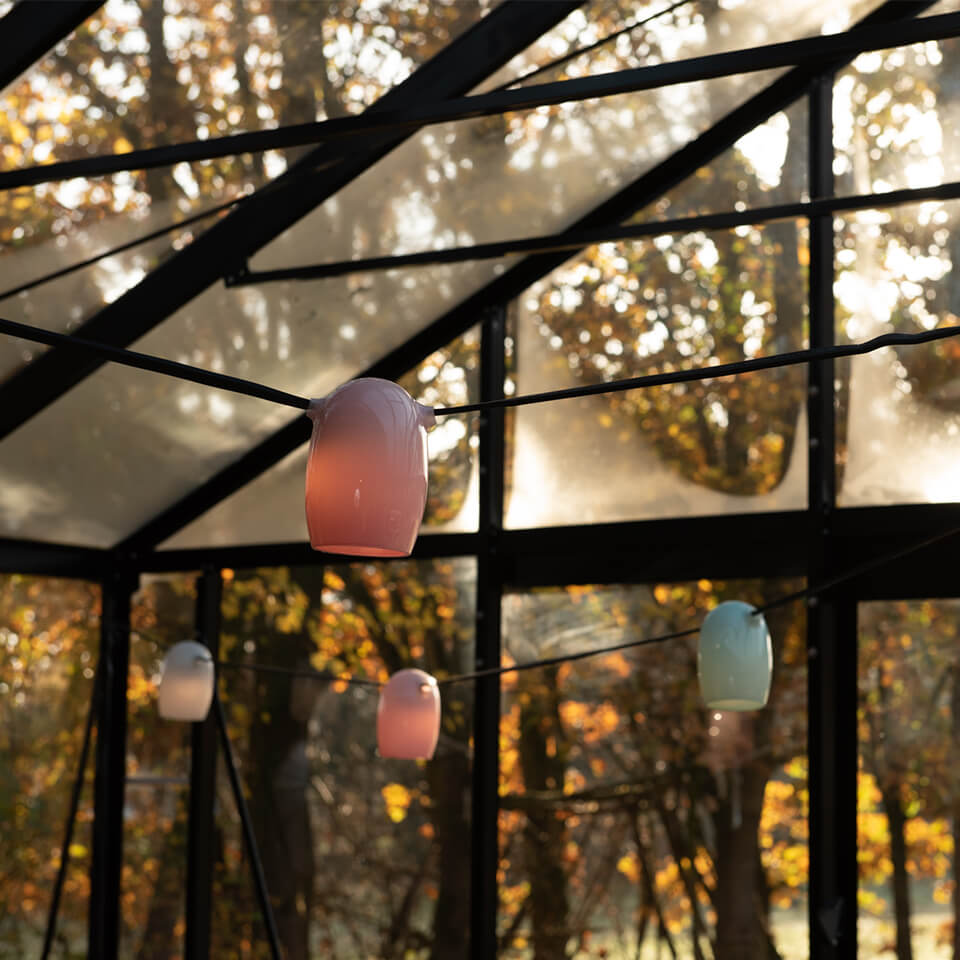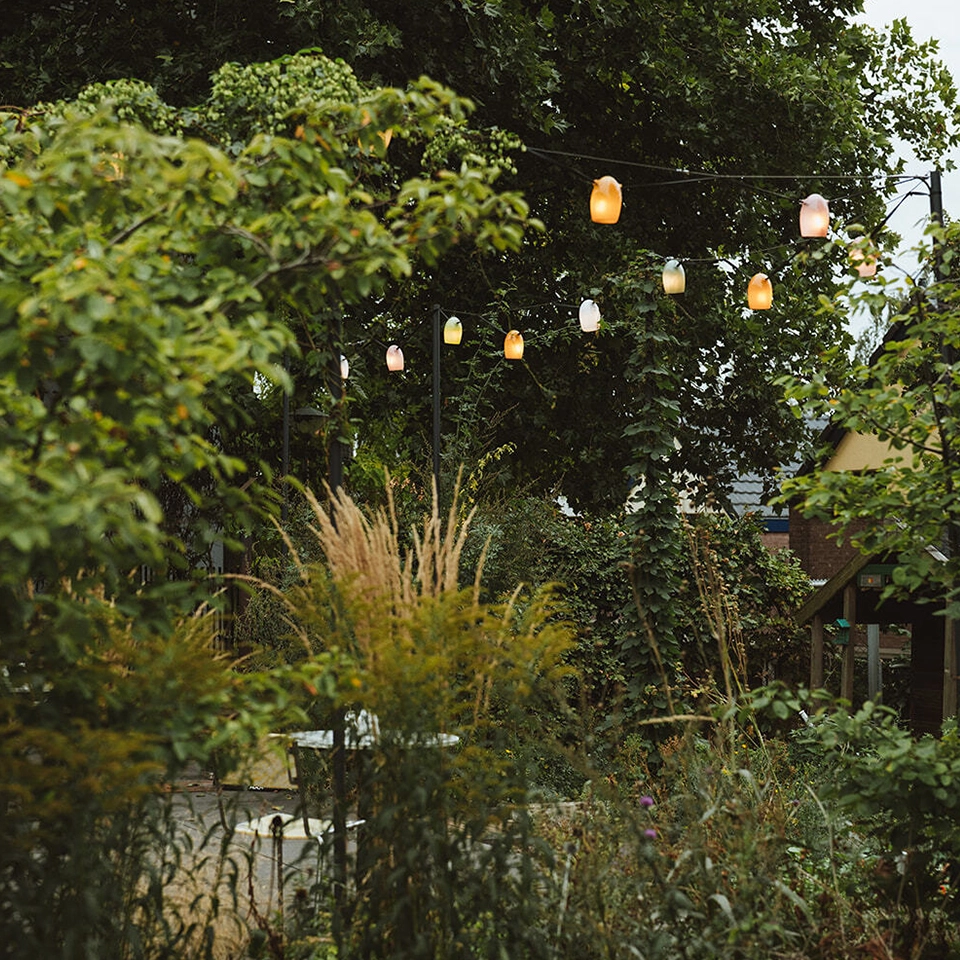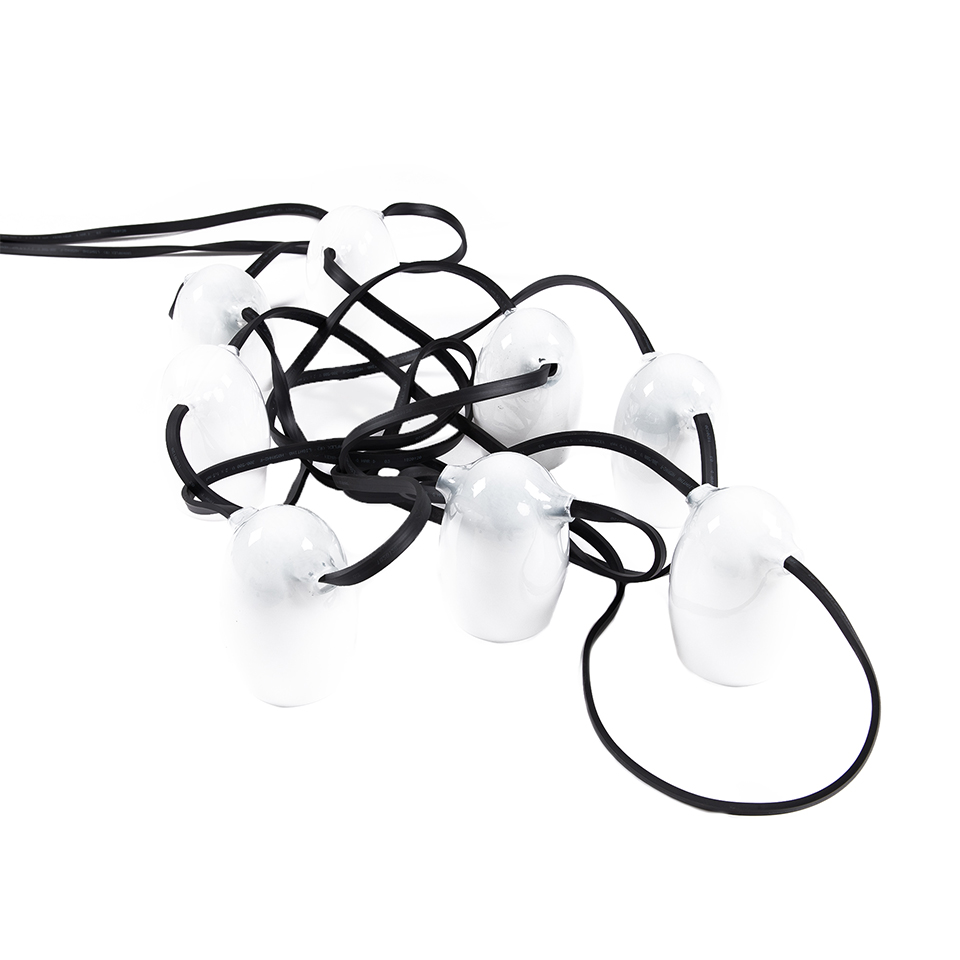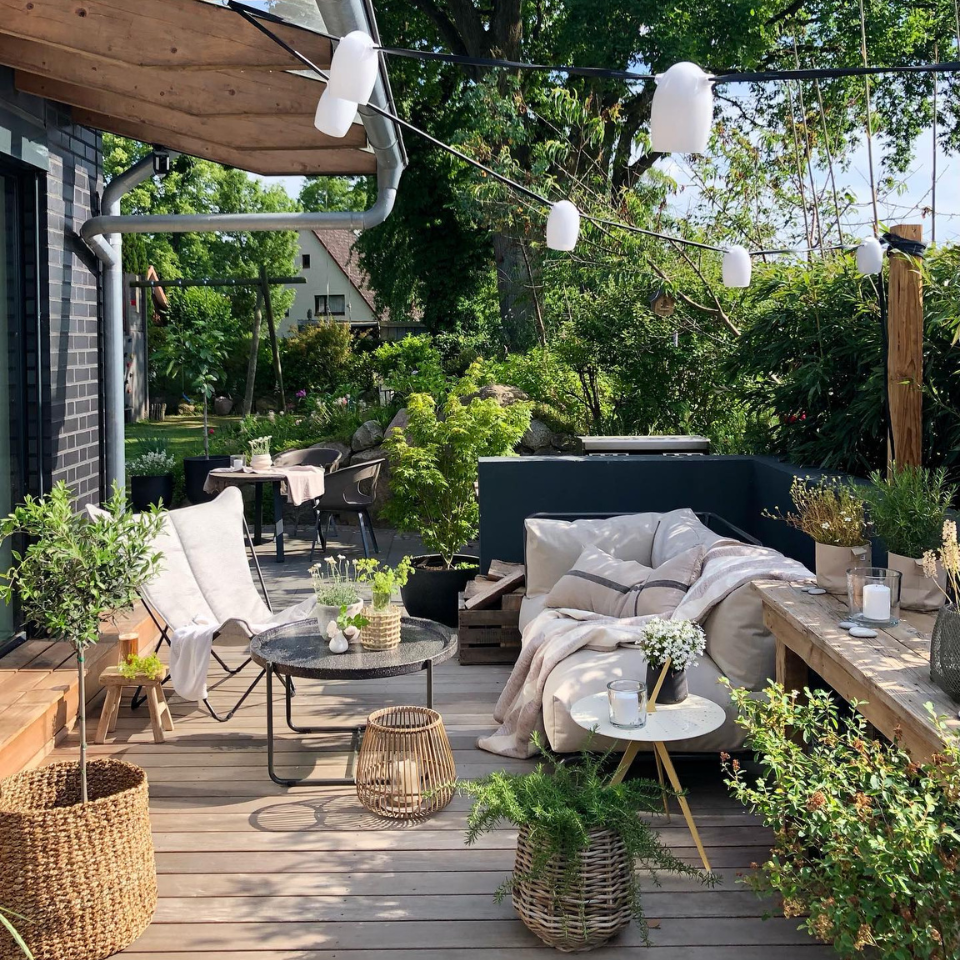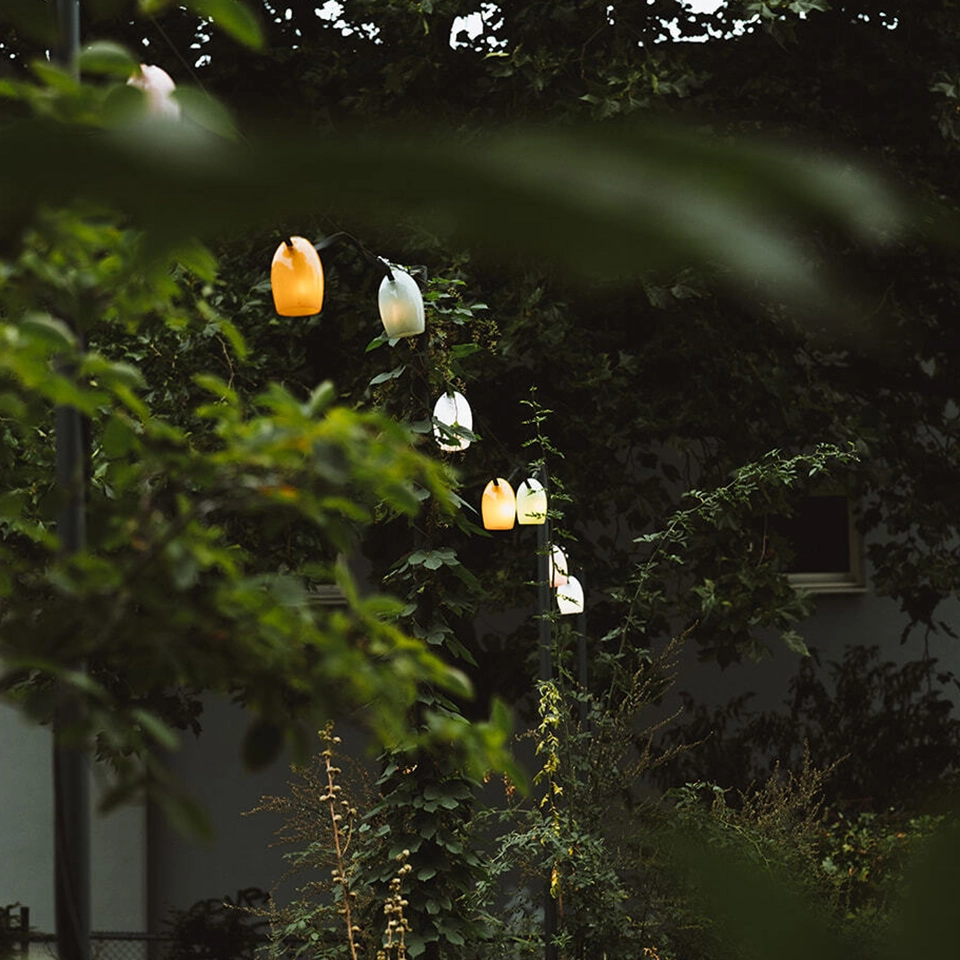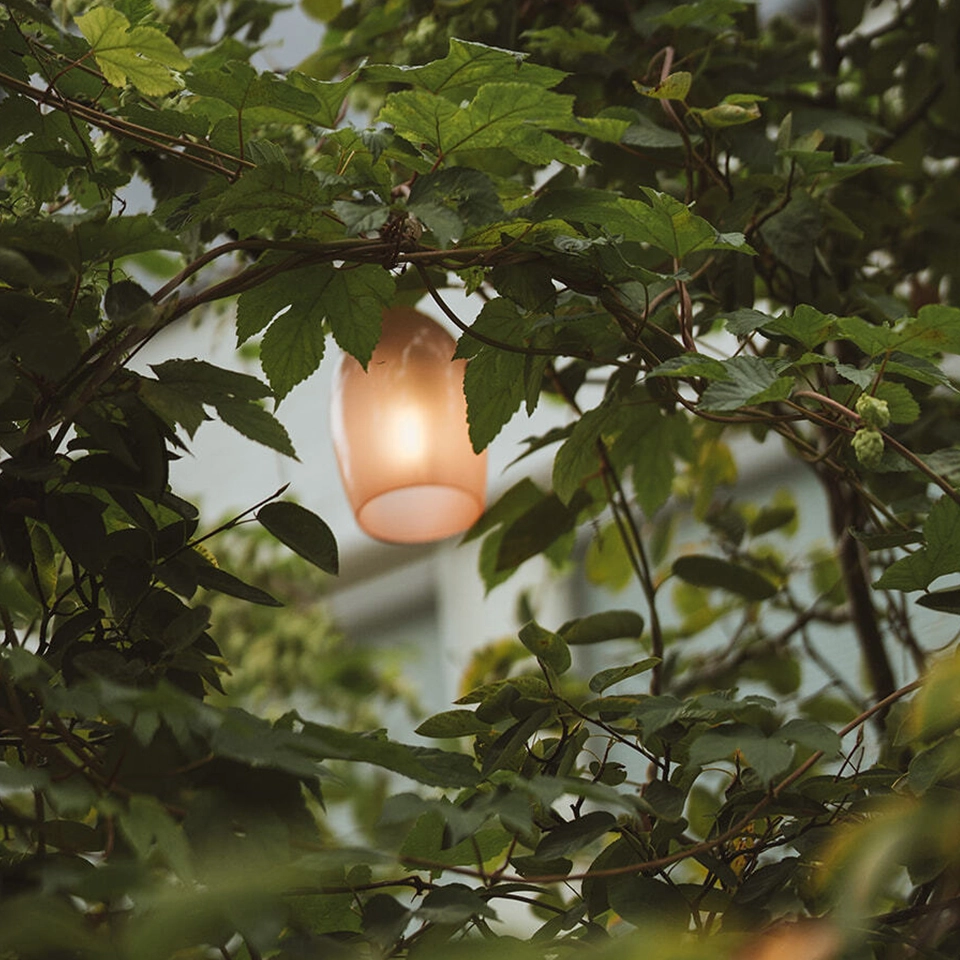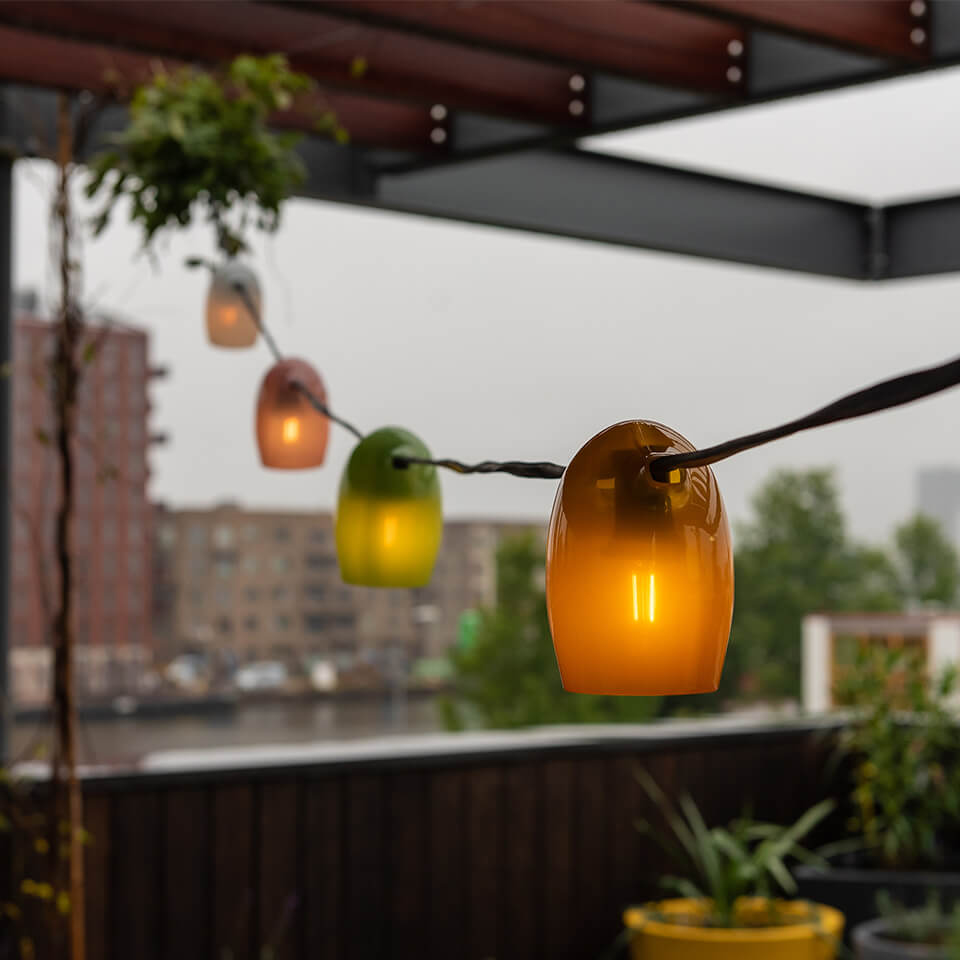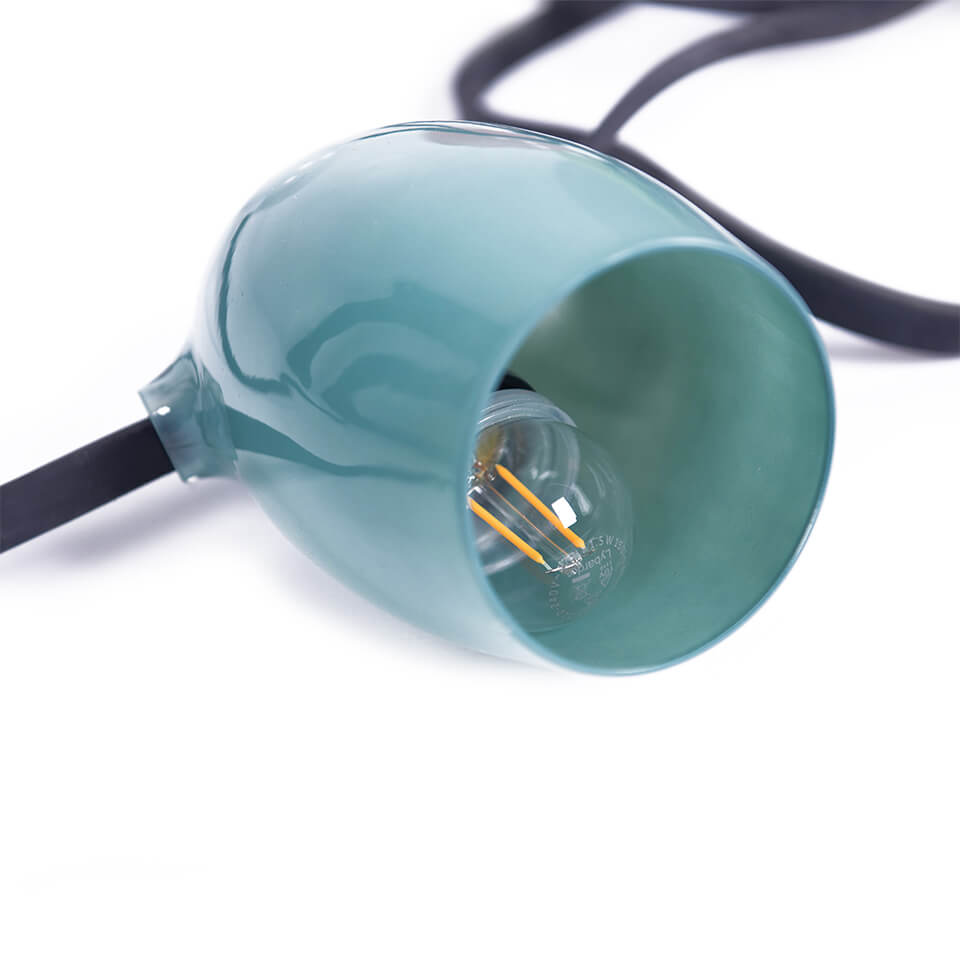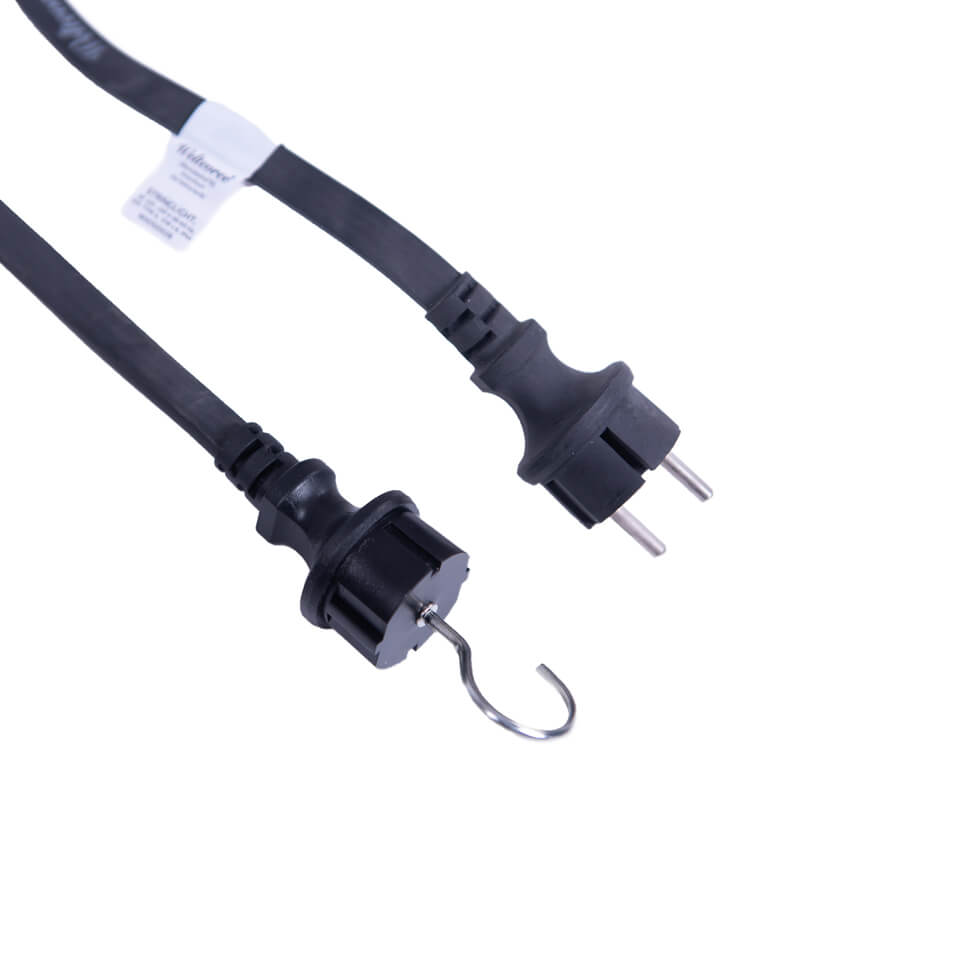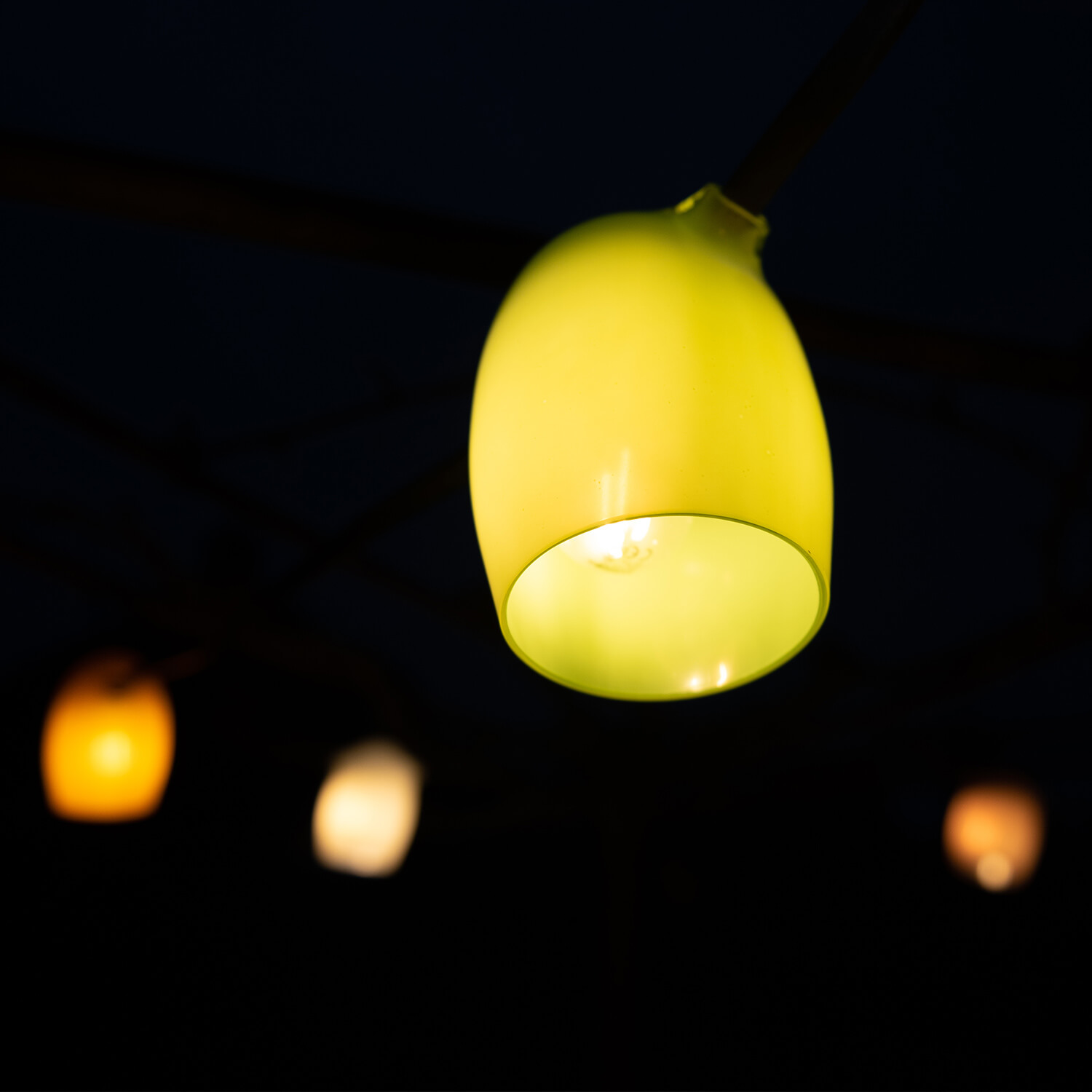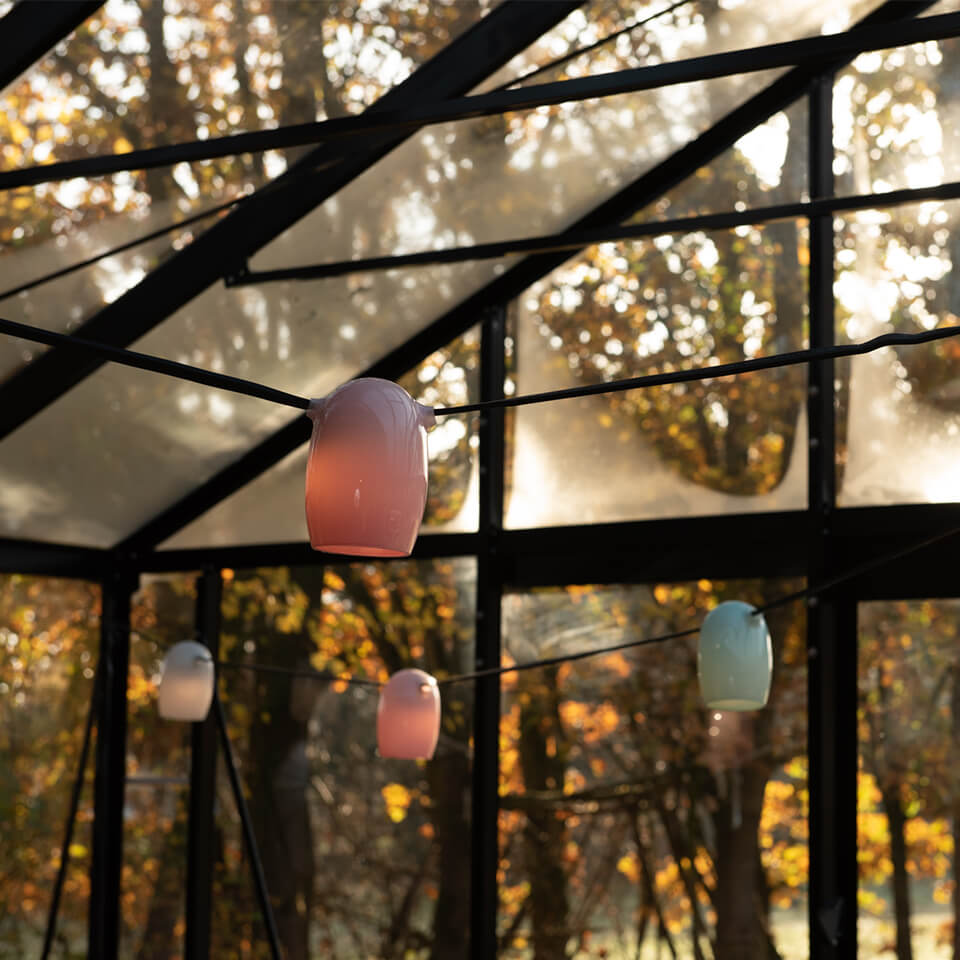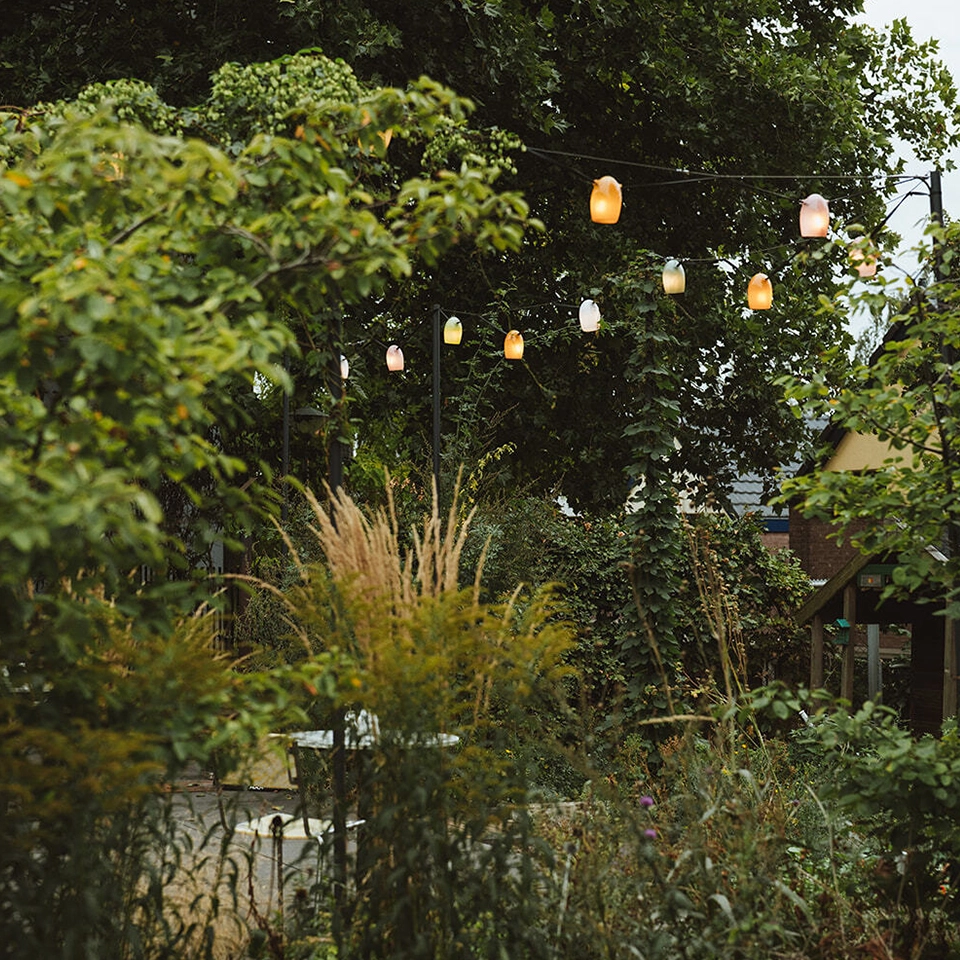 STRINGLIGHT
Outdoor ambient lighting led
Delivery time 2-5 workingdays
The Stringlight with mouth-blown glass shades provides cheerful mood lighting for indoors and outdoors. The glass shades are colored and coated and can remain outdoors year-round. The mouth-blown shades transform a classic lamprey into the charming Stringlight.

The Stringlight is available in white and multi-colored. Hang the Stringlight above the garden table, under the porch, or between trees. Enjoy your mood lighting during cozy drinks evenings and dinners in the garden.
The Stringlight has the following features:
12 meter added cable.
4 meters from the electrical plug until the first shade.
2 meters between the last glass shade and the hook.
90 centimetres between each glass shade.
The Stringlight must be attached at a minimum of 5 points to avoid too much pressure on the ends.
Light bulbs are included in delivery.
| | |
| --- | --- |
| EAN: | 8719274201847 |
| Length: | 12000 mm |
| Weight: | 5.5 kg |
| CE mark: | Yes |
| Color Light: | Warm White Light |
| Color temperature: | 2700K |
| Cord length: | 12000 mm |
| Designer: | Floris Schoonderbeek |
| Dimming function: | No |
| Fitting: | E27 |
| IP value: | IP44 |
| Light direction: | from above |
| Lights: | With light |
| Light source included: | Yes |
| Light source type: | LED |
| Lumen per light point: | 150lm |
| Number of Light points: | 8 |
| Operation switch: | No |
| Power supply: | Net Power |
| Rechargeable: | No |
| Space: | Suitable for outdoors |
| Warranty period: | 12 months |
| Waterproof: | Waterproof - possible to keep outdoors |
| Wattage per light point: | 1.5w |
| Material: | Glass |
| Finish: | Painted |
| Product Color : | White |
Kan ik een Stringlight ook zelf combineren met andere kleuren?

Nee, we hebben enkel de witte en gekleurde versie.

Wat te doen als één lamp het niet doen?
Check of de metalen strips in de fitting op de juiste manier staan; één naar boven, één naar beneden. LET OP: eerst de stroom eraf halen dan pas checken.
Wat te doen als een lampje kapot is?
Via de pagina voor
reserveonderdelen
kunnen nieuwe lampjes worden besteld. De repair manual kan
hier
worden gedownload, maar het kapje mag alleen worden vervangen door een vakman.
Wat te doen bij kortsluiting?
De Stringlight hoort geen kortsluiting te maken, neem contact op met
info@weltevree.nl
Hoe kan ik mijn Weltevree producten het beste onderhouden?
HANDMADE AND MOUTH-BLOWN
The glass shades are carefully blown by experienced glass blowers. No two shades are exactly the same, making each Stringlight a unique product. After each shade is blown, the glass is hand cut and sharp edges are rounded.
COLORED AND COATED
The colored caps are hand-sprayed on the inside. They also have a tempered coating. If you look at the caps up close, you can see slight color variations due to the manual process. Once you hang and light the Stringlight, these spots are virtually invisible.
CONNECT TO A POWER OUTLET
The Stringlight consists of a cable with 8 fittings. At one end is a (European) plug. Plug this into an outlet to light the Stringlight. At the other end of the cable is a sturdy metal hook. This allows you to attach the Stringlight to a pole, branch or other object.
"The Stringlight turns any location into a special spot. The open space around your tent will become your garden, a place underneath the trees is transformed into a living room and an industrial hall becomes a restaurant. The glass lamp shades turn a standard flat cable into a charming lamp cord for indoor and outdoor use."
Floris Schoonderbeek
OUR PRODUCT, USED BY OUR COMMUNITY
Mention #worldofweltevree for a chance to be featured and inspire others.
FRAMEHOUSE 4 ARCS - INSIDE FLOOR
The Framehouse by Weltevree provides an inviting and screened-in area within a larger space. The cottage shape, open construction and wood create an accessible feel. The Framehouse fits perfectly into an open office interior or a sleek designer garden. Place a lounge piece or garden table in the Framehouse and dress it up with plants and lamps. The Framehouse provides the foundation for a personalized space. The minimalist house, designed by Floris Schoonderbeek, is constructed from beams of high-quality and durable Douglas fir wood. The beams are connected with smart steel joints. The Framehouse is available in two sizes: either with 4 arches (3.5m long) or with 5 arches (4.5m long). In addition, one platform can be installed indoors or outdoors and a transparent polycarbonate roof is available. The delivery time depends on the composition of your Framehouse. The Framehouse can be customized to your personal wishes. Contact us at info@weltevree.nl for more information about the possibilities and delivery time of your Framehouse.
Various options from
€1,495.00
€5,790.00
WHEELBENCH
The Wheelbench is an easily movable two- to three-person wheelbarrow bench. The surprising combination between a bench and wheelbarrow wheel enhances the active outdoor feeling. You can also easily move the bench alone, by driving the bench like a wheelbarrow. With the Wheelbench you can easily find a spot in the sun or shade. Place the bench wherever you want, put a sheepscoat on it and enjoy the peace and quiet outside. The Wheelbench is available in two versions: Oak or Accoya wood. Both versions of the Wheelbench come untreated. That gives you the choice to treat the wood yourself with oil or impregnate it to preserve its color. If you don't treat the wood, it will slowly develop a beautiful gray patina.
BENDED LOUNGER
The Bended Lounger garden chair is part of the cozy Bended Series. The garden chair forms a sturdy design thanks to the plates, which are bent in 45 degrees. In addition, both sides are reinforced with steel. Because the Bended Lounger is made of light aluminum, it is easily movable. The garden chair adapts flexibly to any surface and does not wobble. The chair can be used indoors and outdoors and comes with a Bended Cushion of 55x55 cm. Place the chair in a sunny spot or close to the outdoor oven and prolong being outdoors. Use the Bended Lounger in combination with our Bended Stool or other products from the Bended Series, to create a cozy seating area in your garden or on the balcony. Take a moment for yourself in your seating area with a good book and a cup of tea or enjoy a cozy evening of drinks with friends or family. The Bended Series products, designed by Jaïr Straschnow, are made of 3mm aluminum, which is 100% recyclable. Because the Bended products feature a powder-coated finish, they require little maintenance. You easily clean the products with a soft cloth and water. Everything in the Bended Series can be used indoors and outdoors and is available in light green, gray-blue and agate gray. Important: Due to the transition to a new cushion, the pillow will be delivered in week 23. The Bended Lounger can be delivered within the provided shipping period.