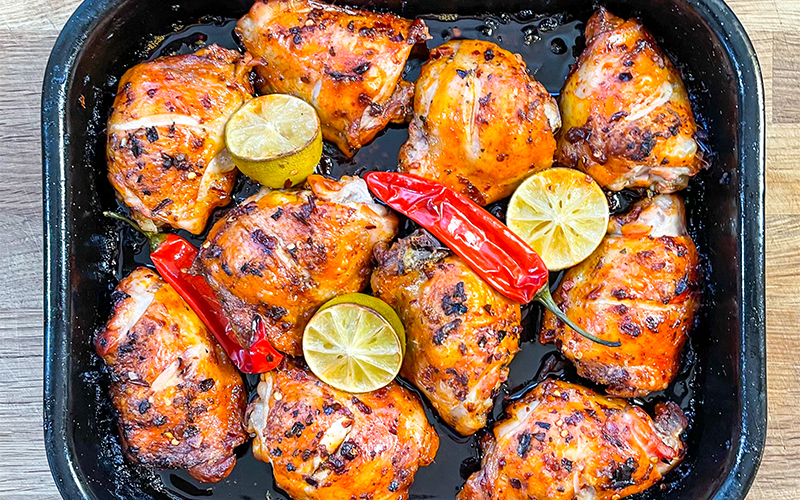 Cooking with Richard – Harissa chicken with aubergine, pomegranate and tahini salad
Ever since getting an Outdooroven, community member Richard Vickers has shared his delicious Outdooroven recipes to Instagram. We took notice, so for our latest magazine we asked him to share one of his recipes. It's time to properly start cooking with your Outdooroven! Read Richard's recipe from our magazine below and check out his Instagram for even more inspiration.
Richard: "One positive outcome from the events of the last year or so is a renewed love of the outdoors. The ability to enjoy nature in the garden, whether a precious urban space or a country cottage, has become even more special. The warmth of the sun, the scent of flowers, the joy of hearing birdsong, that sense of wellbeing that only being outdoors can bring. Cooking outdoors is an almost magical activity, a wonderful combination of fire and food. Being able to share the experience of cooking and eating in the fresh air with loved ones, family and friends is without doubt extra special and memorable.
This meal is a truly sumptuous summer treat, rich in flavours, texture and colour. It is also very versatile, you can scale up the ingredients to suit the number of people. I prefer chicken thighs, but you can use fillets or even a whole chicken spatchcocked. I've added the recipe for the pitta breads because they are so easy to make, and delicious baked in the Outdooroven, but you can easily use shop bought ones and just warm them."
Ingredients for harissa chicken:
6 chicken thighs/fillets
4 tbs harissa paste
2 tbs olive oil
I
ngredients for pomegranate and tahini salad:
8 small aubergines

1 tbs olive oil

4 tbs tahini

4 tbs crème fraiche

Few sprigs rosemary

2 cloves garlic

Salt and pepper

1 red chill

1 lemon zest and juice

1 pomegranate seeds

only 1 small bunch coriander
Ingredients for pitta breads:
2 tsp fast-action dried yeast

500g strong white bread flour, plus extra for dusting

2 tsp salt

1 tbsp olive oil
To serve:
50g green pistachios

25g sesame seeds toasted
Method:
Light the Outdooroven and get the heat up to 200c.

Slice the aubergines in ½ lengthways. Mix the oil, chilli, rosemary and garlic. Then coat all over the aubergines and roast on a baking tray for 15 minutes.

Whisk together the tahini and crème fraiche.

Mix the chicken, harissa and oil. Season with salt and pepper, then place onto a baking tray.

Cook for 30 minutes, or until the aubergines are ready.

To serve, pile the chicken onto a platter, top with aubergines, dot with tahini mix and sprinkle on the coriander, pistachios and sesame seeds.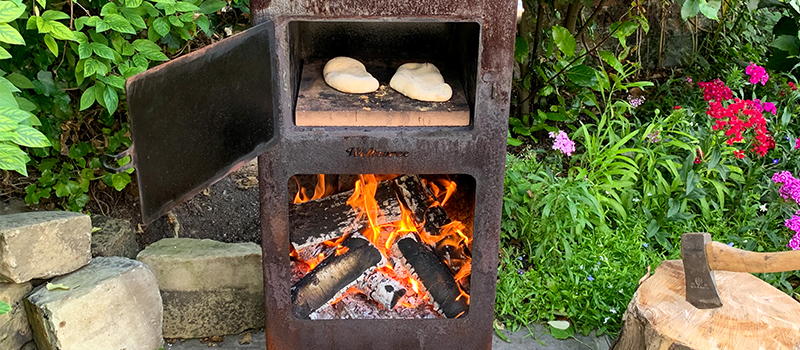 When making the pitta breads yourself:
Mix the yeast with 300ml warm water in a large bowl. Leave to sit for 5 mins until the yeast is super bubbly. Then tip in the flour, salt and olive oil. Bring the mixture together into a soft dough. Tip the dough onto a lightly floured work surface. Knead for 5-10 mins until you have a soft, smooth and elastic dough. Once kneaded, place in a lightly oiled bowl, cover with a tea towel and leave to double in size, approximately 1 hour.

Divide the dough into eight balls then flatten each into a disc with the palm of your hand. On a lightly floured surface, roll each disc into an oval; around 20cm long, 15cm wide and 3-5mm thick.

Place your pittas directly onto the baking stone in the Outdooroven (you may have to do this in batches) and bake for 4-5 mins, or until the pittas have puffed up and are a pale golden colour.
About Richard Vickers
Together with his wife Alison, Richard Vickers lives in East Yorkshire, the United Kingdom. He loves spending time with his family in the local countryside and beaches, but there is one hobby that preoccupies most of his time: cooking!
We hope Richard's recipe inspires you to try start cooking in your Outdooroven. Be sure to check out @
richardfvickers
on Instagram for even more Outdooroven recipe inspiration.