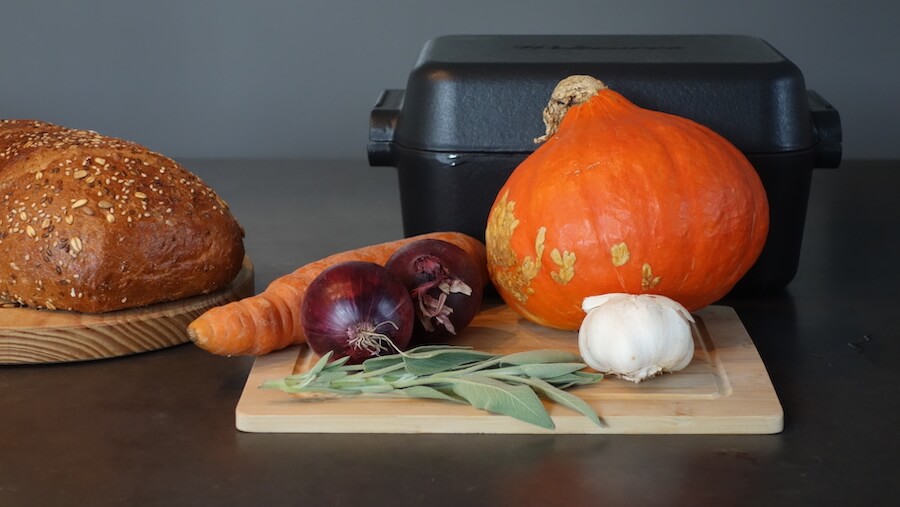 Outdooroven recipe: pumpkin and chicken tray bake
It is pumpkin season! This autumnal tray bake with pumpkin, onion, carrots and chicken can be prepared in the Outdooroven.
Ingredients
600 grams chicken thighs or legs

About 600 grams of pumpkin or butternut squash

1 big carrot

2 red onions

1 head of garlic

Olive oil

1 tbsp balsamic vinegar

1 tsp honey

3 tbsp dried or fresh sage

Salt & pepper to taste
Necessities
the Outdooroven or a regular oven

Baking dish like the Oven Dish

Gloves
Step 1: Light the Outdooroven and let it reach a temperature of about 180 degrees.
Step 2: Grease the Oven Dish with olive oil or line it with baking paper.
Step 3: Prepare the vegetables by cutting everything into large chunks. Cut the onions into eights. Break the head of garlic into individual cloves, but do not peel the garlic.
Step 4: Mix the olive oil, balsamic vinegar and honey together in a cup.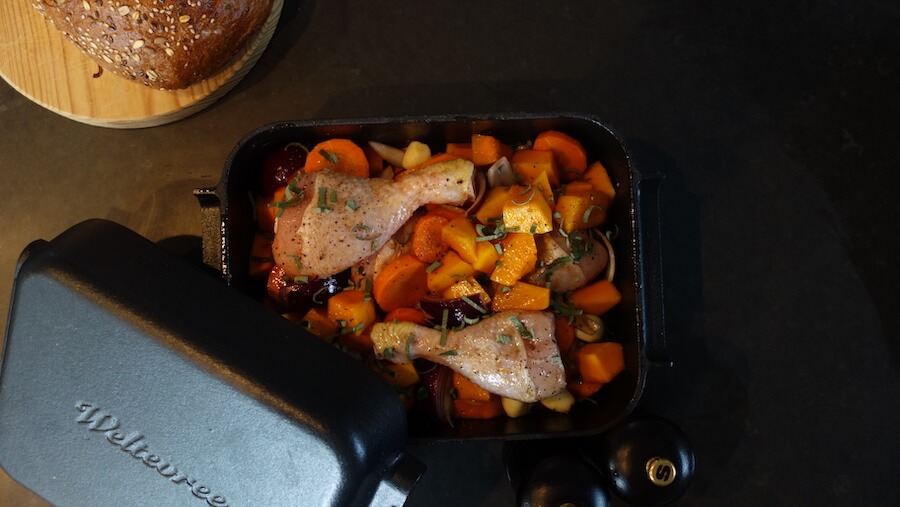 Step 5:
Put the chicken and vegetables together into a bowl and pour the oil mixture on top. Rub in the mixture over everything. Then place into the Oven Dish and spread evenly.
Step 6: Season liberally with salt and pepper and sprinkle the sage on top.
Step 7: Place the Oven Dish into the and let it roast for about 60 minutes. The dish is ready when the chicken skin turns golden brown and the vegetables are soft.
Step 8: Enjoy your Fall meal!
Do you have an Outdooroven recipe to share? Join our cooking community, share your ideas with others and get inspired!