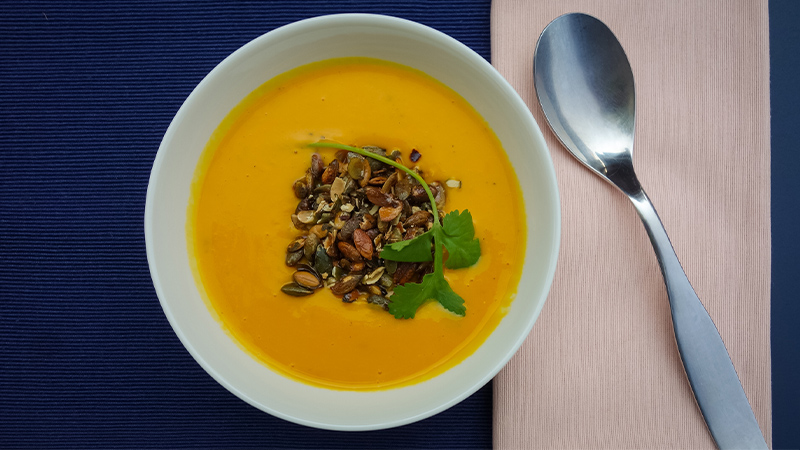 Outdooroven recipe: pumpkin soup with saffron and orange
You can't say fall without thinking of pumpkins. This typical fall vegetable can be used in many ways, like soup! Enjoy this rich pumpkin soup while your Outdooroven keeps you warm.
Soup
2 onions
1,2 kg winter- or butternut squash
60 ml olive oil
1 L vegetable stock
2 tbsp harissa
¼ tsp saffron threads
1 tsp orange zest
180 gr crème fraiche
5 gr coriander leaves
salt & black pepper
Topping
80 gr pumpkin seeds
2 tsp maply syrup
¼ tsp chili flakes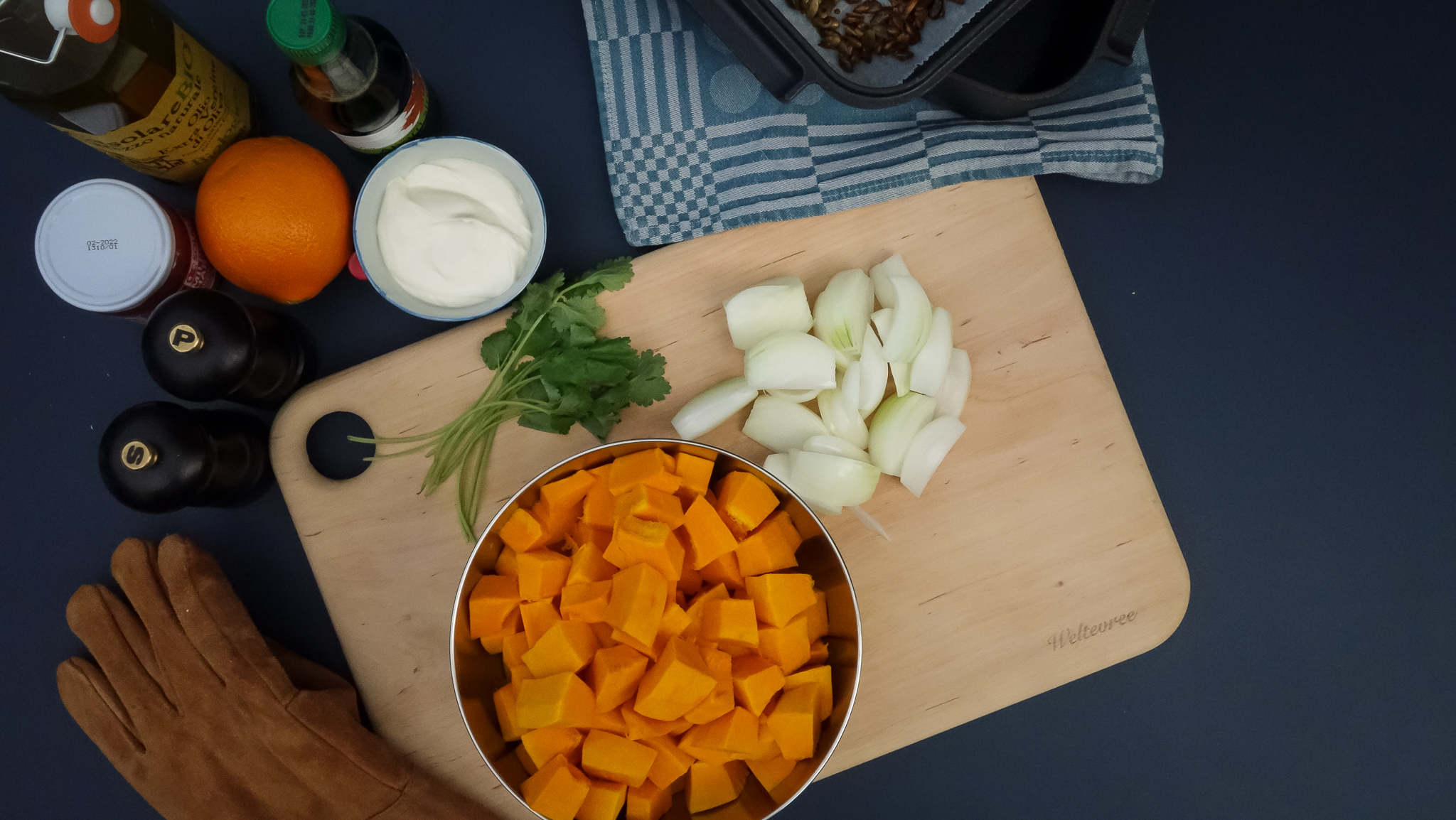 Step 1:
Light a fire in the Outdooroven. Mix the pumpkin seeds, maple syrup and chili flakes with ¼ teaspoon of salt in a small bowl. Once the Outdooroven has reached a temperature of around 170 degrees; spread the mixture onto a baking tray and roast for around 15 minutes. The seeds should swell and brown. Let them cool down. Break into smaller pieces once cooled down.
Step 2: In the meantime, keep the fire up until the oven reaches a temperature of around 220 degrees.
Step 3: Peel and cut the onions in parts of around 2-3 cm. Peel the pumpkin, cut it in half and remove the seeds. Cut the pumpkin flesh into cubes of 3 cm.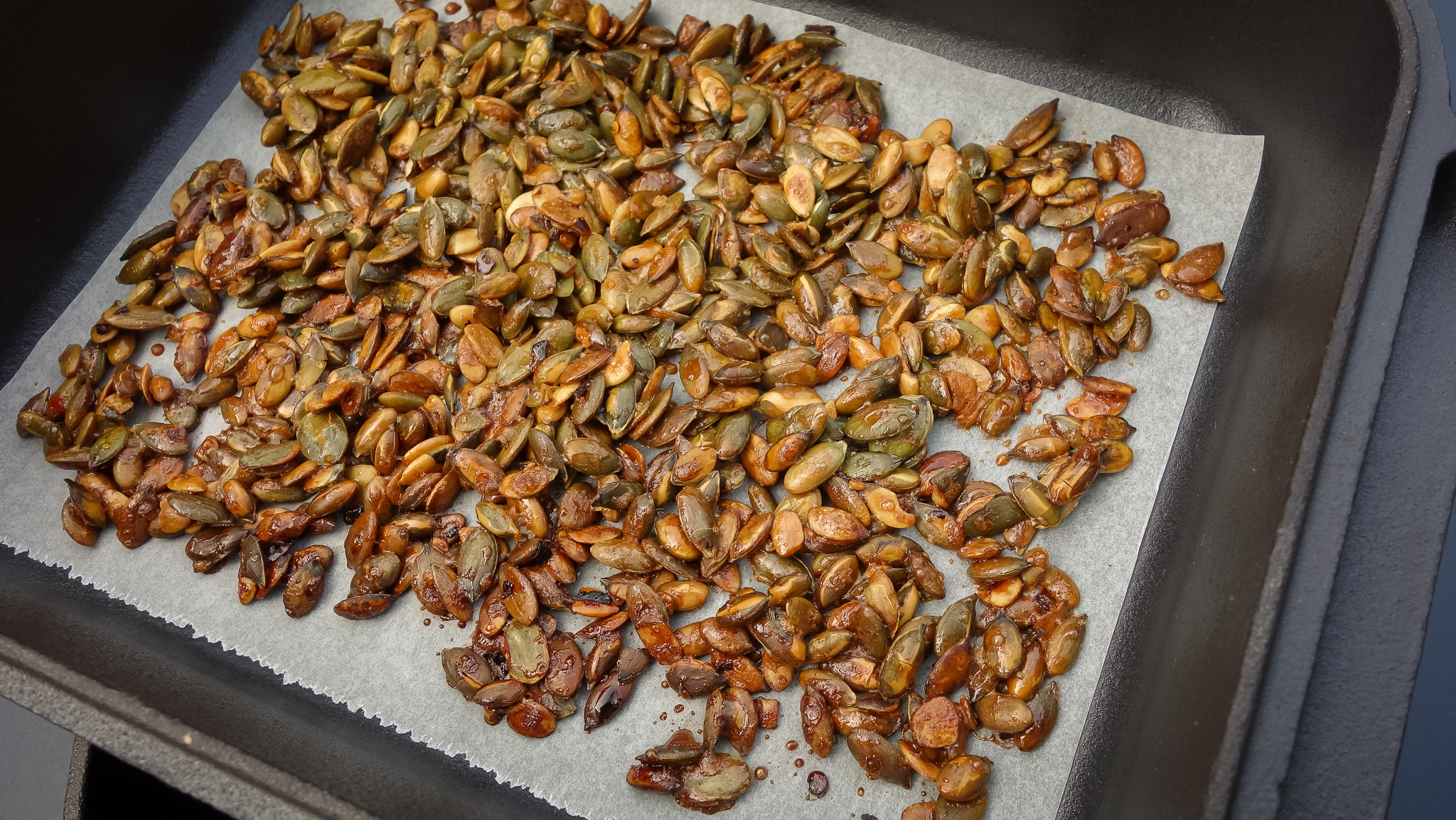 Step 4:
Place the olive oil, onion and pumpkin into a large bowl. Add ¾ teaspoon of salt and be generous with the black pepper. Mix everything and then place onto a baking tray covered with baking paper. Roast in the oven for 25 minutes until everything is cooked and caramelized. Take out of the oven and place to the side.
Step 5: Add the vegetable stock to a large pan, together with the harissa, saffron threads, orange zest, ½ teaspoon of salt and a freshly ground pepper. Bring to a boil and add the roasted pumpkin and onions. Stir well and let the soup boil for 5 minutes at medium fire.
Step 6: Take the pan off the heat, add the crème fraiche and puree the soup. Serve with the roasted pumpkin seeds and coriander leaves on top.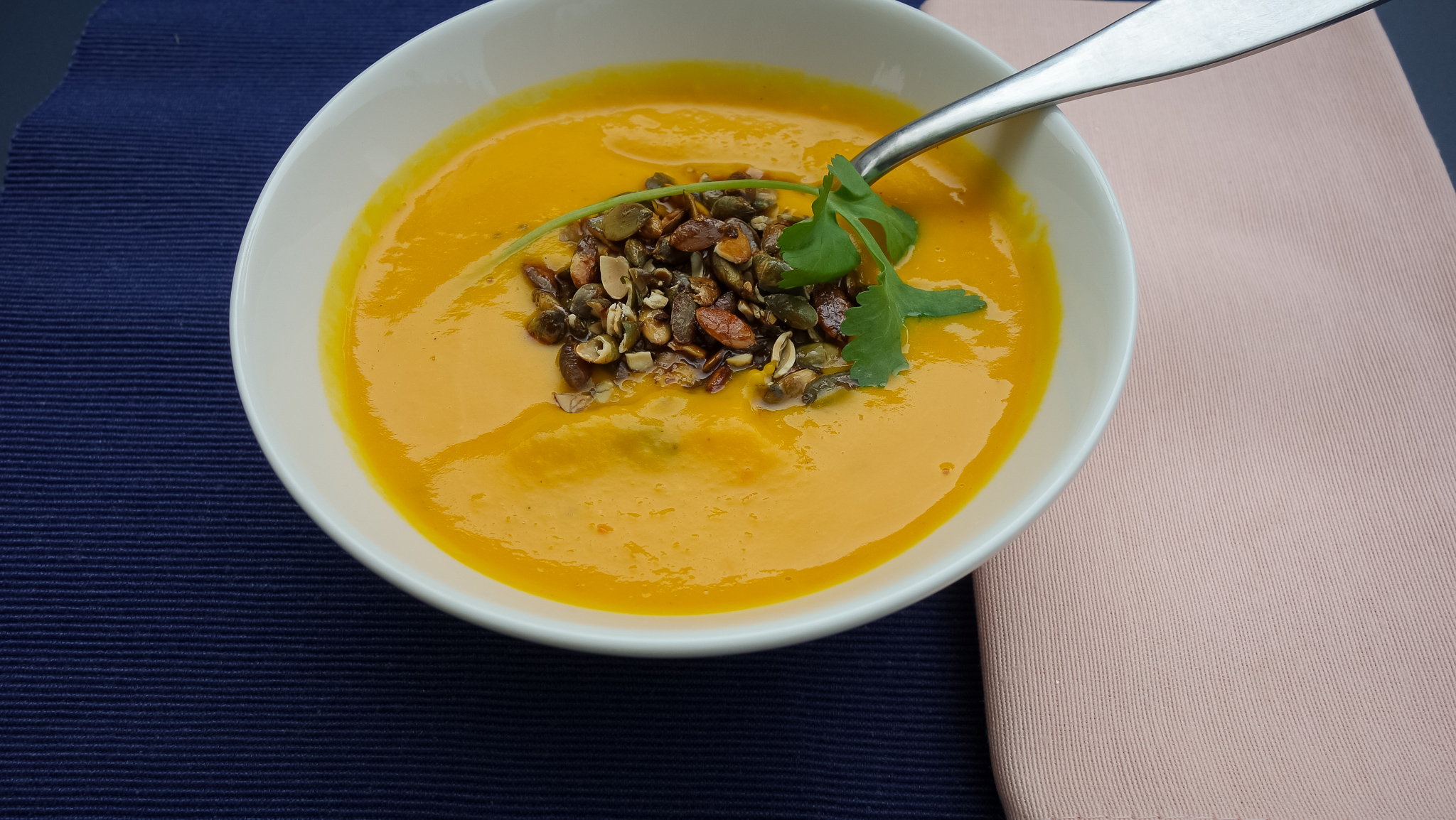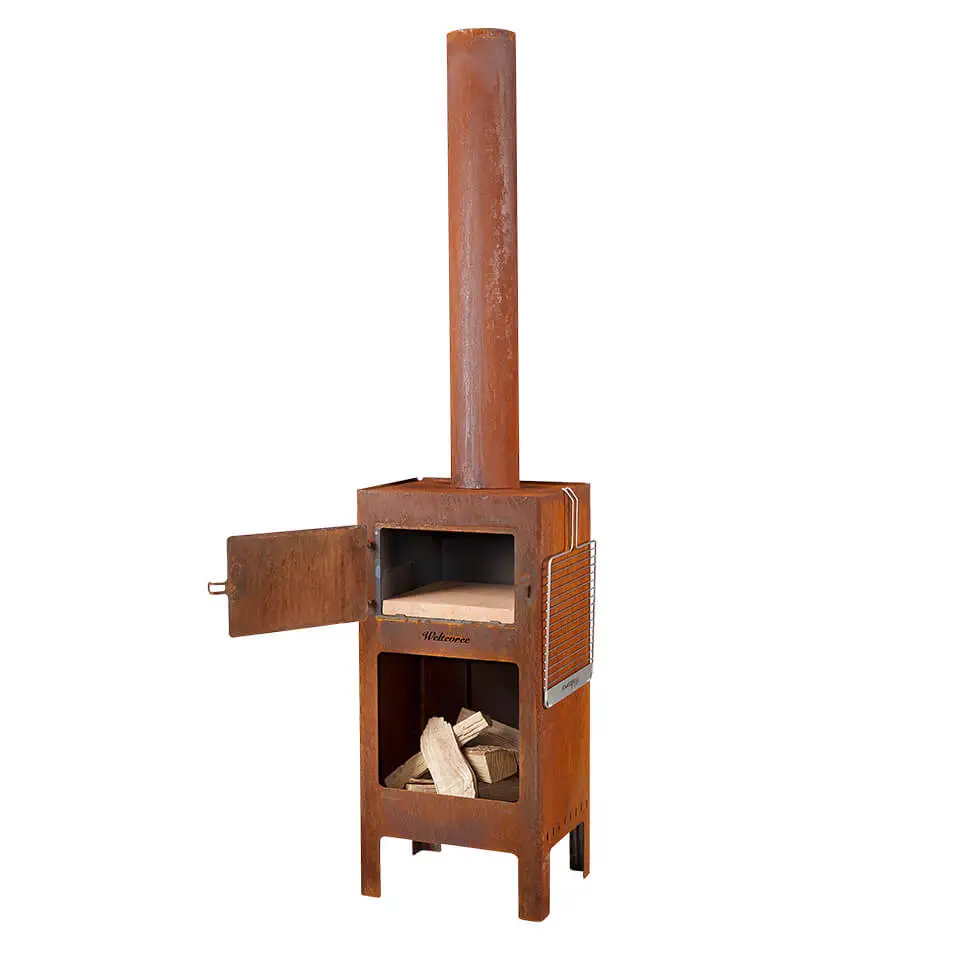 OUTDOOROVEN
This outdoor oven is an eye-catcher in any garden! Enrich your garden or patio with the Outdooroven Original. From bread rolls for breakfast to pizza or sparibs for dinner: the outdoor oven is a real all-rounder and contains an outdoor fireplace, oven and barbecue grill in one. So you can enjoy adventurous meals outdoors all year round. In summer with a cocktail and in winter with a hot chocolate. In the lower open compartment the wood fire is stoked. Above it is a compartment with a lockable flap, in which you can bake. The top of the Outdooroven is flat and warm enough for cooking. The outdoor oven easily reaches temperatures up to 350 degrees and is expandable with various accessories. This iconic design by Dick van Hoff is made of high-quality 3mm thick Corten steel and will last at least 10 years. The outdoor oven comes complete with pizza stone, grill grid and 1 meter stove pipe. Complete your Outdooroven with various accessories. Light a fire, make some goodies in the outdoor oven and chat with your friends while enjoying the crackling wood fire in the background.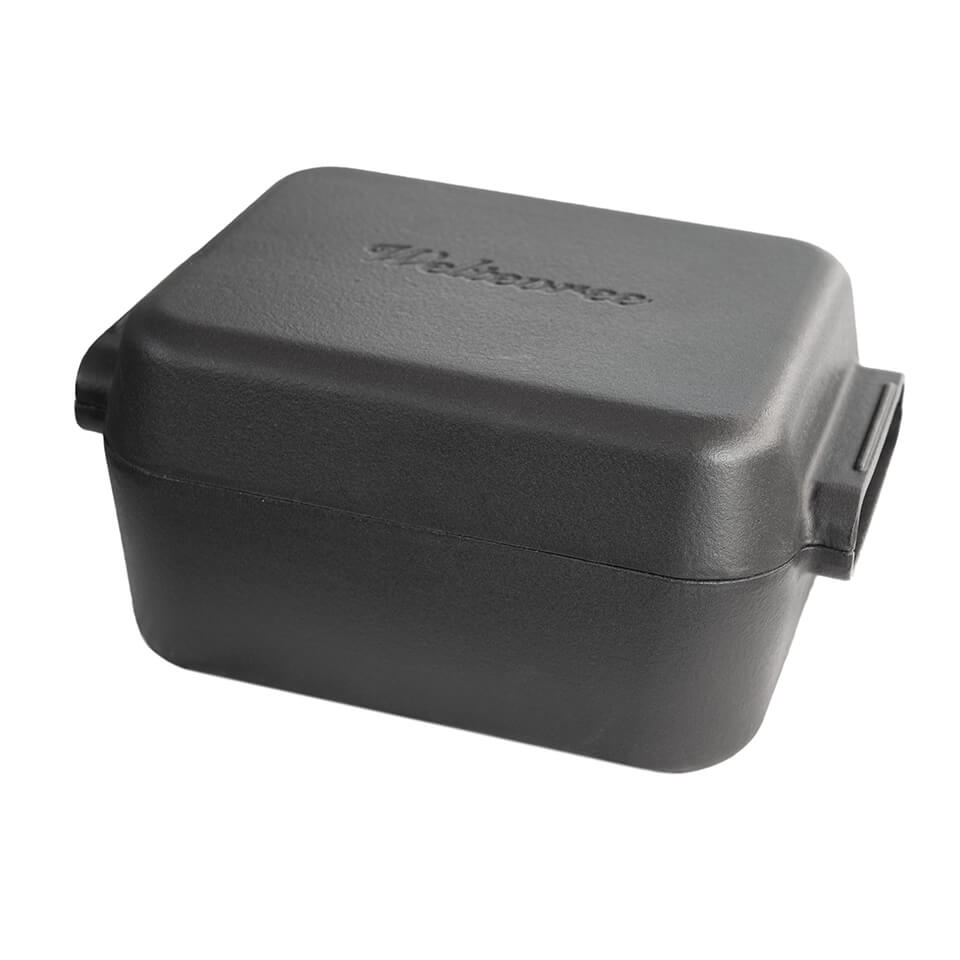 OVEN DISH
The Weltevree Oven Dish is more than a dish: it's three dishes in one. It consists of two parts: a shallow dish and a deep dish and together they function as a casserole dish. The oven dish is completely made of enameled cast iron with a robust, matte look. This material retains heat and is naturally non-stick. It's suitable for a variety of cooking tasks, but is especially great for slow cooking.