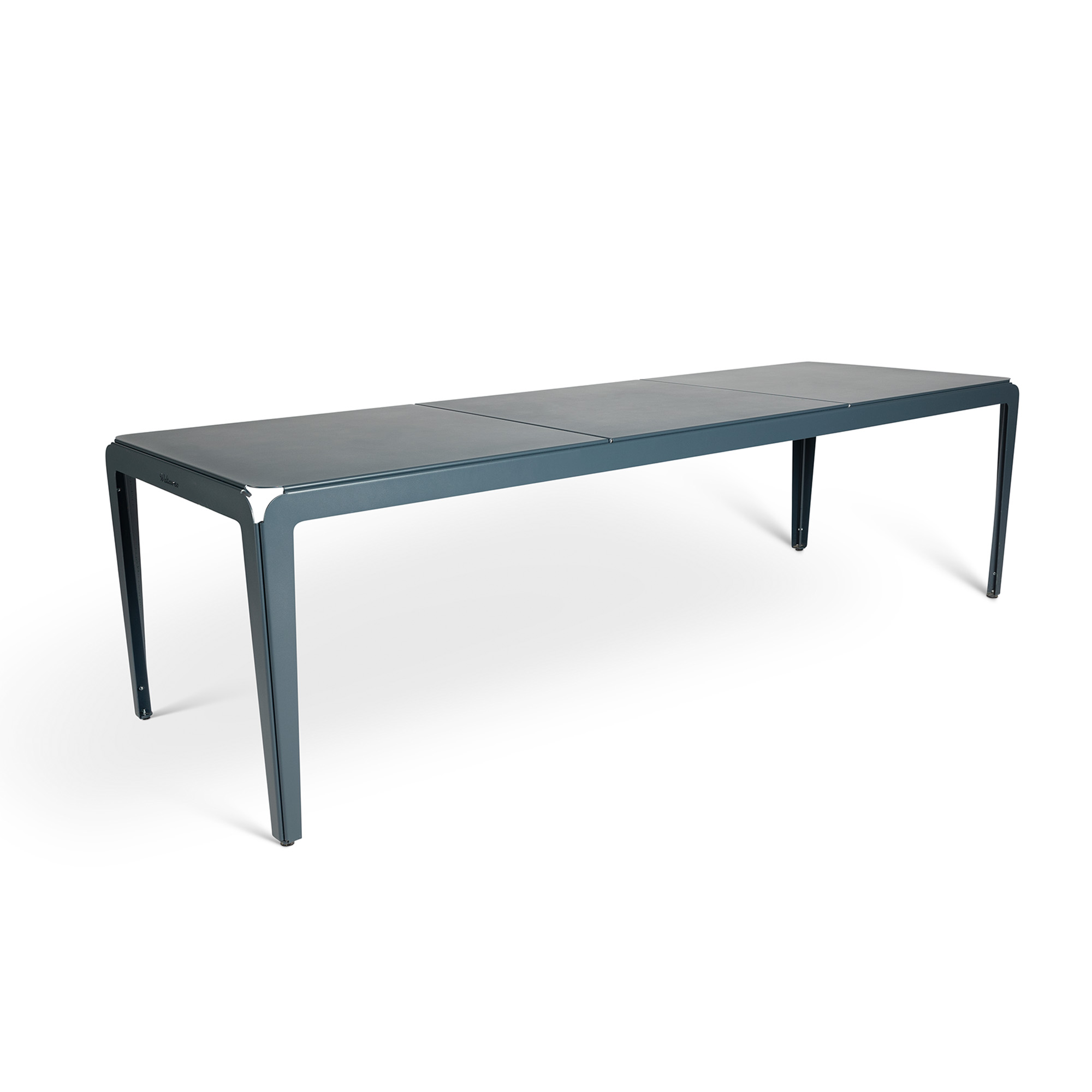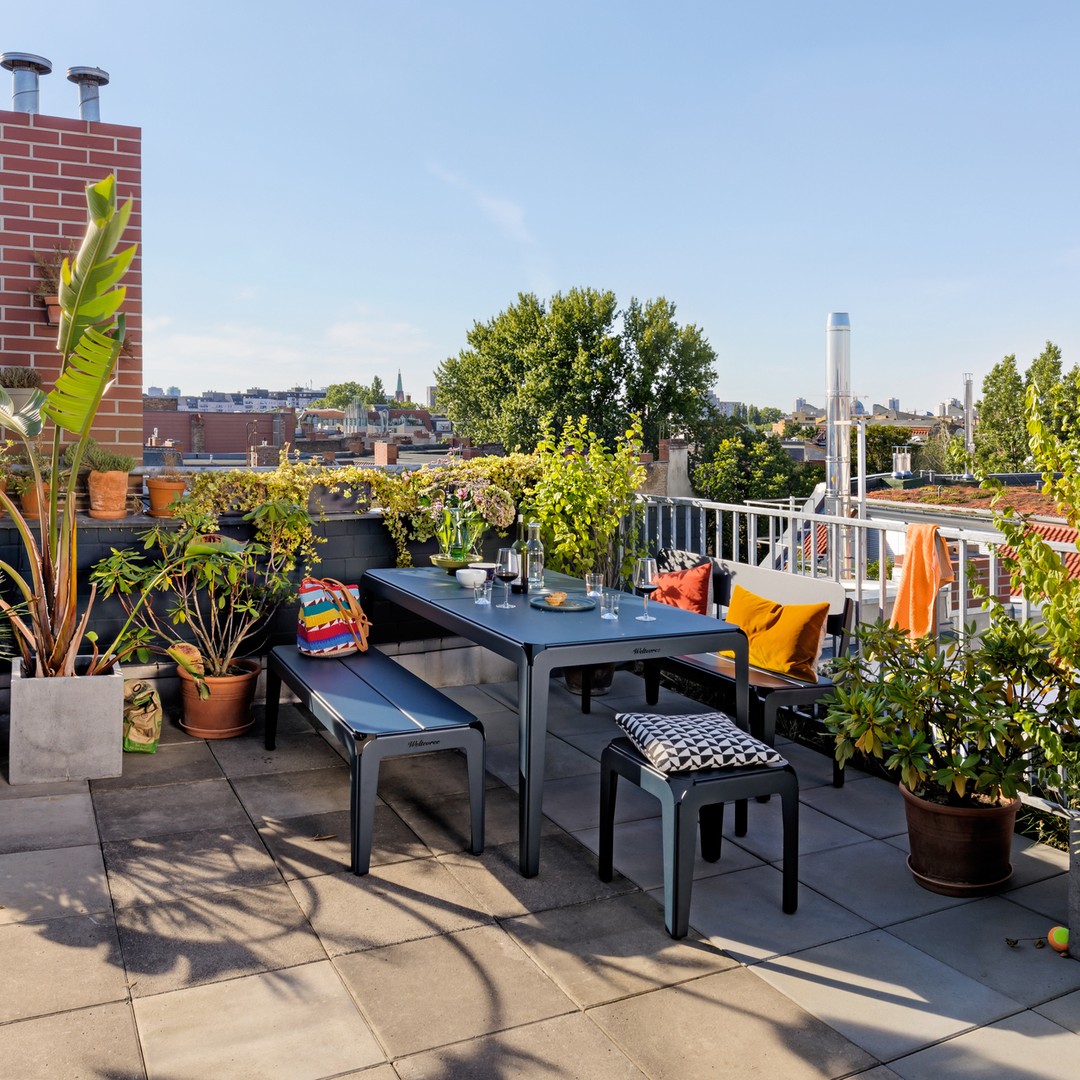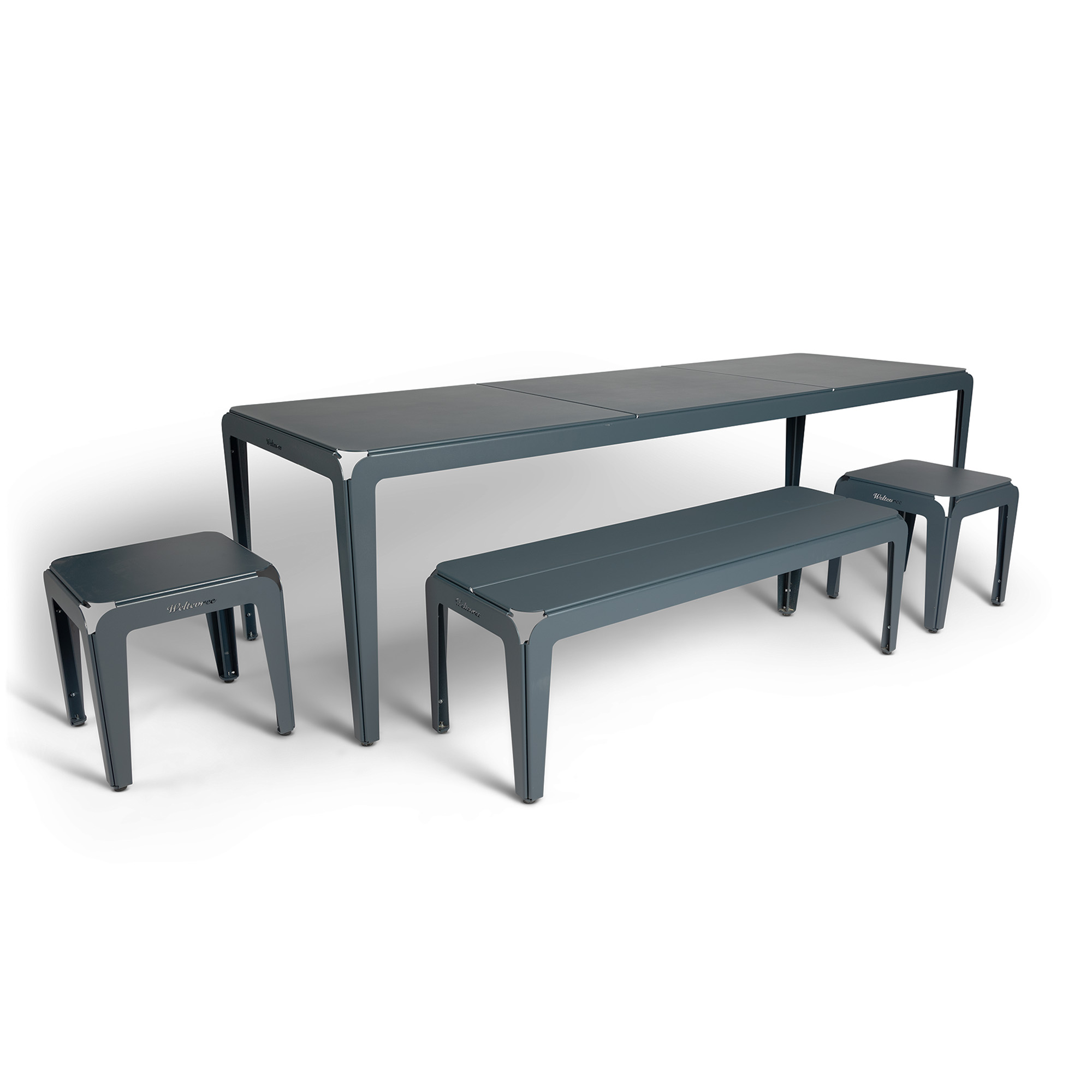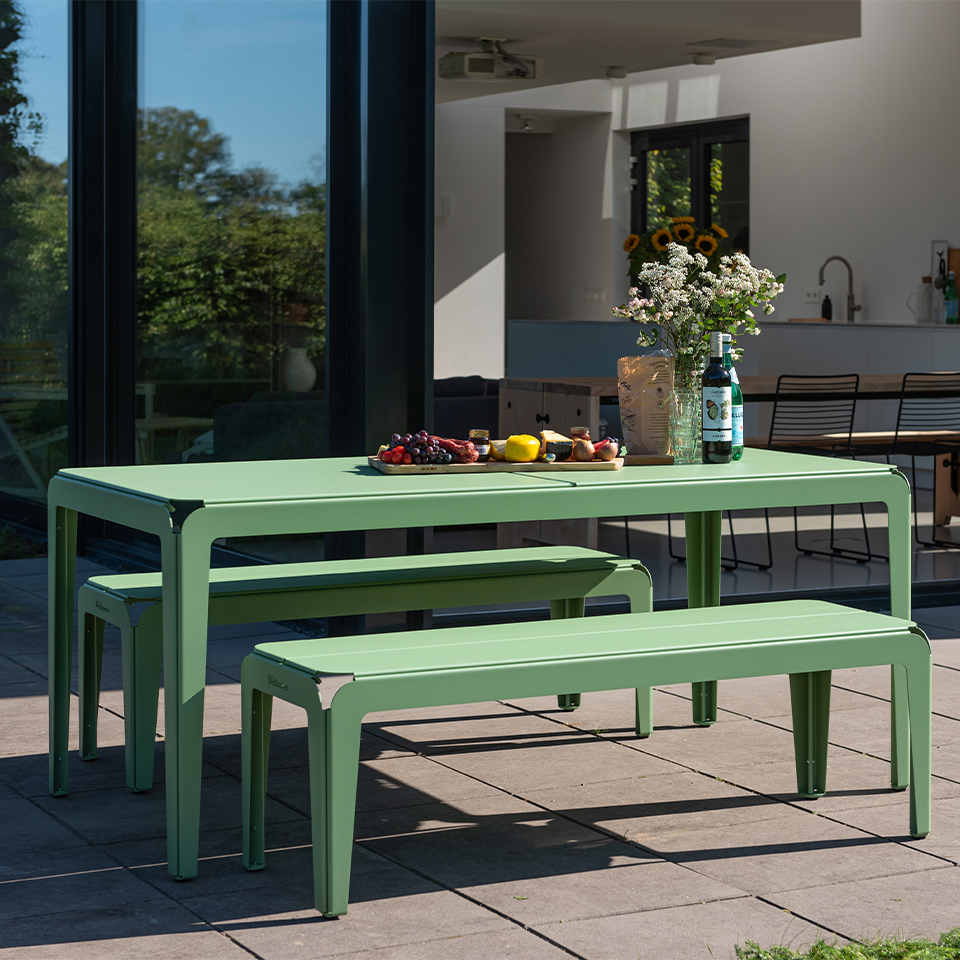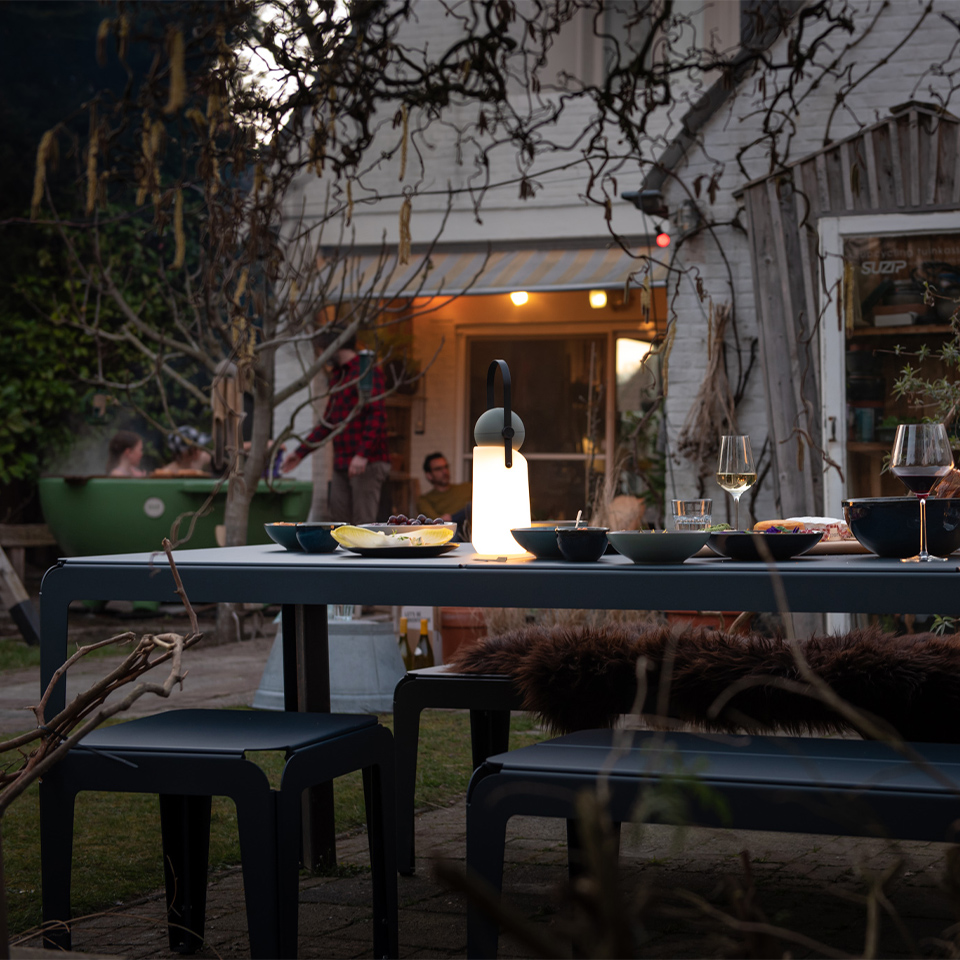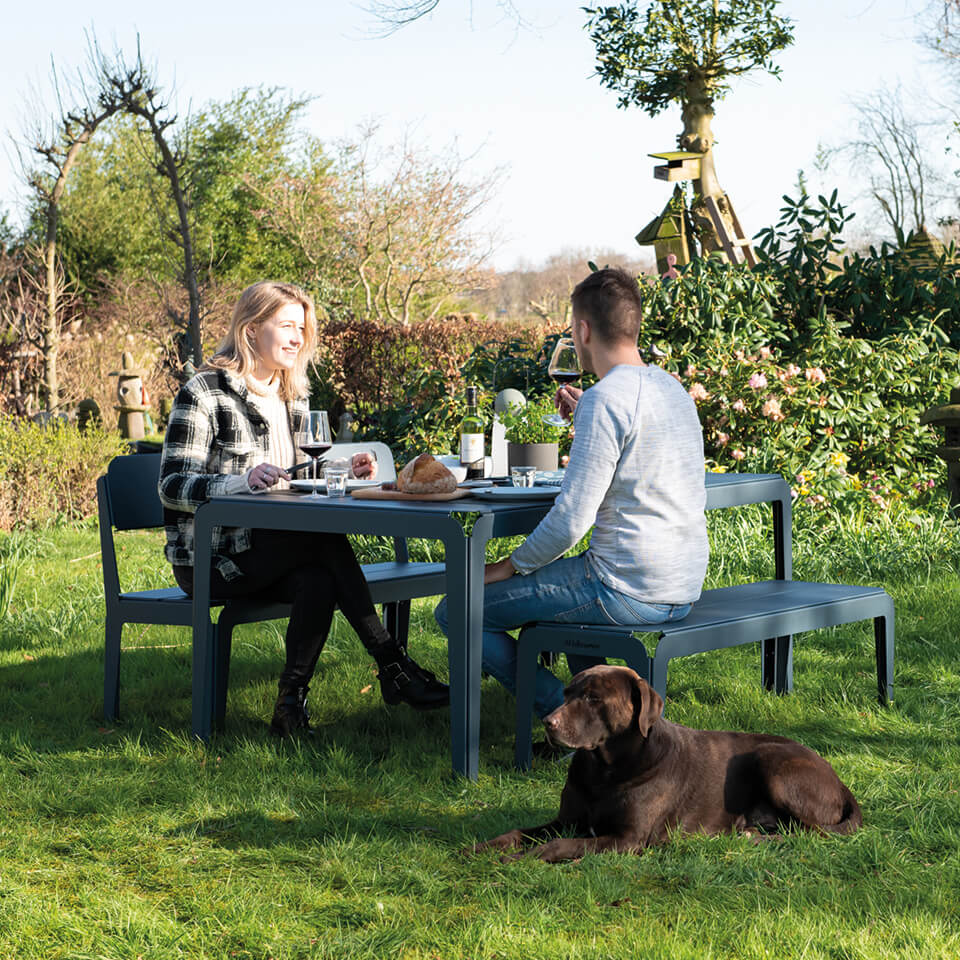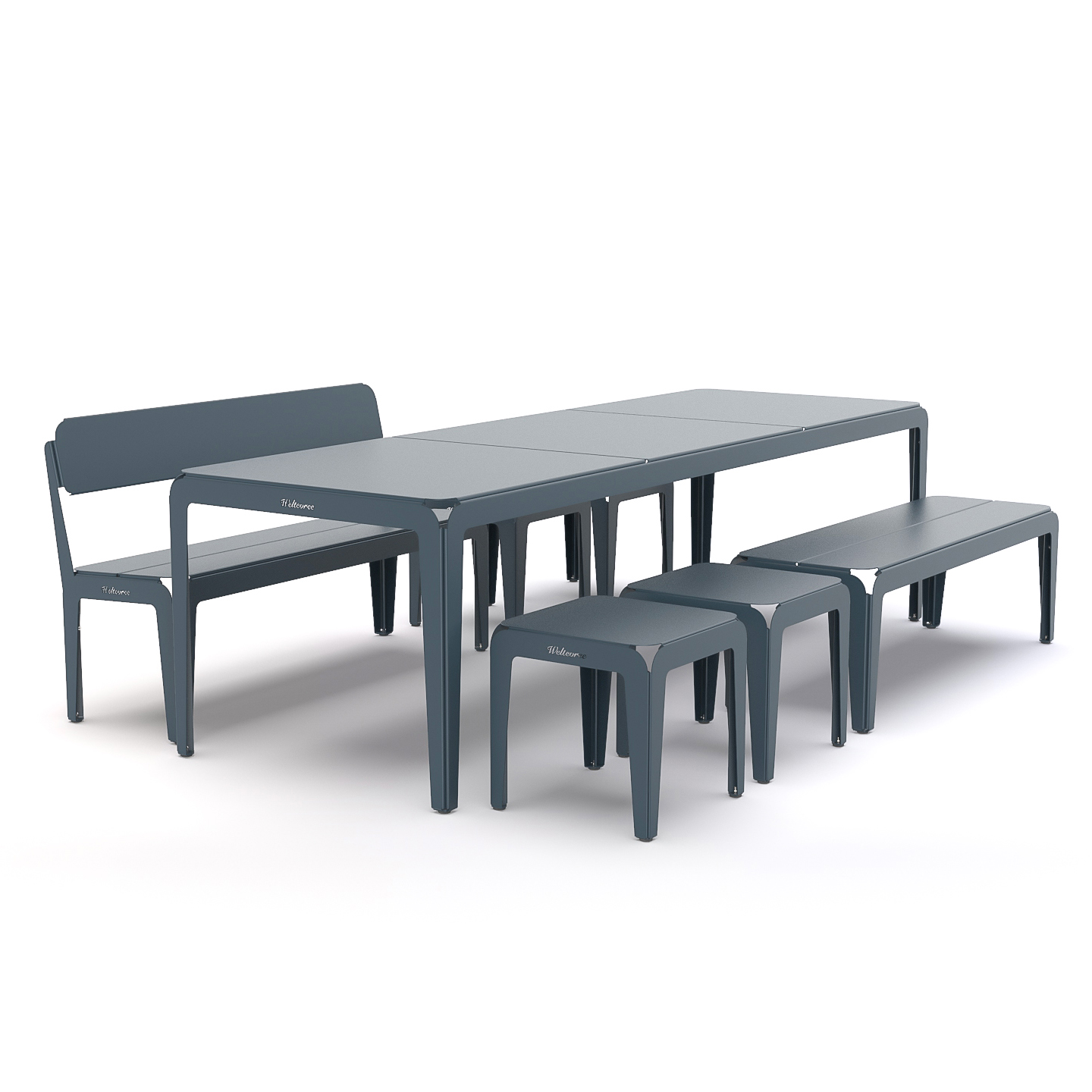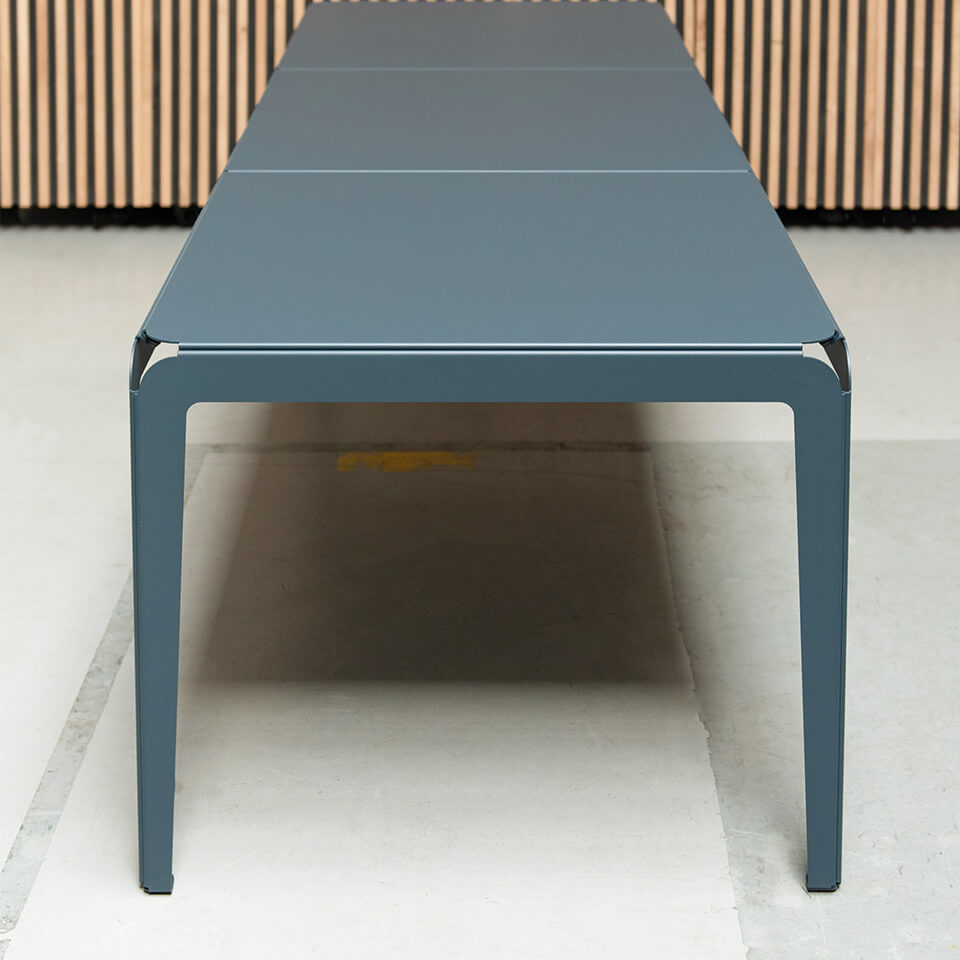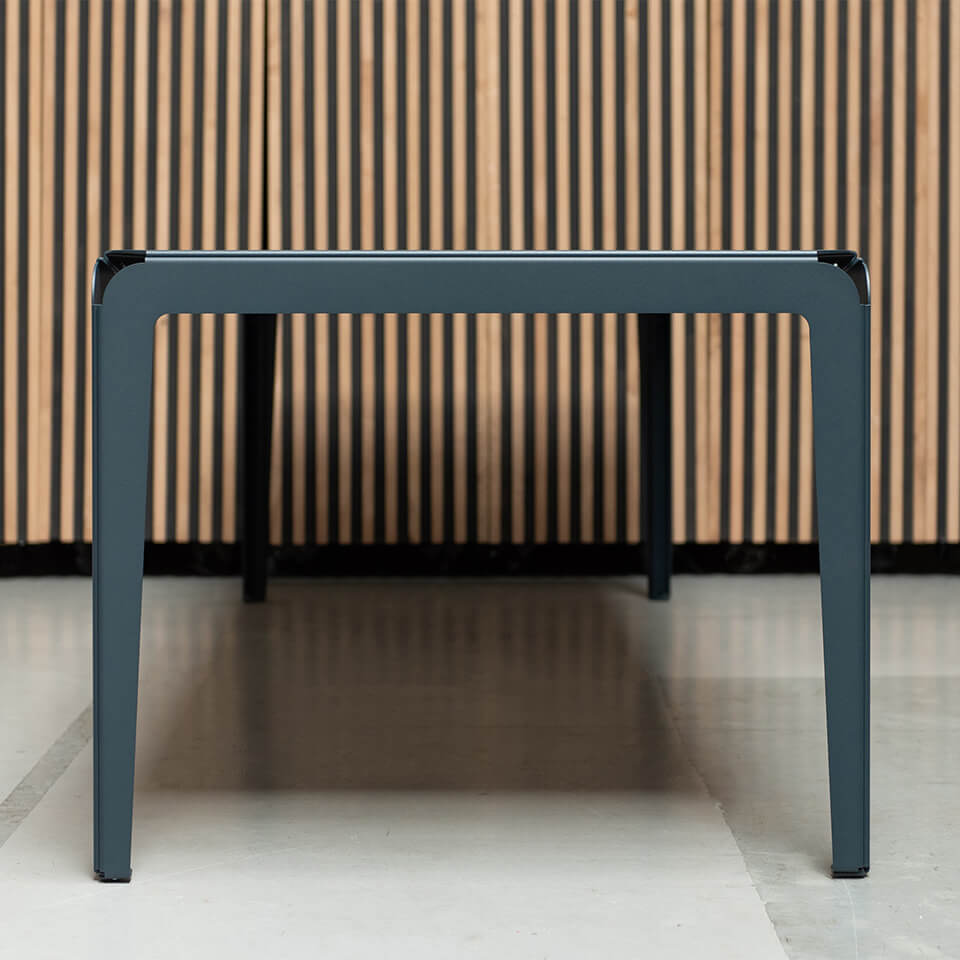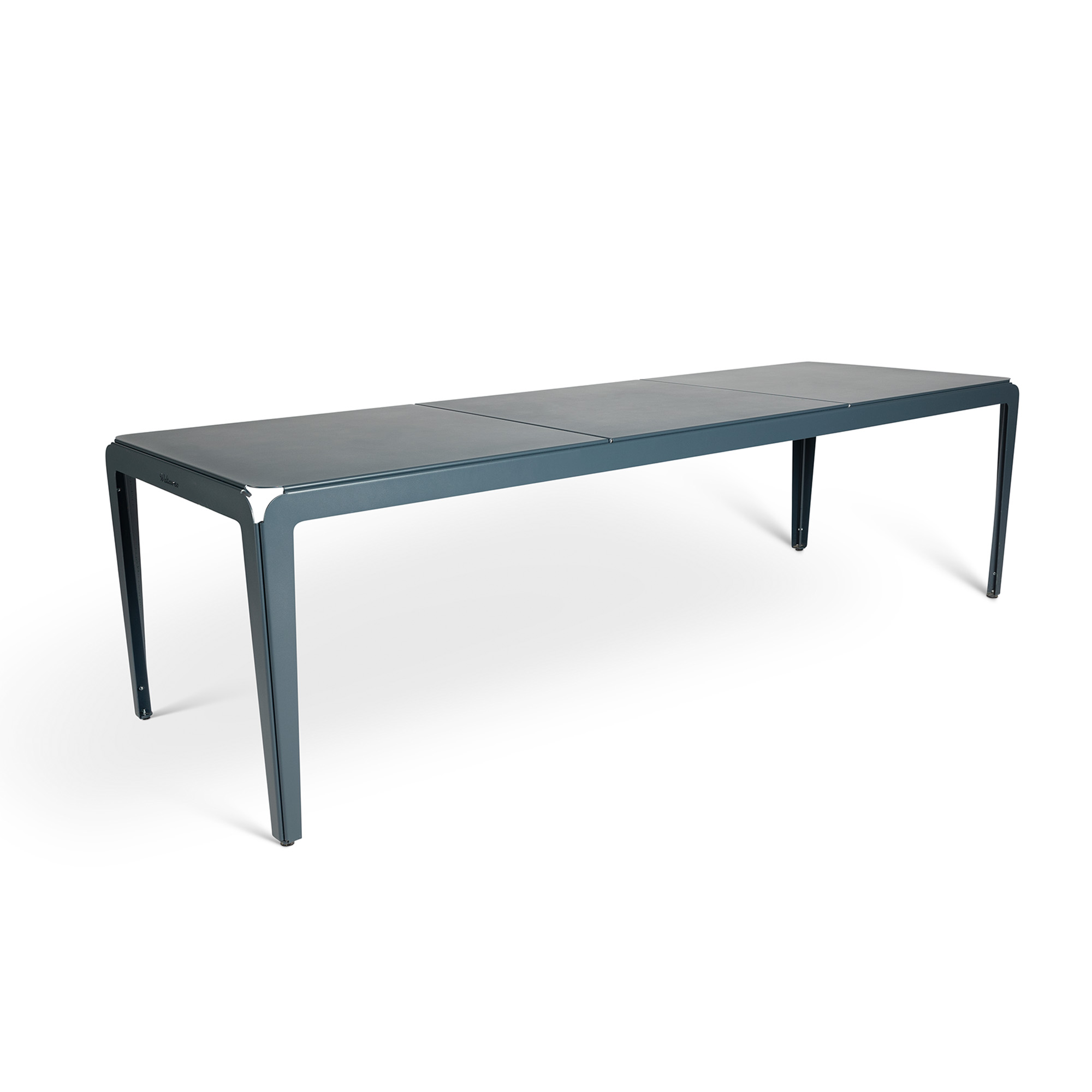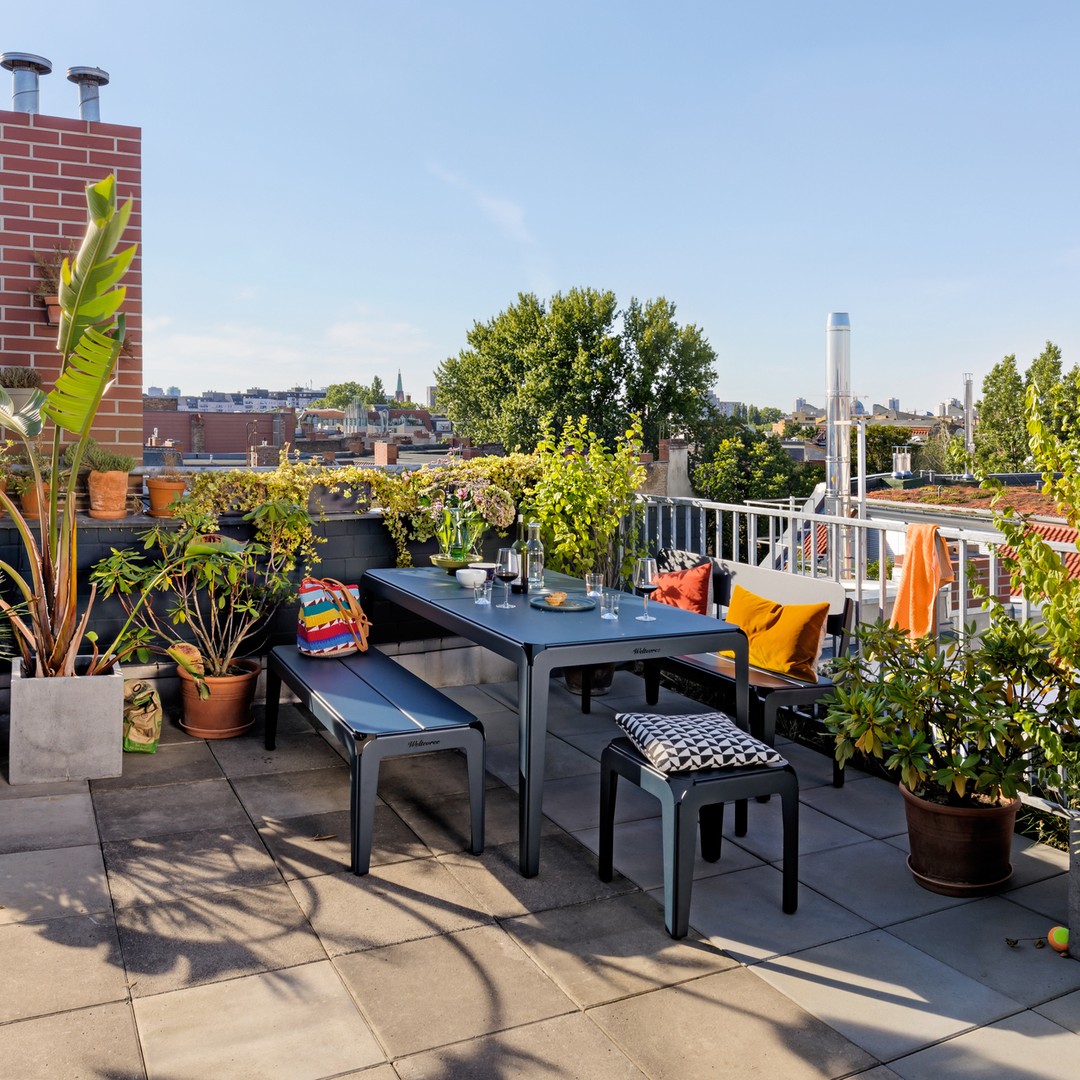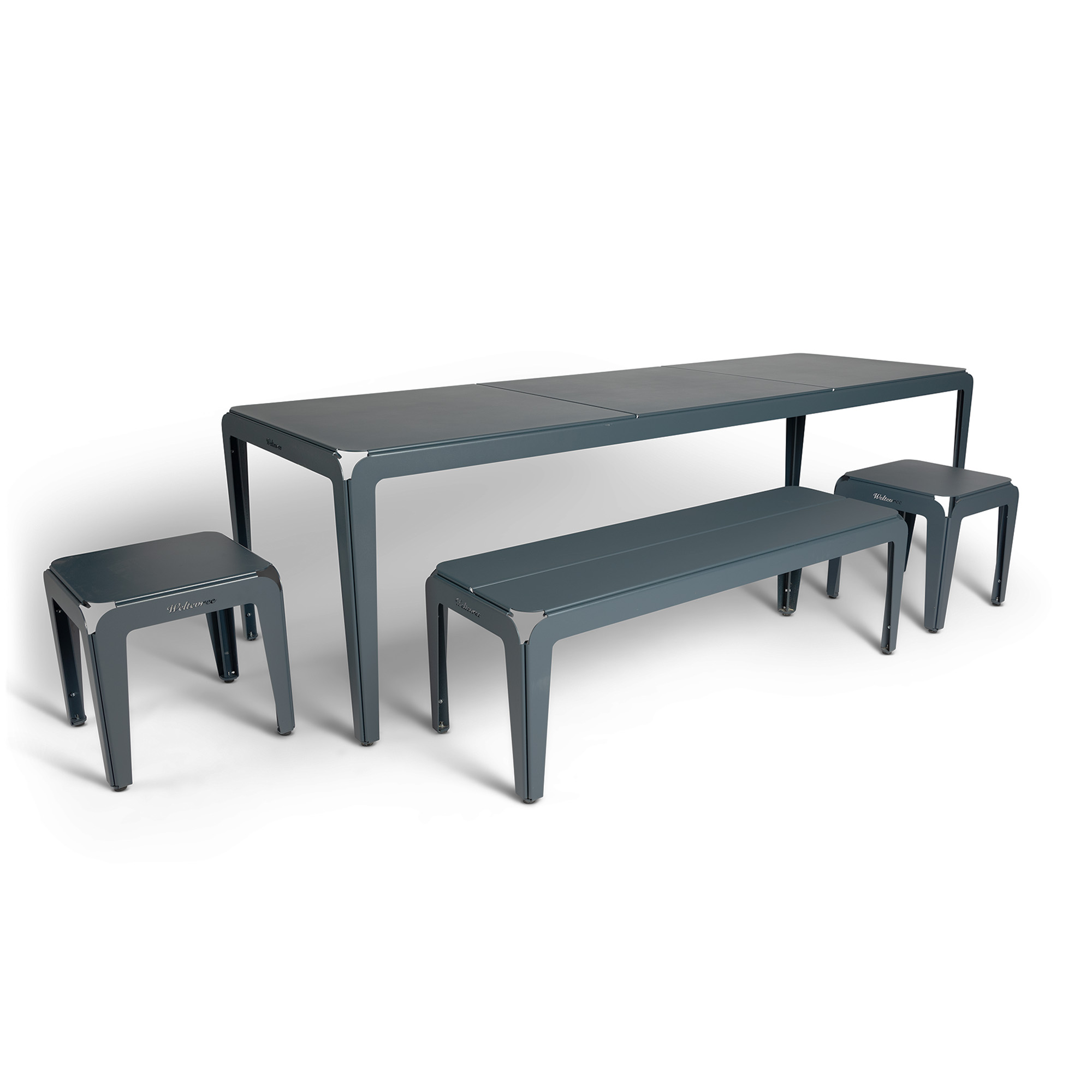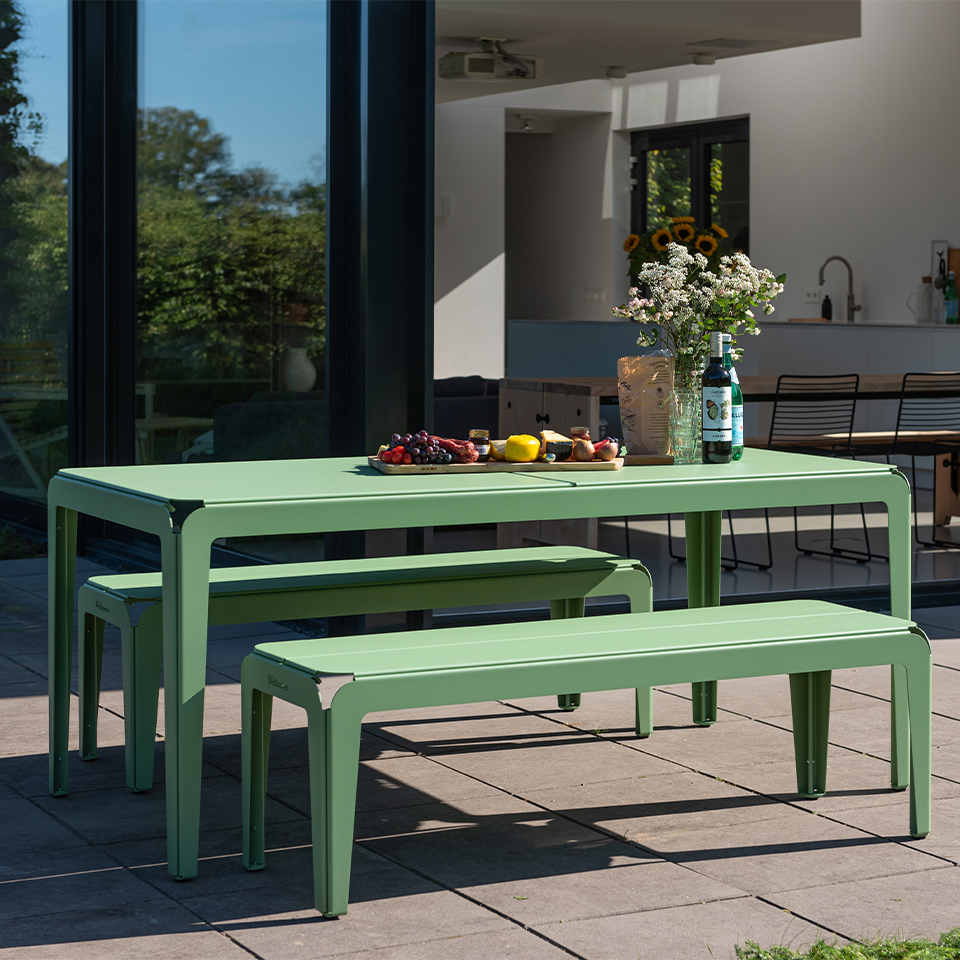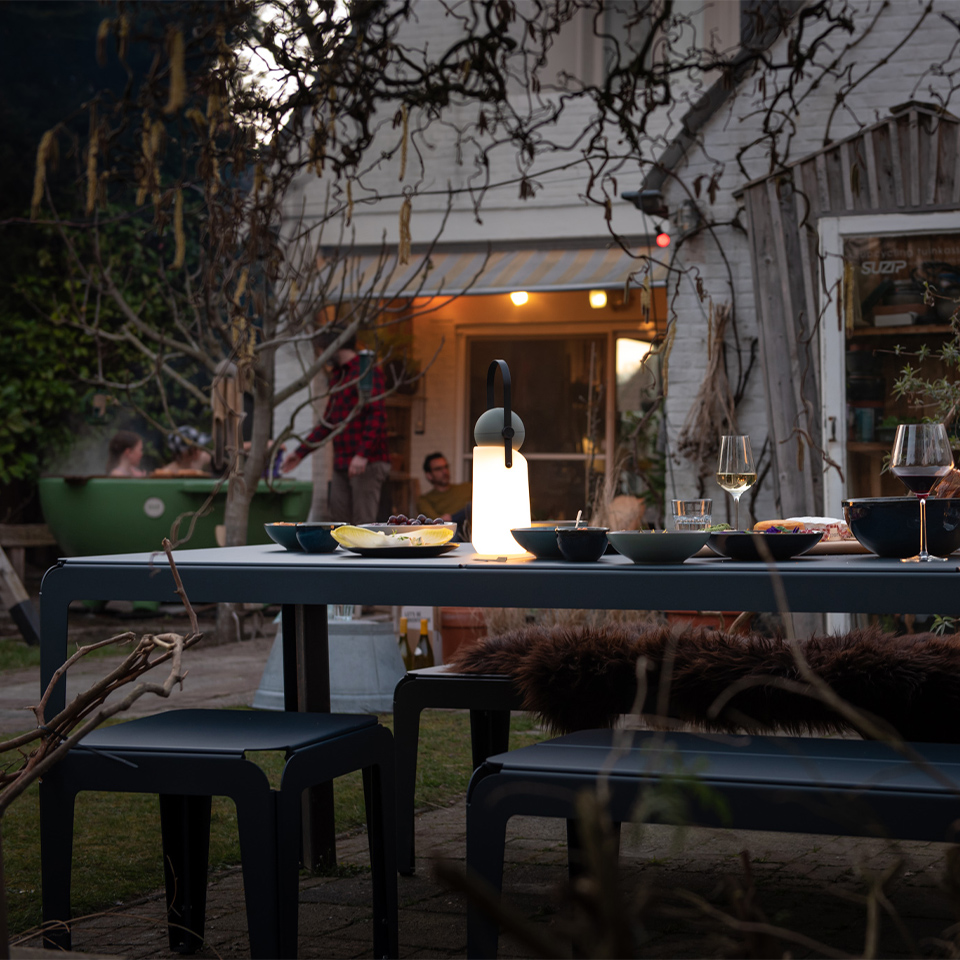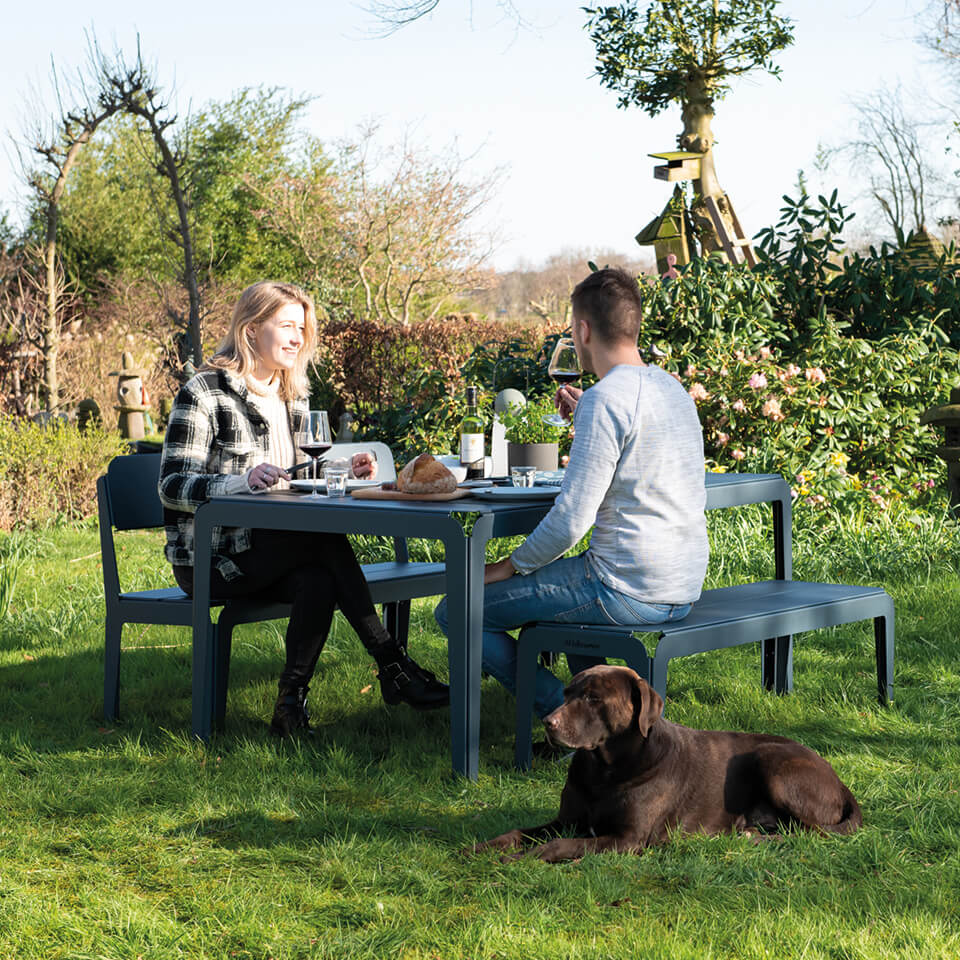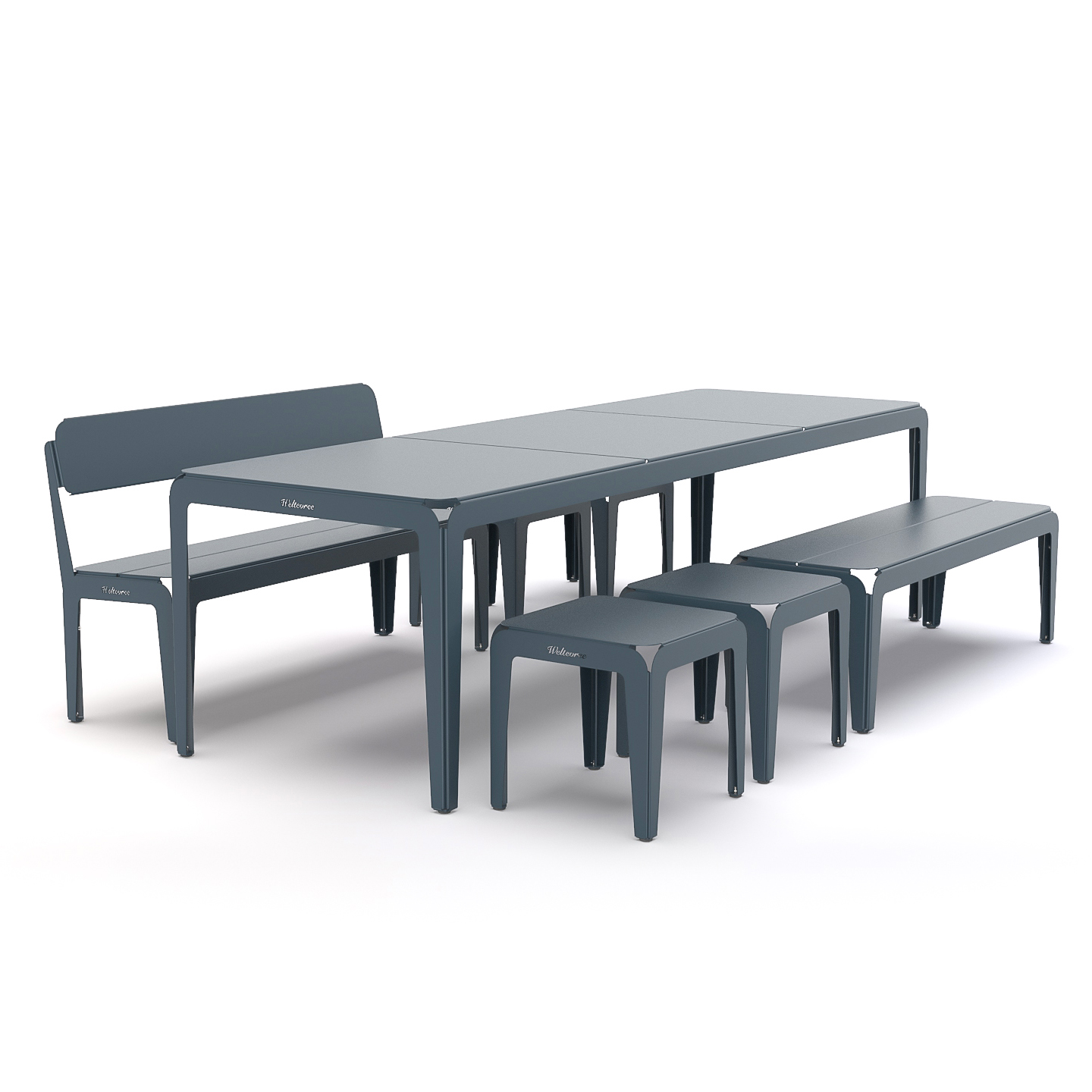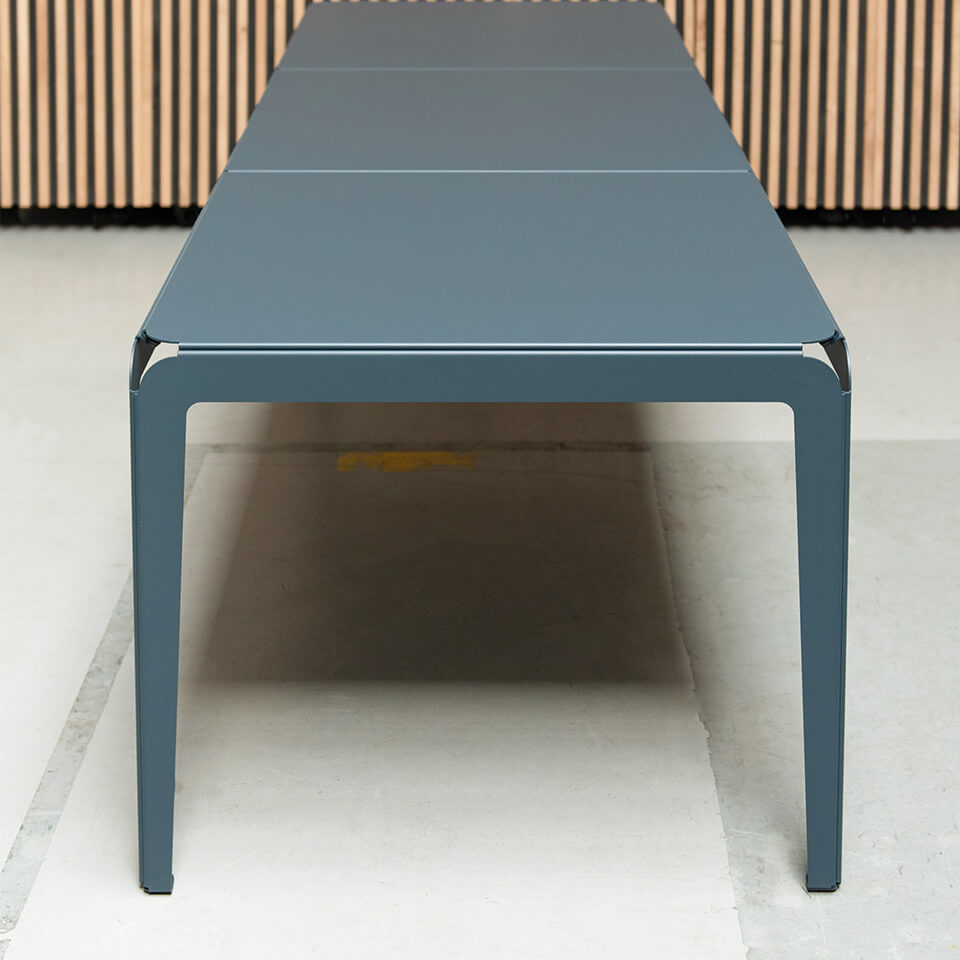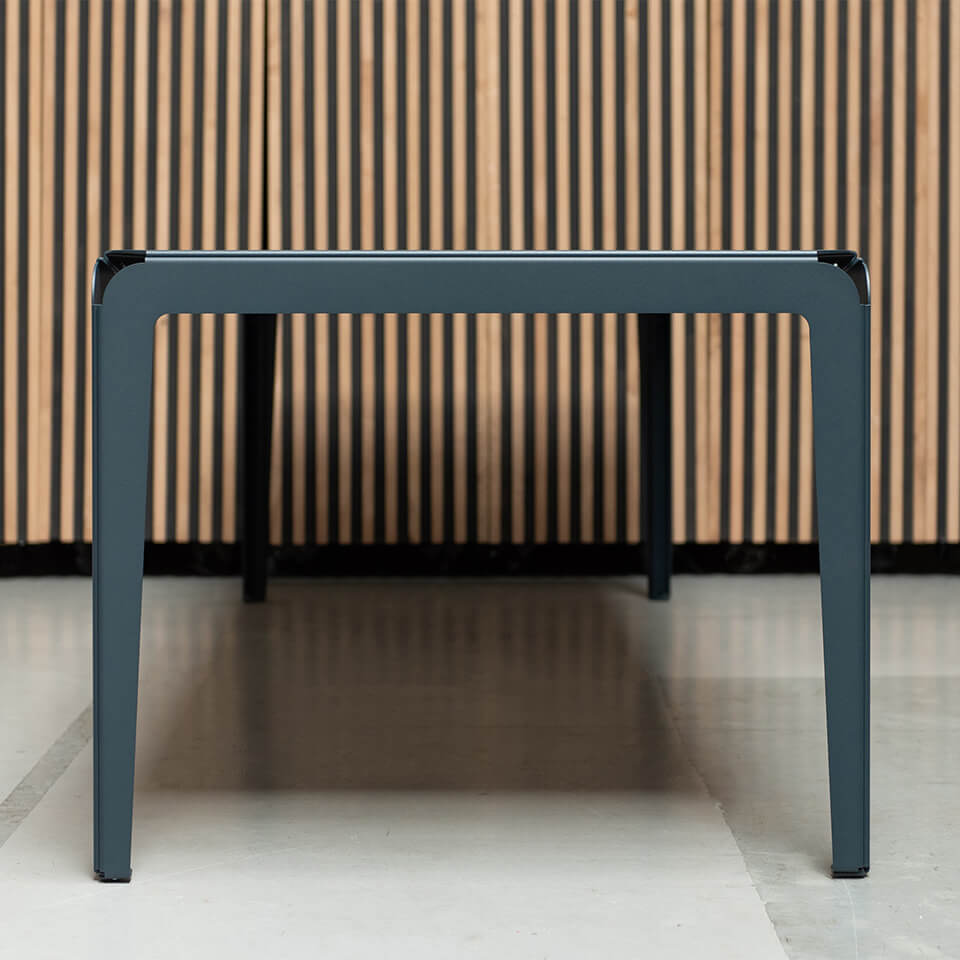 BENDED TABLE
Lightweight aluminum garden table
Delivery time 7-8 workingdays *
connected products
Complete the set with our matching products or accessories.
A lightweight outdoor table with smart aluminum design, that's the Bended Table! The Bended Table is part of the Bended Series and fits any garden. The
aluminum plates are bent at 45 degrees
, creating a strong and flexible construction that allows the table to adapt to any surface. This ensures that the table never wobbles and is easy to move. The table is available in three lengths; 90cm, 180cm or 270cm. With the 270cm, the construction is reinforced with steel. The tables are 90cm wide, 75cm high and the seat height is 68cm.
Create a cozy dining area in your garden or balcony with the Bended Table and enjoy it daily. Start your day with a cup of coffee in the morning sun, enjoy a break time with your kids and dress up the table cozily for dinner with friends or family. Complete your set with our
other Bended Series products
.
*The 270cm Bended Table is shipped with special furniture transport due to its great length. They are picked up every Friday and then delivered within 2 weeks. Orders through our dealers are also delivered this way from our central stock and thus have the same delivery time.

Designed by Jaïr Straschnow, the Bended Series products are made of 3mm aluminum, which is 100% recyclable. Because the Bended products feature a powder-coated finish, they require little maintenance. You easily clean the products with a soft cloth and water. Everything in the Bended Series can be used indoors and outdoors and is available in light green, gray-blue or agate-gray.

* The 270cm Bended Table is shipped with special furniture transport due to its great length. They are picked up every Friday and then delivered within 2 weeks.

EAN:

8719274201588

Length:

2700 mm

Width:

900 mm

Height:

755 mm

Weight:

46 kg

Assembly:

Self-assembly

Can you sit at the head of the table?:

Yes

Collapsible:

No

Designer:

Jaïr Straschnow

Distance inside legs:

262.5 mm

Height Bottom Table:

680 mm

Space:

Suitable for outdoors

Warranty period:

12 months

Material:

Aluminium

, Steel

Finish:

Powdercoated

Product Color :

Gray Blue RAL 5008
Can the product rust if there is a scratch on it?
No the product cannot rust, because the products are mostly made of aluminum and the long legs of the 270 table are galvanized under the paint layer.
How can I maintain my Weltevree products in the best way?
GUARANTEED NO WOBBLE
The appearance and clever construction of the Bended Series are created by bending aluminum sheets at a 45-degree angle. A simple manipulation that produces an extremely strong, yet flexible structure. This special flexibility allows the table's structure to adapt to its surface. In short: your table will never wobble!'
LOW MAINTENANCE
Aluminum is a highly durable and recyclable material that can be used infinitely. But that's not the only advantage: the Bended Series is almost low maintenance! Simply wipe the table with just a little water and a soft cloth. The table can be both indoors and outdoors.
SUITABLE FOR ANY GARDEN SPACE
The Bended Table comes in different sizes. Depending on the size you choose, you can comfortably sit from 4 to 12 people. The different options make the Bended Table suitable for any outdoor space, from balcony to garden. To complete your set, you can choose from two different benches and a convenient stool. Everything from the Bended Series is available in a light green and gray-blue color.
"Because we have chosen an extremely durable material such as aluminum, the Bended Series can be used both indoors and outdoors. Aluminum is fully recyclable and retains its properties indefinitely. 75 percent of the aluminum ever produced is still used today. With a simple manipulation of bending all edges of the aluminum panels inward at 45 degrees, my work was nearly done. The connecting screws are invisible, sharp edges no longer exist, and the construction is extremely stable yet flexible."
Jaïr Straschnow

OUR PRODUCT, USED BY OUR COMMUNITY
Mention #worldofweltevree for a chance to be featured and inspire others.