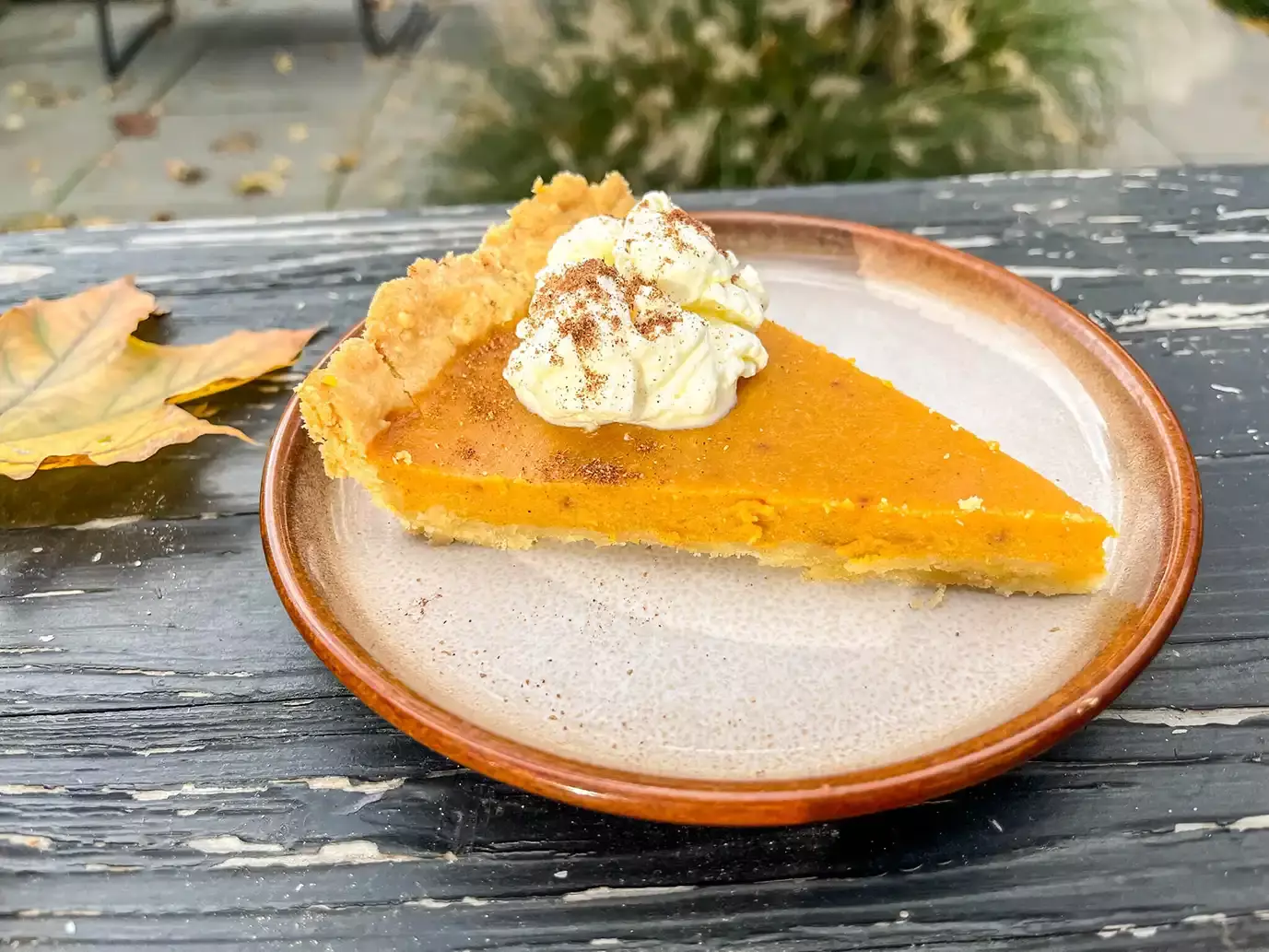 Outdooroven recipe: creamy pumpkin pie
The sunny days of fall lend themselves well to an afternoon of outdoor cooking with the Outdooroven Original or Outdooroven XL. Enjoy the warmth of the fire while this autumnal pumpkin pie cooks in the oven compartment.
Let us take you through the recipe and try it out yourself!
Ingredients for 1 pie
Tablespoon sugar

1 tsp baking powder

200 gr flour

125 gr unsalted butter (room temperature)
Filling:
One pumpkin, to make 250 gr of pumpkin puree

2 eggs

200 grams condensed milk

Pumpkin Spice: 1 tsp cinnamon + 1 tsp ground ginger + ½ tsp nutmeg + ½ tsp allspice + 1 tsp cloves
Decoration (optional):
Whipped cream

Pumpkin spice

Walnut pieces
Step 1: Light the Outdooroven
and allow it to warm. For the dough, combine the flour, butter, sugar and baking powder in a bowl. Use a mixer to beat the dough. While mixing, add a splash of water occasionally until the dough becomes cohesive and feels smooth. Knead the dough by hand into a nice ball and wrap the dough in cling film. Let it rest in the refrigerator or in the cold outside air for at least 30 minutes.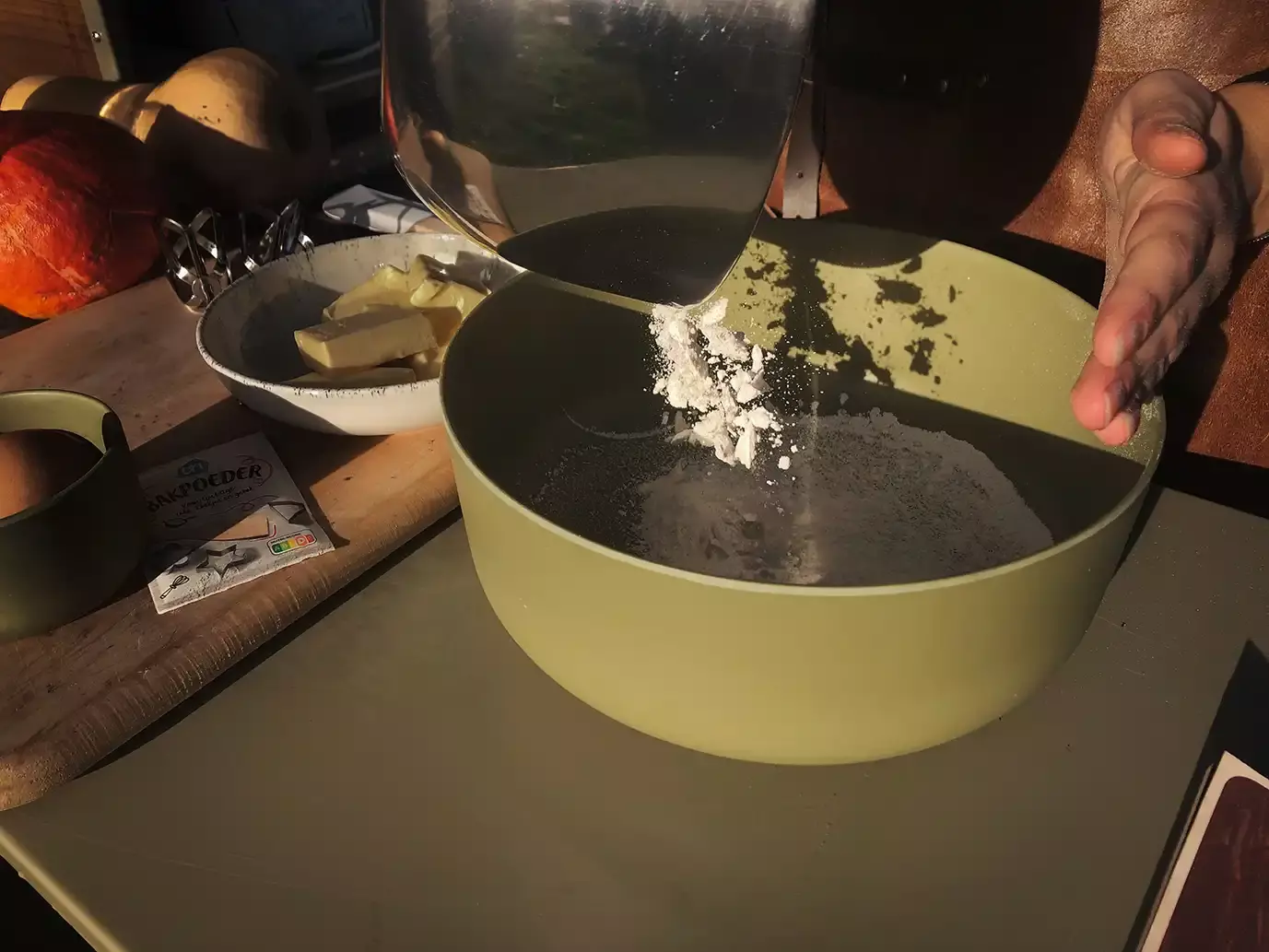 Step 2: Make pumpkin puree by cutting the pumpkin lengthwise into 2 or 4 pieces. Remove the seeds and strings, place the pumpkin on the grill rack of the Outdooroven and roast the flesh. Prick the pulp with a fork to test if it's cooked. Does it feel soft and does the fork poke through easily? Then the pumpkin can come off the grill rack. Let it cool down completely.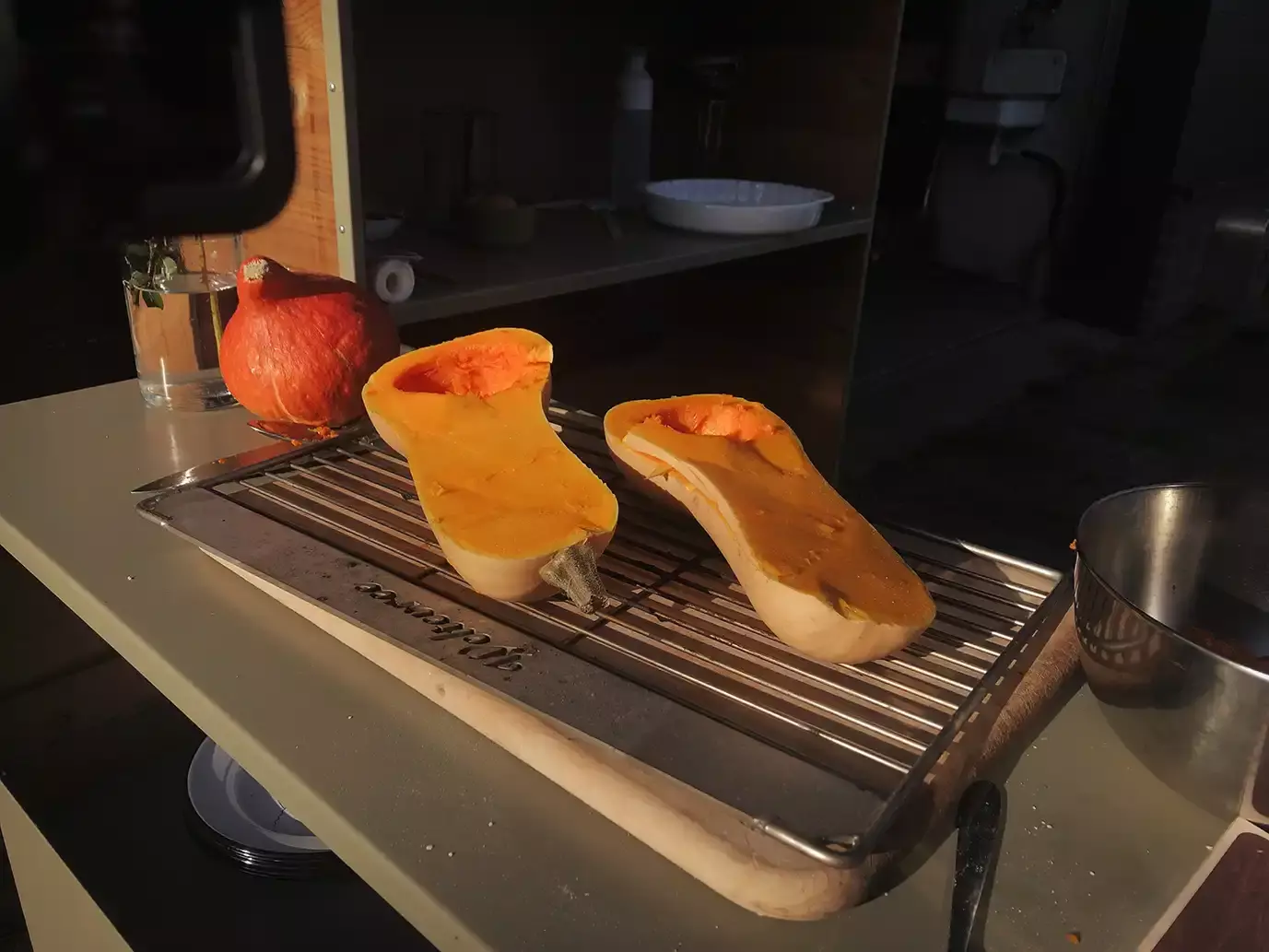 Step 3:
Grab the dough and grease the pie pan well with butter or some oil. Gradually spread the dough across the bottom and edges of the bake tin. Bake the dough in the oven compartment for 20 minutes, until slightly firm to the touch.
Step 4: Finish the pumpkin puree by removing the skin and blending the pulp until fine and even. Mix 250 grams (about 5 tablespoons) of pumpkin puree with the eggs, condensed milk and pumpkin spice seasoning. For extra sweetness, you can add a scoop of sugar. Mix the ingredients until nicely combined.
Step 5:
Remove the dough from the oven and let it cool briefly. Do not add new logs to the fire to allow the oven temperature to cool slightly. Spread the filling over the dough and bake the pumpkin pie for about 45 minutes.
Step 6: Allow the pie to cool completely. Serve the pie slices with whips of whipped cream and garnish with pumpkin spice and some walnut pieces. Take a seat around the Outdooroven and enjoy your delicious freshly baked pumpkin pie.
Share your results with us by using #worldofweltevree!