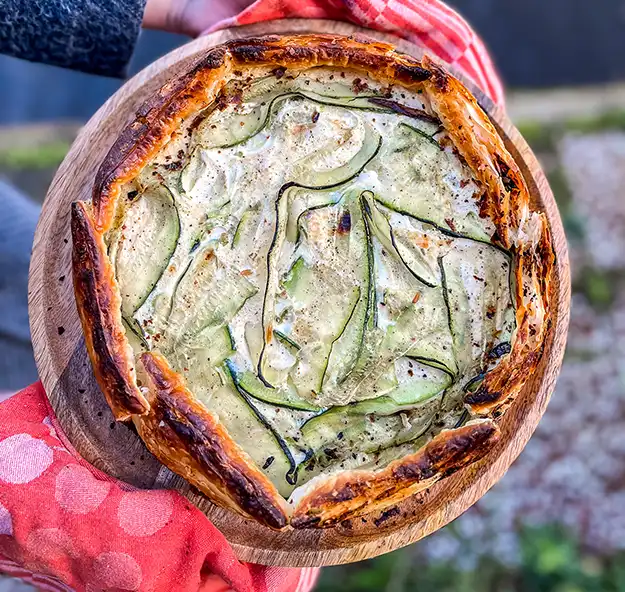 Outdooroven recipe: zucchini quiche
A piece of quiche for lunch or dinner is always good! Warm the Outdooroven and unwind while your zucchini quiche cooks in the oven.
Ingredients:
2 zucchinis
Fresh chives (about 10 grams)
2 tbsp olive oil
Frozen puff pastry (10 slices)
3 cloves of garlic
1 red onion
5 eggs
200 g Greek yogurt
150 g grated agedcheese
Pepper and salt Paprika
Equipment:
Step 1:
Line a quiche form with baking paper and further grease well with butter or olive oil. Cover the quiche form with slices of puff pastry. Pierce holes in the puff pastry bottom. Meanwhile, heat the
Outdooroven
.
Step 2: Use a cheese slicer to shave the zucchini into thin slices. Season the slices with salt and pepper to taste.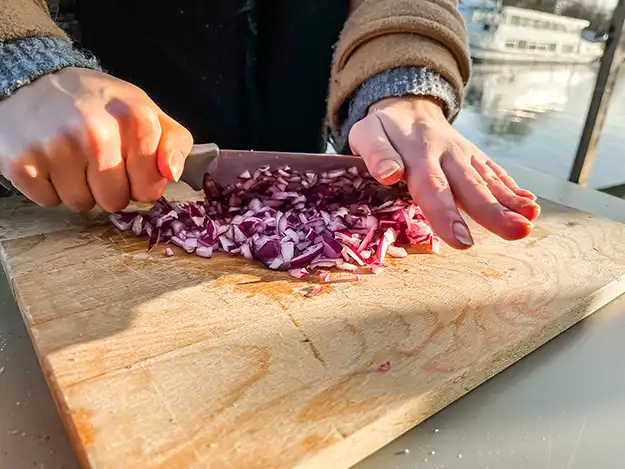 Step 3:
Chop the red onion and chop the chives and garlic small. Beat the eggs with the Greek Yogurt and add in the chopped garlic, onion, aged cheese and half the chives.
Step 4: Season the mixture additionally with pepper, paprika and salt to taste. Then spread the filling over the mold.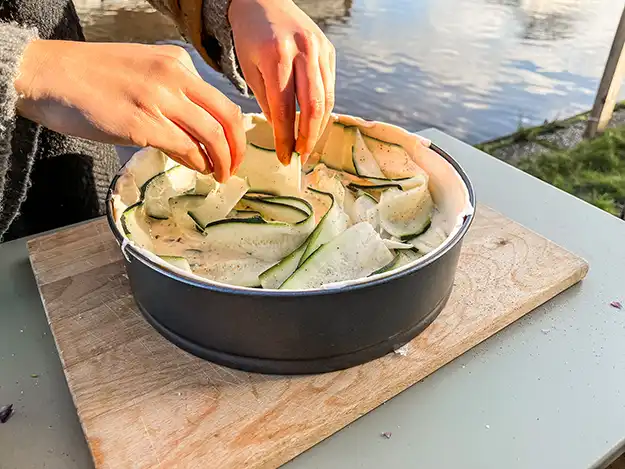 Step 5:
Place the zucchini slices on their side in the mixture, working from the outside in. Drizzle with the olive oil. Do you have slices of zucchini left over? Then
grill
them on the
Outdooroven
with some soy sauce and pepper!
Step 6: Let the quiche bake in the heated Outdooroven until the edges are browned and the center feels firm. Check this with a skewer if necessary. Remove the zucchini quiche from the oven and let cool briefly. Then remove the form and sprinkle the remaining half of chives over the quiche.